It's the right time of year for fishing, hiking, and camping. This time of year, we get a lot of people coming in and asking, "What gear do I need for…"
Whether you're hiking, camping, fishing, or even sending your Cub Scout off to camp for a couple days, this checklist has everything you need to make it a great adventure here in Utah or in the mountains or lakes of our neighboring states.
If you're camping or hiking, or sending a Scout to camp, here's what you need: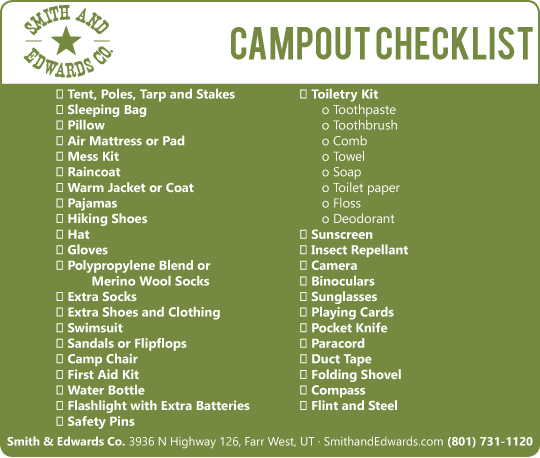 If you're sending a scout, remember his uniform, too!
Click here to download a printable PDF of both lists.
Did you have fun? Make sure and send us pictures for the Bragging Board!
These lists were made after we had lots of families looking for a Scout camp checklist for their boys about to go to camp. We find them useful as a camping checklist so we're sure we've got the car packed with all the gear we need. These also work great for packing your gear even for a fishing getaway on a Friday afternoon!