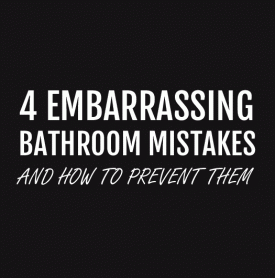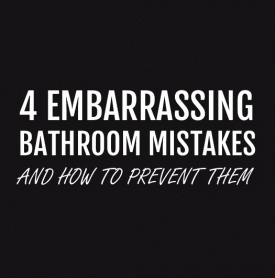 Here's the SCOOP on POOP.
Everybody does it, according to this book. But it doesn't have to make you gag or groan.
Here at Smith & Edwards, we've collected a HUGE pile of accessories for your throne room. We wanted to make a big stink about them because they will make your life BETTER!
Two of these have been featured on the hit show SHARK TANK and they need to be in your bathroom.
Emma Lee from our Housewares department was our brave volunteer to show you 4 embarrassing situations that can happen at ANYONE'S house – even yours! – and what you can do to prevent odor, injury, and discomfort.
You and your guests will be glad you've thought through these scenarios! This is funny sh–…. stuff!!
YOU WERE GONE SO LONG, I THOUGHT YOU FELL IN!
I don't know about you, but that's the WORST phrase to hear after coming back to the table at a restaurant. Come on, there was a line for the restrooms!
Even WORSE than hearing that phrase?
ACTUALLY FALLING IN.
Have you fallen in because someone left the seat up? Tripped over the toilet?
Gotten hurt getting the light on? Been blinded by a brilliant bulb?
UGH!
No longer.
The Illumibowl's an LED toilet light that will SAVE YOUR BUM.
Why we recommend the Illumibowl toilet bowl light (get yours here):
Great for all ages of aimers
No more blinding bright lights
Motion-activated light that will shine a steady color or multiple – your choice
Featured on Shark Tank!
SO CLOSE… BUT SO FAR AWAY
Bathroom wipes are a comfort – but only if they're within reach!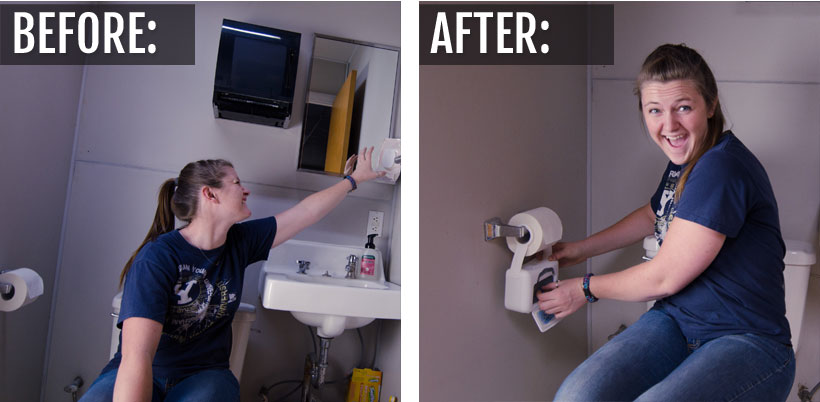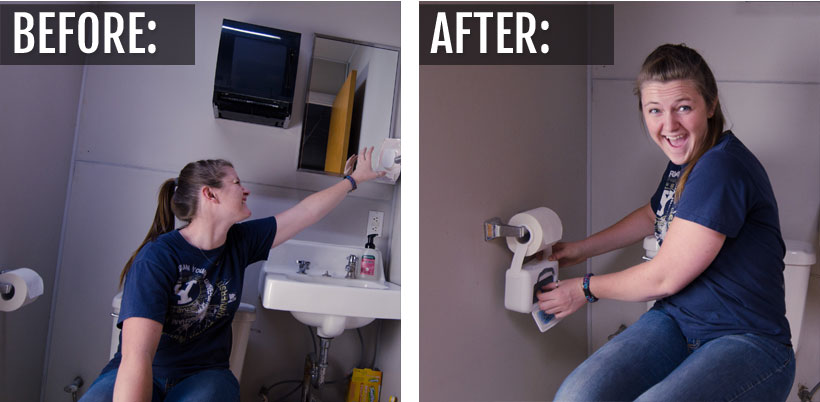 You'll find a collection of wipe dispensers that fit right on your toilet paper holder, keeping those must-haves at your fingertips.
Bou'De is the classic white dispenser, and for the kiddos, there are pink and blue wipe dispensers (these come with STICKERS!). For the outdoorsman in your life, we've got Bob's Butt Wipes. These are "wipes that work as hard as you do!"
Why we love these hanging flushable wipe dispensers:
The polish after the toilet paper
Aloe freshness, within reach
Sewer & septic tank friendly
Refillable!
SQUATTY POTTY
Also a huge hit on Shark Tank, this plastic stool elevates your legs to make the bathroom less of a strain. There's science behind it! The plastic's easy to clean, and we also carry bamboo Squatty Potties for an elevated experience.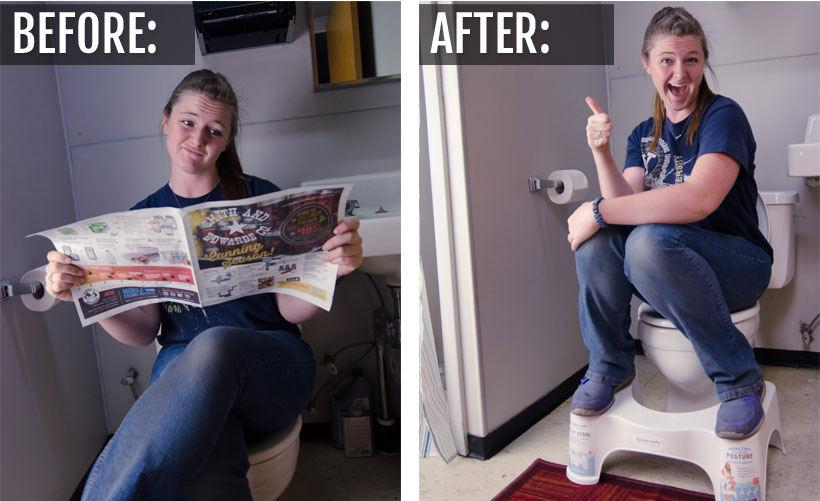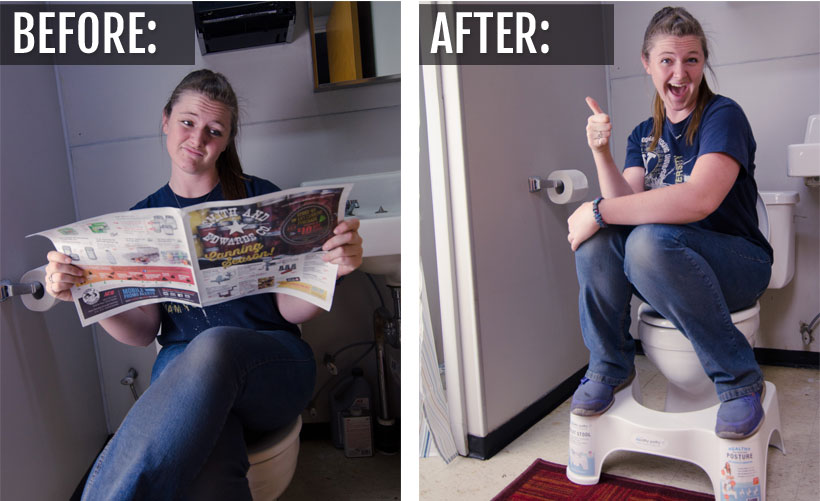 Why we love the Squatty Potty:
Perfect height & angle for a smooth movement
It helps you poop better!
Easily stores against the toilet bowl
SPRAY BEFORE YOU GO – NO ONE WILL KNOW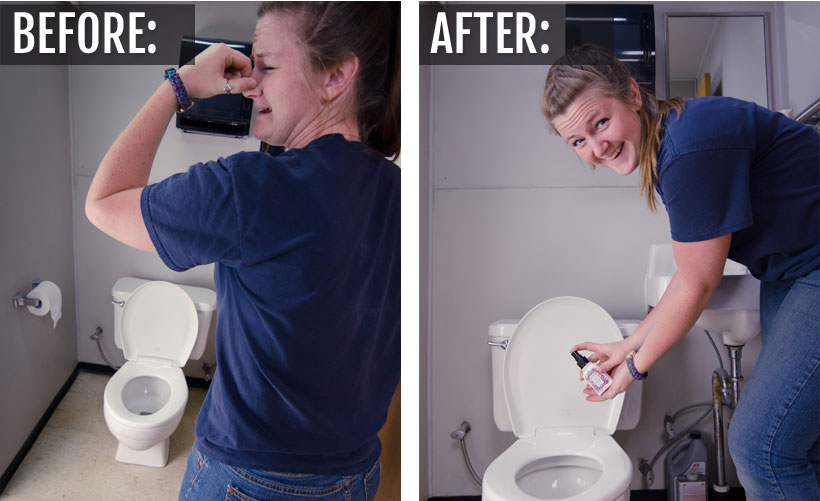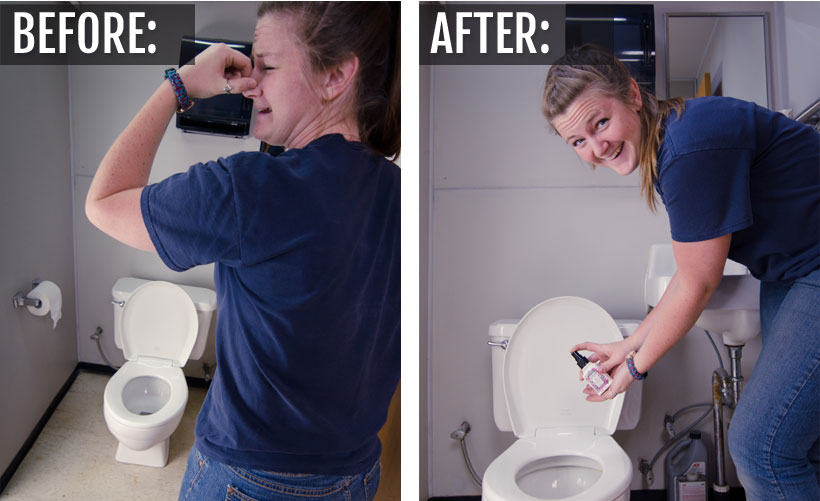 Poo-pourri is one of our Housewares manager Vickie's FAVORITE products to sell. She even places it in our employee bathrooms (is she just being nice, or is she trying to say something?)
Poo-pourri comes in a HUGE range of scents, from Juniper Woods (juniper, eucalyptus, and citrus) to Tropical Hibiscus (hibiscus, apricot and citrus), and Trap-A-Crap (cedarwood & citrus).
Here's why Vickie loves selling Trap-a-Crap Poopourri before-you-go toilet spray:
Odor trapper for any crapper
Spritz in bowl and proceed to stack logs as usual
Wipes out odor
Eliminates embarrassment
BONUS BATHROOM MUST-HAVE: WOODS WIPES
OK, ok, so we've got everything you need for SERIOUS bathroom problems.
There's one more gem that's great in any outdoorsman's bathroom and is EQUALLY great as a white elephant or gag gift.
For the outdoorsman who has it all: CAMO TOILET PAPER.
When it's time to unload, just stop, drop, and unroll. For the poo-fessional hunter & home enthusiast, comes Hunter's Helper Woods Wipe, the leafy-soft & biodegradable camouflage T-P. Also available in blazin' orange, and for a limited time, pink camo (for doe 'doo).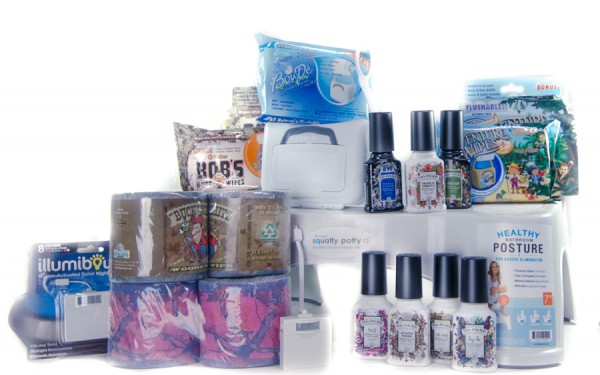 So there's the scoop on poop for you, from Smith & Edwards. Your business is our business, whether that's in the home, in the cabin, or where the bear goes. We've got your back!
Come on in or check out our online store for all this cr– I mean, everything you could possibly want for your bathroom and home. We know our stuff!