If you've ever been shopping for women's jeans then you understand exactly how frustrating it can be. Either they fit your waist and hips and you feel like you're going to split the leg seams with every step, or they fit your thighs and hips and gap at the back of the waistband.
There is just no winning, or so it would appear. What you need to do is identify what you like and steer clear of things that don't match up with that.
As discussed in our Men's Jeans Guide, the way your jeans fit is about more than just comfort. It's also about looking good, by finding what is most flattering for your body shape, and feeling better. Hopefully, the three aspects we discuss today, rise, leg opening, and fit, will help you in your quest for the mythical "perfect pair of jeans."
Women's Jeans: RISE
A jean's rise is determined by how far the waistband of the jeans comes up the waist. The greater the distance is between the crotch and the waistband the higher the rise.
Each brand varies from one another, but there are typically three main rises. You can approximate the rise of a jean by measuring from the crotch seam to the top of the front waistband.
Natural-Rise Ladies' Jeans
Natural rise jeans, also called high-rise or performance rise, sit right at the waist. This rise is more than 10 1/2″ and help your legs look longer. These women's jeans are perfect for those competing in rodeos, or for hard-working ladies that do a lot of bending in a day. Take a look at the variety of ladies' natural rise jeans, like Wrangler 18MWZ or Cinch Jenna, we have here at Smith & Edwards:
This slideshow requires JavaScript.
Mid-Rise Ladies' Jeans
Mid-rise jeans sit just below the waist or about an inch below the navel. This popular rise is neither too tall nor too short, measuring between 9″ and 11″. Most body types look flattering in this rise!
From Wrangler's Cash and Q-Baby to Cinch Ada, Silver Aiko to Rock Revival, you'll find something you love.
This slideshow requires JavaScript.
Low-Rise Ladies' Jeans
Low-rise jeans sit a few inches below the navel. The rise is between 7 – 9-1/2″ and are most flattering on slender figures.
Keep in mind that "muffin tops" and "love handles" are often accentuated by this fit style. Check out our Wrangler Sadie and Cinch Bailey styles, and our selection of Rock Revival jeans.
This slideshow requires JavaScript.
You'll find Women's Jeans on our website, and even more styles in our Ogden, Utah store.
Ladies' Jeans: LEG OPENING
In women's jeans, there are so many different leg openings and it can get real confusing.
You may ask quite frequently, "When is the best time to wear ______________ jeans?" This leg opening section of my women's jeans guide should help you out a lot!
Women's Skinny Jeans
Skinny jeans are tight around your calf and are perfect to wear with fashion and western boots, most flats, and heels. They taper from the knee down and have an ultra low profile. This makes them perfect for showing off those red high heels or your favorite western kicks.
Take a look at our Cruel Girl Abby jeans. Cruel Girl and Cinch are sister companies and you can find multiple styles sold right here in our Ogden location.
This slideshow requires JavaScript.
Women's Straight-Leg Jeans
Straight leg jeans have the next lowest profile and are extremely versatile. The bottom half of the pant leg goes straight down from the knee, so they are a little looser around your calf than skinny jeans. You'll love these Silver Suki styles and the original Wrangler 14MWZ cowboy cut jeans in white and blue.
Ladies' straight leg jeans tuck into boots fairly well and can be worn with most footwear. If you like the cuffed look, these jeans are perfect for getting an even cuff with no puckering.
This slideshow requires JavaScript.
Women's Bootcut Jeans
Bootcut jeans are narrower in the knee than at the leg opening, so you can put the pant-leg over your boots. A lot of your western, riding, or work jeans are boot cut. You can also wear this style with your favorite pair of tennis shoes. They don't cuff as well as your skinny or straight-leg jeans.
Wrangler's Mae, Cash, and Classic Fit jeans are as hardworking and fashion forward as you are. Also check out the different Ariat styles we carry.
This slideshow requires JavaScript.
Women's Wide Leg & Flare Leg Jeans
Wide leg and flare leg jeans have a very distinct flare. The hem of the pant-leg is wider than the knee. "Trouser cut" is one specific style of wide leg pants. We know you'll love this Cruel Girl Jayley style with a trouser cut.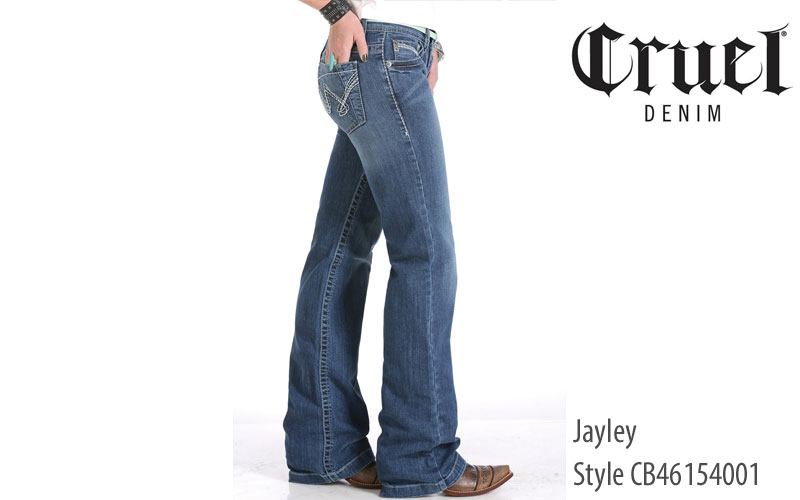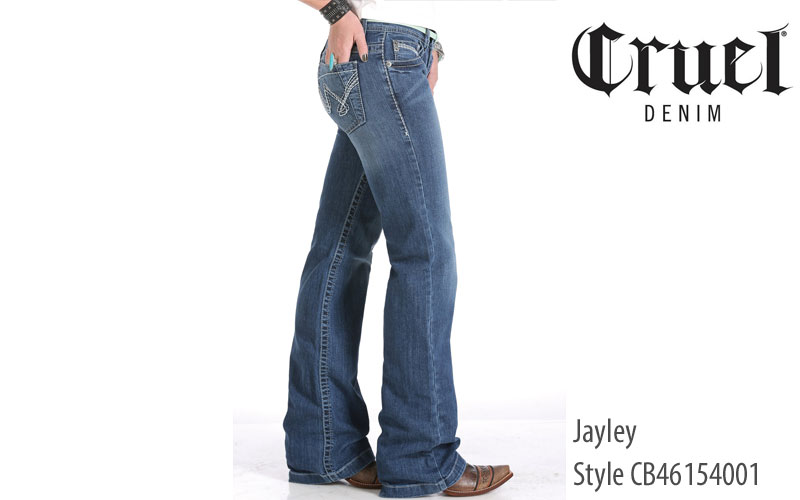 Women's Jeans: FIT
A jean's fit is determined by how tightly it fits through your waist, hips, and thighs. Fit styles include slim, regular, relaxed, and loose fit.
Depending on the manufacturer of the jeans you're looking at, you may see different terms or style names on the jean fit spectrum. This section will give you a base knowledge, but you'll always want to check with the manufacturer to determine the most likely fit of the jeans you want to buy.
Ladies' Slim Fit Jeans
Slim fit jeans hug your curves tightly and are narrow from the waist through the hips and thighs. Brands such as Rock Revival, Miss Me, and Grace in L.A. tend to have a slimmer fit. Take a look at these and other great brands in slim fit.
This slideshow requires JavaScript.
Ladies' Regular Fit Jeans
Regular fit jeans hug your curves but offer a better range of movement than slim fit. They are a little looser between the waist, hips, and thighs. This common fit is flattering and comfortable.
We carry this fit in brands such as Silver, Ariat, and Wrangler styles 09MWZ, WRC10, and WRQ20.
This slideshow requires JavaScript.
Ladies' Relaxed Fit Jeans
Relaxed fit jeans fit loosely through the waist, hip, and thigh. They are more comfortable than other fits because of the extra room and freedom of movement.
Cinch's Ada and Bailey styles are the perfect jeans for that girl who needs to move! We also have a variety of Wranglers and other brands with this same great fit.
This slideshow requires JavaScript.
Ladies' Loose Fit Jeans
Loose fit jeans have even more room through the hip and thigh. This fit is baggy through the waist, hip and thigh. They allow for better movement and added comfort. Many of your boyfriend-style jeans would be considered loose-fit jeans.
This slideshow requires JavaScript.
Tips for Caring for your New Jeans
Now that we have gone over all of the basics about a jean's fit then you can be set free, right? Unfortunately, it's not quite that easy. There are just a few final things to keep in mind when buying and caring for jeans.
First, just find what you are comfortable in. The next time you go shopping, take your favorite pair of jeans with you. This will help you find jeans similar in size, style, fit, and color to aid you in your shopping experience.
Next, learn how to care for your jeans. To ensure that jeans will fit the same way every time you wear them you need to wash them in cold water and avoid the dryer. Hot water and heated drying will cause your jeans to shrink and your jeans will be unable to recover.
One last thing to keep in mind is getting your jeans starched at the dry cleaner's every once in a while. This will keep your jeans feeling and looking like new. It also helps to prolong the life of your jeans.
Give us a Call or Come on Over!
Whether you're heading to the rodeo, out for a night on the town with your closest girlfriends, or just looking for more everyday outfits, we are happy to help. Come in and see how we can help you today in Smith & Edwards' Clothing department.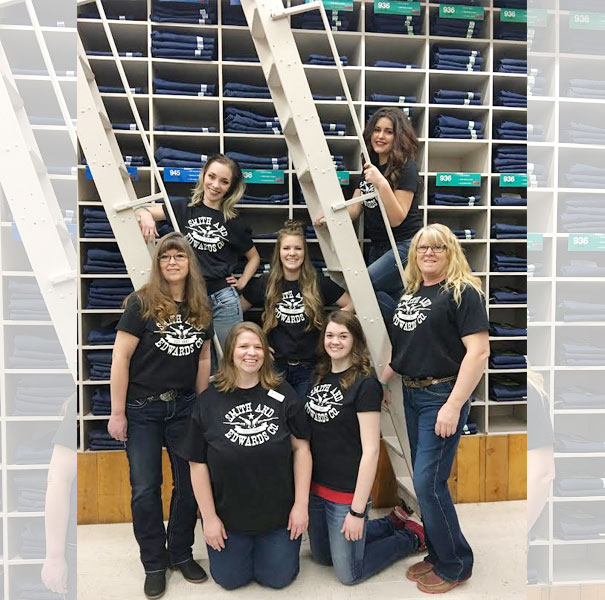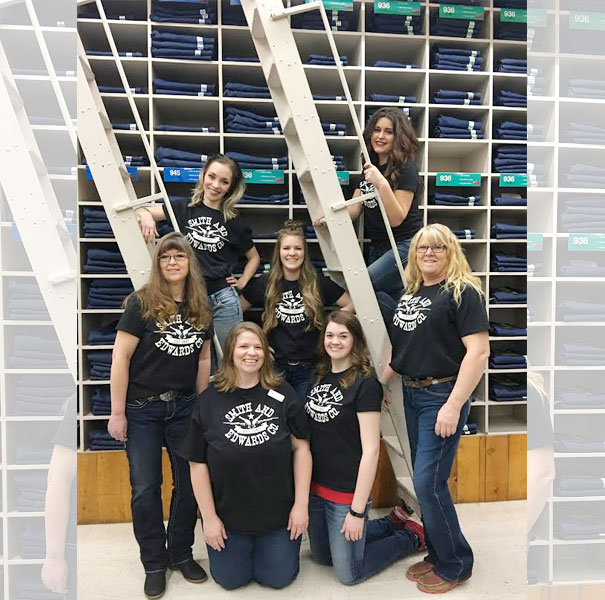 We've got tons of experience and a great crew of ladies here that know our jeans in and out and will help you find something that looks good. They are eager to offer advice while you shop and help you look your best.
We'll help you find the perfect pair of jeans for your shape and style. You'll get the best individual attention that you need to look good and feel great. Plus, we love to help you find matching shirts and blouses for the perfect outfit!