Tangled cords can give you a headache. Whether it's your phone charger, your laptop cords, or a curling iron, tangled cords gets really annoying. 360 Electrical is an innovative company with a solution… and we carry their products right here at Smith and Edwards.
Plus – Scroll down and ENTER TO WIN our top 360 Electrical ($39.99 value!)
360 Electrical started in 2005 with a desire to make things better. It's privately owned by a Utah native right here in Salt Lake City. Her creative genius has changed the way we look at electrical outlets.
The Meaning of 360
The power cords made by 360 Electrical feature a unique swivel feature. The design allows the electrical outlet to spin freely as a cord gets twisted. Your cord is able to unwind as it's twisted, thus reducing the amount of tangling your cord can do.
The swivel feature also allows cords to travel to any location in a room with minimal strain on the prongs.
Have a charger that doesn't fit next to other cords on a power strip? With the Powercurve power strip, you can swivel the outlet so they'll fit neatly!
Not only has 360 changed our perception of traditional outlets, but they have also changed our vision of modern technologies. Many of their power cords feature USB ports for cell phone chargers, too.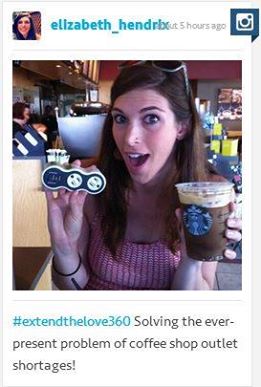 Whether you need one outlet or several outlets, 360 Electrical has you covered!
What's in Store
Smith and Edwards carries several of 360 Electrical's products. Keep your electronics safe from power surges with the 4-outlet REVOLVE and 6-outlet Powercurve.
The 4-outlet Adapter is perfect for standard outlets in your bedroom or bathroom. The PowerCurve Mini and PowerCurve 7-Outlet plugs are equipped with two 1-amp USB chargers and are surge protected as well.
Enter to Win!
How We Can Help
Whatever your power needs may be, you can find a solution right here at Smith and Edwards. Shop these great products in store or check them out right here on smithandedwards.com! We've got what you need and are here to help with all of your electrical needs.