It's that time of year to check your preparedness gear, make sure you have a communication/meetup plan for your family, & rotate your food storage.
One important piece of your preparedness plan is having a bag with all your necessities. Some people recommend a bug-out bag, but here in Utah a 72-hour kit is the most recommended pack to have.
What's the difference? Mike Vause from our Sporting Goods department asked Ryan Seager, our Surplus manager, and Jean Dimick, our Preparedness manager, and here's what he found.
What Ryan suggests for a Bug-Out Bag

A bug out bag, or go-bag, is a small bag designed to get your from Point A to Point B. Point B should have more supplies, such as your 72-hour kit or your food storage.
You might keep your bug-out bag in your car or truck, or in your desk at work; some place you can get to it easily and go.
So it's a minimalist kit that has just the necessities to survive. You can buy a pre-made bug out bag, or create your own based on your needs & preferences:
1 quart water, a container, & water purification method
Food (preferably a high-calorie bar)
Bivvy or compact sleeping bag
Poncho
Paracord
First aid kit
Multitool with a good blade
Lighting: headlamp or area lighting
Gloves, hat, scarf, light jacket, and spare clothes (if possible)
Fire starter
Personal defense
Jean's picks for a 72-Hour Kit:

A 72-hour kit has the supplies you need to survive for 3 days. You'll store more food and supplies than a bug-out bag, and for this you should consider a large backpack from the camping department, rather than a slim tactical pack. See Hiking & Camping packs here.
You can download a list of suggested items for your family's 72-hour kits Get a printable ID card and 72-hour kit ideas from Smith & Edwards, as well as ID cards for your children: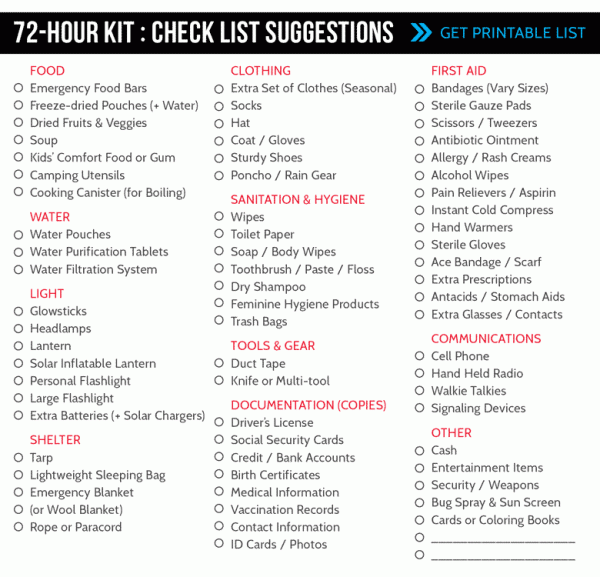 Did you know?
Save the Children has excellent resources for teachers, parents, and caretakers. Check them out here! You can even make your own ID cards for your children on their website.