Today we had an amazing demonstration in-store: Leslie Sackett and Bonnie Hohman from All Wrapped Up, a Layton-based wrapping paper company, stopped in for a couple hours to give us great ideas on Christmas gifts for kids and neighbors – and great ways to decorate those gifts, too!
I was blown away by how many cool ideas Leslie and Bonnie had – and these weren't outrageous, hard-to-find gifts. These are fun, everyday items that people love to get as gifts – but Leslie and Bonnie made them look like a million bucks!
Leslie and Bonnie know all about wrapping amazing gifts because they've built an entire business around making gifts look great with premium wrapping paper!
Take a look:
Holiday Gift Wrap Ideas from Bonnie & Leslie:
I love this 5-gallon "game night" bucket that's wrapped in Santa wrapping paper – it's perfect for neighbors as well as kids! You can even add cards and your kids' favorite games, like Sorry!, in the bucket. Perfect for young kids as well as kids who are just starting their own family themselves.
Bonnie and Leslie are really creative, so they found some poems to attach to the gifts that are fun – you can print them out on white paper and glue them to scrapbook paper or matching wrapping paper for a really charming look.
Yep- those are real paint cans! Use Bonnie and Leslie's idea – you can buy never-used, brand-new paint cans here at Smith & Edwards and here on SmithandEdwards.com.
Bonnie told me, So many people will wrap their gifts in a box. But how neat is it to put your gifts in a paint can? It's a really unique idea they'll remember!
To make a paint-can gift, simply collect the paint cans you'll need at Smith & Edwards, then cut the wrapping paper you'll need to cover the outside. Tape the wrapping paper in place, wrap with tulle, and before you make the bow, slide on a hole-punched poem for a cute note that shows your neighbor how much you care!
Oh, and I've got to show you my favorite "neighbor gift idea":

What you'll need to make an Ice Melt Gift:
5-Gallon Bucket or new Paint Can
Ice Melt (we have 8-pound jars and 20-pound bags as low as $6.99)
Aluminum scoop
All Wrapped Up wrapping paper – now available online!
Poem
Heck, they might snowblow your sidewalk if they like your gifts – so why not?
What Makes "All Wrapped Up" Special?
Bonnie and Leslie created All Wrapped Up out of their desire for attractive gift wrap that came in large quantities – not just in precut sheets – and was also high-quality.
This paper is thick – this is really nice paper that won't tear around the corners of boxes – so even if your gifts get mailed cross-country, they'll look as good as when you wrapped them! They come in rolls of 150 square feet. And the designs are all custom creations.
Plus, the wrapping paper is created right here in the USA. And All Wrapped Up's wrapping paper is completely recyclable, made using water-soluble inks: having a "green" wrapping paper that was also well-designed and durable was important to Leslie and Bonnie.
Trust me, once you try this wrapping paper, you won't want to go back to the other stuff!
And they might not want me telling you this, but Smith & Edwards has the BEST prices on All Wrapped Up® wrapping paper in Utah!
Thanks, Leslie and Bonnie, for a great demo today – hope to have you back soon!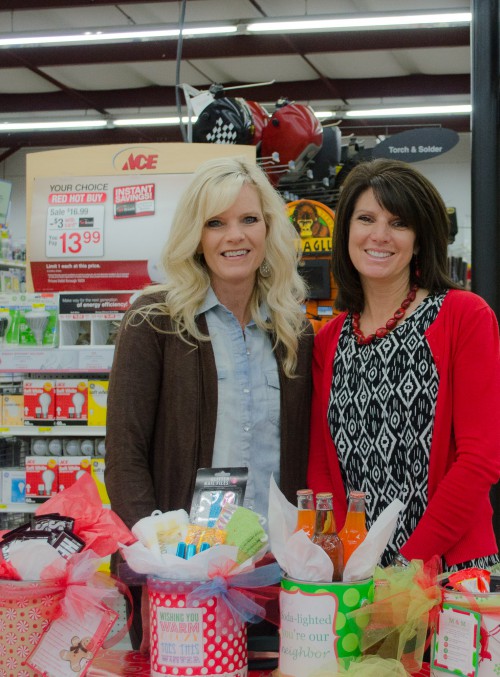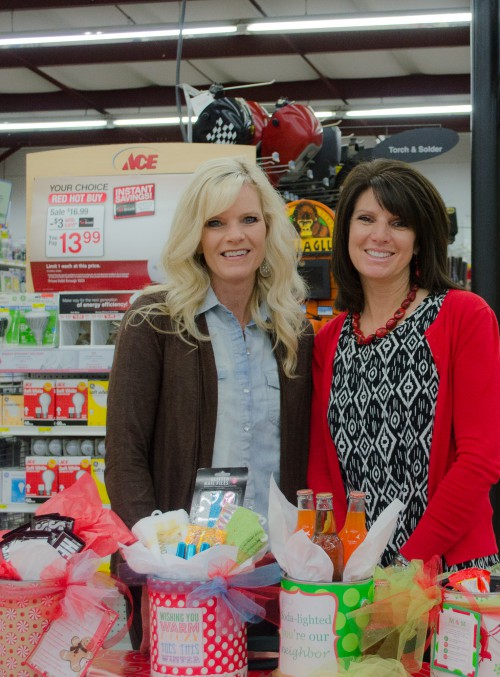 Watch for them Tuesday, November 19 on Studio 5… and I'm sure we'll be running some promotions on their top-notch wrapping paper soon!
Get FREE Wrapping Paper!
Of course, who wouldn't love a big basket of gift wrap supplies? That's what you can get through our Facebook page:
Come Get Your Wrapping Paper at Smith & Edwards
Come on in to Smith & Edwards to get your hands on these great wrapping paper designs. (MV, our Sporting Goods manager, would like me to remind you that we have plenty of gifts here at Smith & Edwards, too… but that's another post!)
We're located at 3936 N Highway 126 in Farr West, Utah. Come see us this week!
Where's the goods?
Come in the front door and look to your left: you'll see Leslie and Bonnie's great Christmas wrapping paper in baskets right at the door. (Look how much paper comes in each roll! No more running out on Christmas Eve!)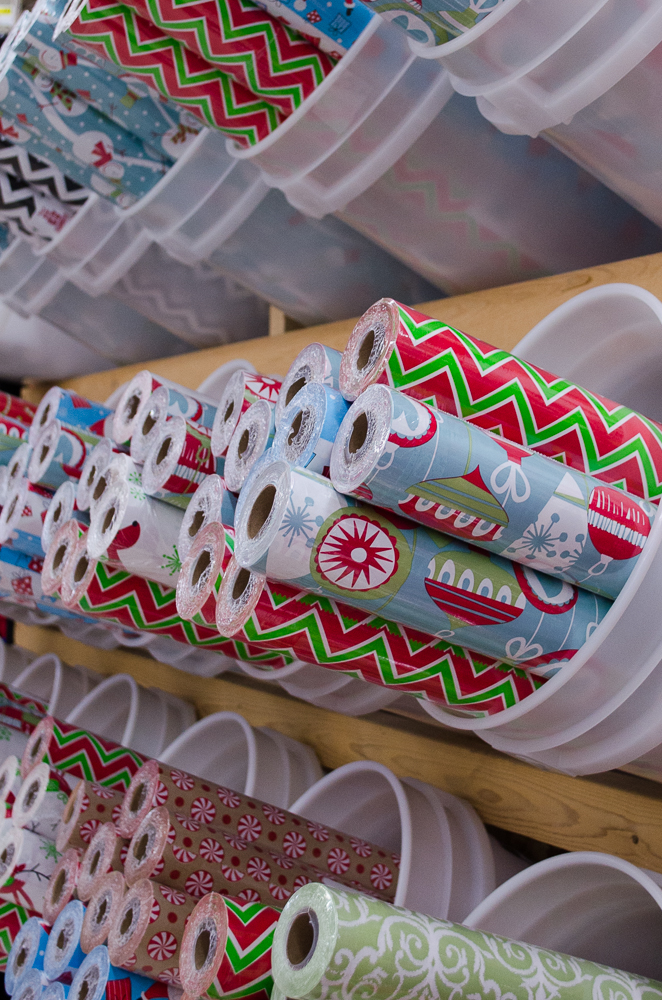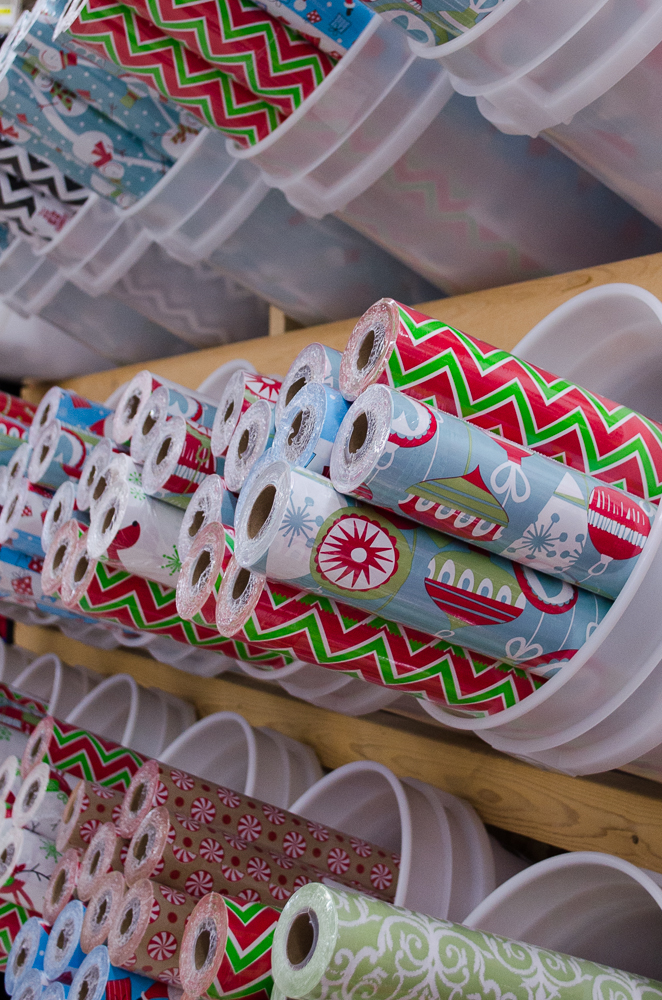 Then, keep going down that main aisle until you find yourself in Housewares, where you'll find those aluminum scoops, tulle, and everyday wrapping paper that's great for birthdays and more.
You'll be right next to the Paint counter then, and you can pick up the 5-gallon buckets or new paint cans you need to package your ice melt or candy gifts.
(Where else can you find all these great-quality products in 1 place than Smith & Edwards?)
See you soon!