Did you get a gun for Christmas? Looking to get a good deal at our Gun Auction? Or maybe you're a hunter who needs extreme accuracy for shooting an elk 350 yards away.
Did you know?
You can see part of our hunting department on SmithandEdwards.com! (click here) We've got a selection of our most popular hunting and range accessories for you online. There's way more in-store!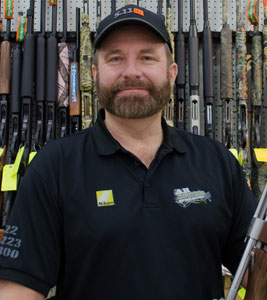 You may know how to keep your gun dry and safe, you also want to know how to clean your rifle to keep it accurate and firing properly. Every gun needs a good cleaning to keep it functioning the way you need it to in an emergency, on a hunting trip, or just going out to the range for practice.
Eric Halter from our Gun Counter will walk you through the basics of cleaning your handgun so you can keep yours in great condition.
Eric knows how to keep a gun clean and firing properly because it's what he does. When he's not at Smith & Edwards, Eric spends his time as a gunsmith – something of a family trade, he's had over 30 years of experience gunsmithing.
Every time your gun is fired, carbon and copper residue gets deposited and builds up in your bore. A boresnake is a fast way to clean out that residue, and for a deep cleaning after a hunting trip or a session at the range, you can use brushes and patches along with cleaners to restore your gun to pristine condition.
How to clean your gun in the field
A field cleaning is a basic cleaning to get the residue out of your rifle while you're out in the field. So if you're not in a place where you can set out all your supplies like your gun vise and cleaning rod, and take the time to give your gun a good cleaning, all you need is your boresnake to do a field clean.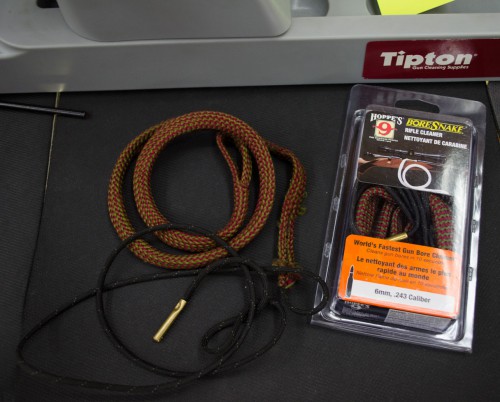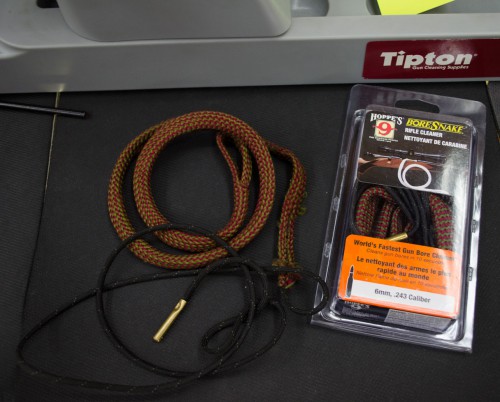 If there's rain and you've gotten water down your bore, if you're in inclement weather, or you're in a harsh, dusty, and dirty environment, this is the #1 method to get your rifle back in shape from breech to muzzle.
Take your rifle, making sure it's unloaded, and remove the bolt.
Drop the weighted end of an oiled boresnake down the barrel and pull through the bore, out the muzzle.

Do that 2-3 times, and you're good to go.
Gun Cleaning Tip:
Before you go on your trip, lay your boresnake on your bench and wet the first 1/3 of the bore with a bore cleaner like Hoppe's #9.


Then coil it up and put it in a ziploc bag.

Now when you're out in the field to do a field cleaning, you pull out your ziploc bag, take out your boresnake, and pull that through your rifle and clean out the residue.


The brass bristles in the boresnake will help give your gun a good brushing.
When you get home from your trip, you'll still want to give your gun a good cleaning. A quick & easy field cleaning like this will help you in the field to get the majority of the carbon out, keeping it lubricated and water-resistant, but it won't take out the heavy copper deposits or carbon deposits like a good deep-cleaning at home.
So Eric's going to show us how to give a long gun the good cleaning it needs. You can follow the same steps on a shotgun or pistol.
How to clean your gun at home
We should mention that your first step ought to be to read your owner's manual. This will help you see exactly how to disassemble your gun and clean it. Get familiar with your weapon and how to take care of it.
OK, once you get home from the field or the range, set aside a half-hour to give your gun the TLC it deserves.
You'll need: your gun, a gun vise (and a counter or bench to set it on), a cleaning rod with a brush and a jag attachment, cleaning solution, lubricant, flannel patches, and a shop cloth.
Make sure your gun is unloaded, and then remove the bolt. Rest your gun in a vise.
Take your bore brush and screw it onto your cleaning rod. Dip your brush into your solvent (we use Hoppe's #9 Copper Solvent).

Push the brush and rod through the bore through the end. Do about 20-25 strokes back and forth, then take it out and set your cleaning rod to the side.

Let it set for about 5-10 minutes for the chemical reaction. Let the bore cleaner work on the copper fouling and the carbon deposits.
Take your patch jag and screw it onto your cleaning rod. Take a flannel patch and pull a corner halfway through the jag, and fold it over the end.Then, take the patch and run it down through to clean out the dirt in the bore.

Repeat brushing with solvent as needed.
Keep running fresh patches down through the bore til they come out clean.

Now it's time to lubricate the bore.
Drop 8-10 drops of oil onto a patch and run it down your bore.

This is a preservative, so that humidity and moisture won't get in there and rust the bore.
Take a dry patch and run it down the bore to remove any excess lubricant or cleaning oils that are in the bore.
Take one of your patches that had cleaner on it and clean your bolt. Then, lightly oil the bolt.

And you're all done!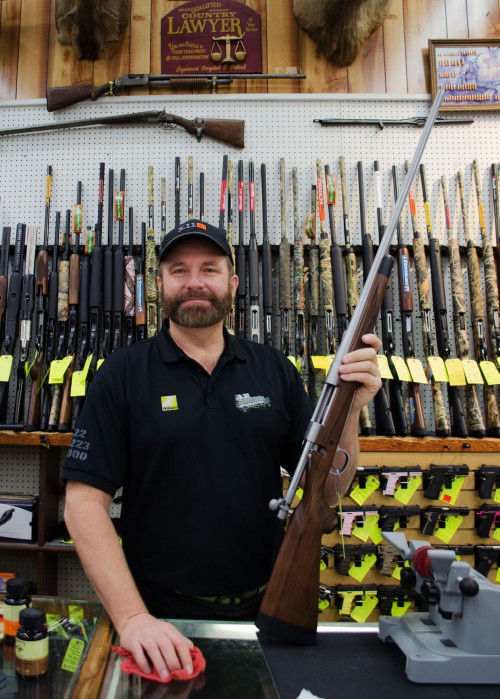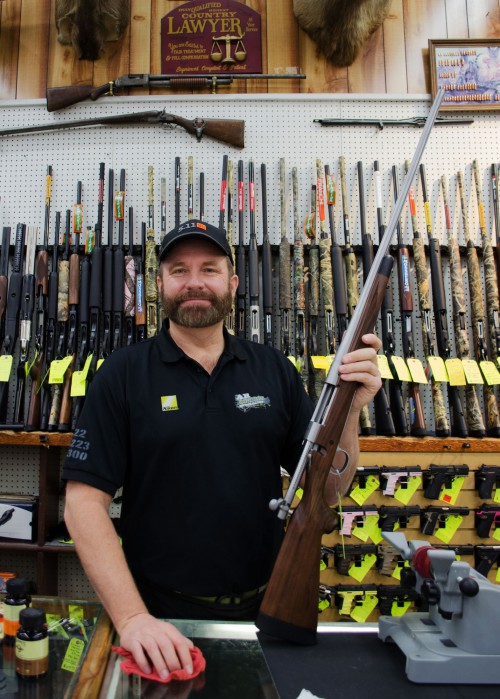 These steps are identical for handguns, revolvers, and shotguns. The only difference with a handgun is you'd use a shorter cleaning rod.
Handguns typically don't get cleaned as often as they should, so for best performance try to do it after every trip or every other trip to the range. Just use the same cleaners and process to get rid of the copper and carbon residue in the barrel.
How often should you clean your gun?
You know your gun best. Eric recommends you do a good cleaning like that every other time you shoot. You should run a boresnake through it after every shooting session.
If your goal is extreme accuracy, you'll want to clean after every shooting session. Your rifle can shoot through a certain amount of fouling without a problem, but after anywhere from 30-100 rounds, you've got fouling in there that will affect your accuracy. If you're out looking for an elk across a canyon or really needing to hit a target, you'll want your barrel clean.
If you're a waterfowl hunter, you're out in harsh environments – rain, cold, sleet, snow, mud – and your shotguns really take a beating. It's vitally important to clean your shotgun thoroughly after every usage – making sure to oil it well to keep it water-resistant.
If you've got a handgun for home defense, even if you don't shoot it during the year, the preservative oils can evaporate over time. So while you don't need to clean it, because you haven't fired it, you do want to re-oil your home defense firearm once a year – whether it's a rifle, pistol, or shotgun.
What gun cleaning supplies we recommend
There are a lot of companies that make gun cleaning supplies. Hoppe's is a great company that has brushes and cleaners, and Outers and Gunslick make great cleaners too. You can also get kits from gun manufacturers, such as Winchester and Remington.
All these are pretty affordable, you're looking to spend about $20-40 on a kit.
We've also got Tipton's Best Gun Vise $99.99 – this vise can adjust to fit rifles, compact pistols, and everything in between. You can find all these gun care products and much more in our Sporting Goods department here at Smith & Edwards.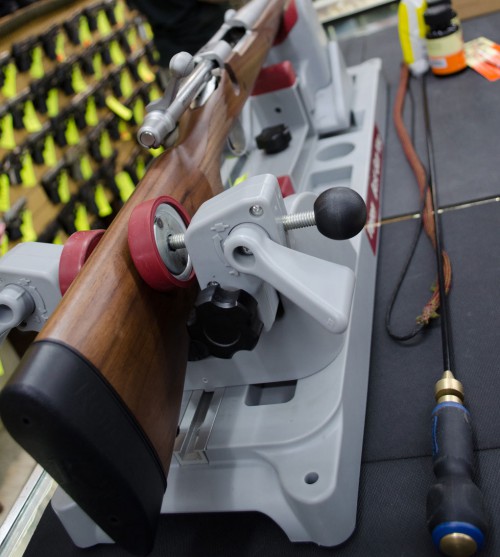 Bore snake – a must-have.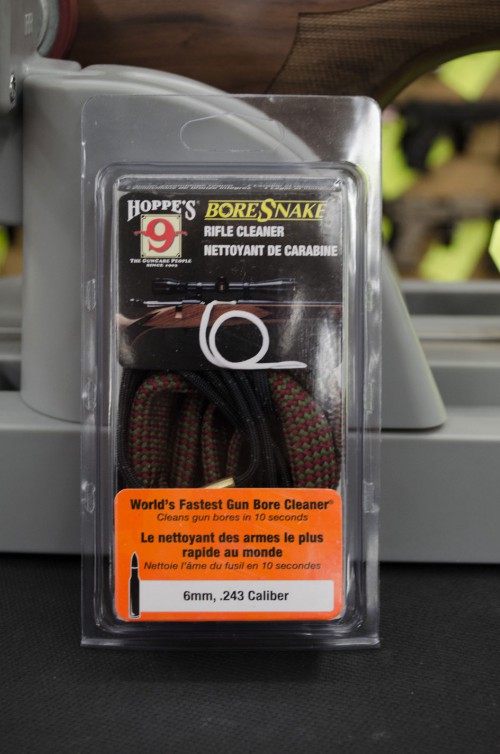 Bronze brush and a Slotted Jag – they come in a huge range of sizes, so get the one that fits your bore so you don't have to scrub as much.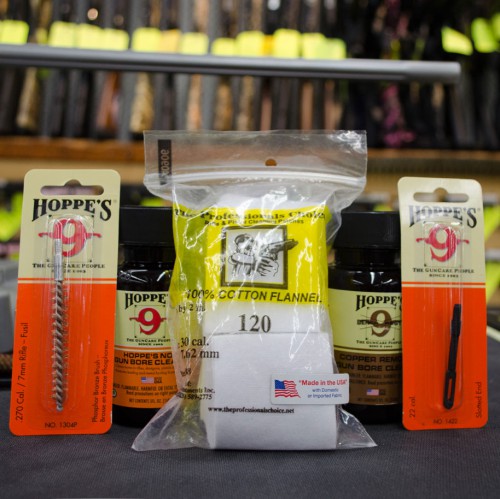 We've got tons of flannel patches, a bag will run you about $5.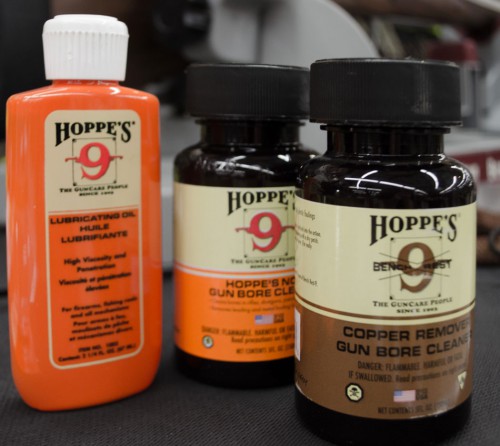 Orange-label Hoppe's #9 Gun Bore Cleaner: your standard, all-purpose cleaning solution.
Brown-label Hoppe's #9 Copper Remover is a copper solvent that will dissolve the copper out of your bore. You'll know it's working when your patch comes out with a turquoise-green tint to it. Keep running the patches down til they don't have that blue tint on the patch.
This copper remover is what you'll want to use frequently if you're an extreme accuracy shooter or into long-range shooting, to get the pristine bore you need. If you're familiar with your rifle's trajectory and exterior ballistics, you don't want to waste that knowledge by having a dirty rifle and not being able to count on the bullet's trajectory.
Hoppe's lubricating oil is a great choice for keeping your bore dry and rust-free til you use it again. It doesn't have much of an odor at all. Break-Free CLP is another good choice.
Cleaning rod: Pretty basic, you'll want either a rifle cleaning rod or a handgun-size cleaning rod. This particular one has a sliding piece of brass that fits on the rear of the action, so the rod stays aligned in the center of the bore, so you get a good clean, and faster.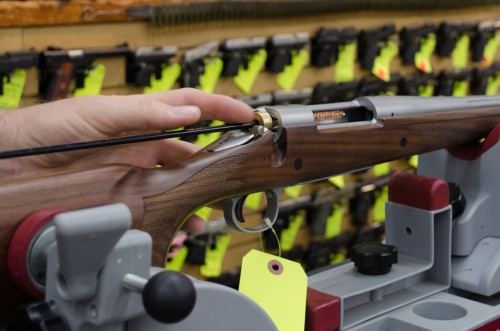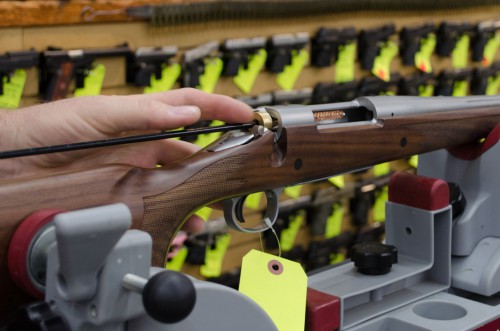 Your turn
How do you clean your handgun or rifle? What are your tips & tricks? Leave a comment below and let us know.