My Grandpa used to say: "Too much of anything is not good."
Is it possible to have too much gear? Too many gadgets?
I do love new stuff, but when I am in my backpacker mindset, some stuff just gets left behind. Most backpackers love convenience and comfort, but have to be choosy when it comes to weight.
For years, having a pack under 40 pounds was my goal. As I am no longer 20, my goal has changed to the low 30's for pack weight for a 4 day or so hike.
Since I have, through the years, carried a lot of weight to get my young children into the backcountry (they are all full grown now), I try to take advantage of the payback opportunity as much as possible. If I can't convince one of my sons to carry it, I usually leave it home.
Lightbulb Moment
On this last Uinta backcountry adventure, I found an item that I just had to try out. The Luci Inflatable Solar Lantern has been selling by the hundreds in my department.
I honestly didn't get how, but its success made me think that I was missing out.
I bought one at the last minute (along with about $200 worth of last-minute necessities) and left the solar lantern on my dashboard to charge that afternoon. My pack was in that low 30# range, so I threw it in my pack.
Two of the nights were cold, rainy, and early-in nights. Reading was a great escape to pass the time.
The LED lights were perfect in the tent and the inflatable feature diffused the light output to perfection. It was awesome. The Luci was light enough to perch in the gear loft and do its job.
In the morning, I left it outside the tent and headed out to fish. The afternoon rains soaked it, but it still recharged without a problem and was ready for the next chapter of nighttime reading.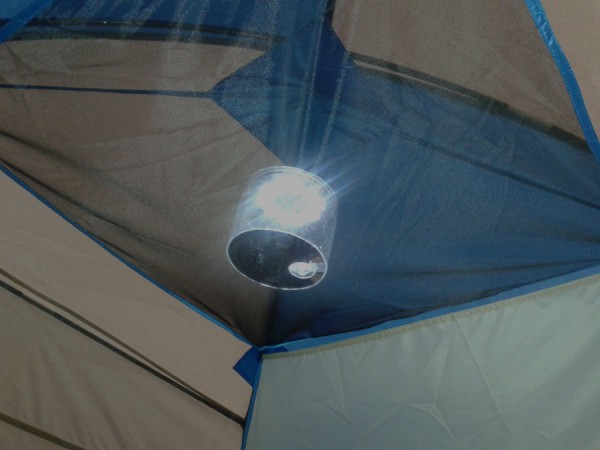 The Luci promotes itself as an inflatable light – and the fact that its plastic lining diffuses light in the tent is a big plus. But the more important factor for me was that this item, nearly the size of your typical lantern, collapses down smaller than the book I packed – now that's nifty.
Waterproof, lightweight, rechargeable, and affordable. It's worth a look.
Get yours online at SmithandEdwards.com here or come see it here at the store off the I-15 Willard Bay turnoff.