It's so easy to put your saddle on the stand and walk away when snow starts to fly in the fall. But that leaves a lot of dust & residue on your saddle so when you take it out in the spring, it's WORK lookin' you right in the face!
When you've put that much into a good Western saddle, you want to make sure your saddle stays clean and conditioned! Marty Thompson, our Western Saddlery guy, will take you through the most important parts of cleaning a saddle, whether you're putting it away or taking it out in the spring.
Plus, if you have leather cowboy boots, scabbards, or headstalls that need a good cleaning, you can use these same steps to condition your leather.
How to Clean a Saddle Q & A How to Clean a Western Saddle…. Before & After
Here's a customer's saddle. For some reason they were happy to volunteer when we asked around who wanted their saddle cleaned for free!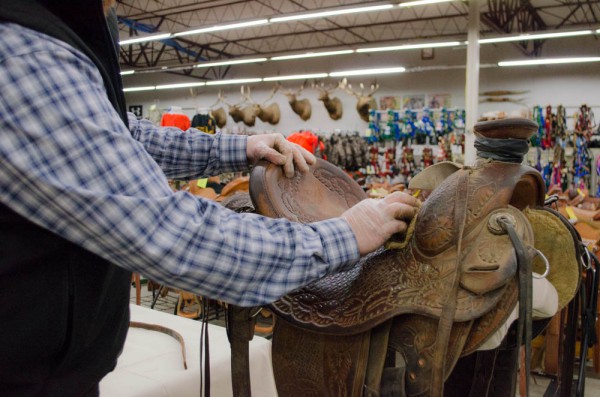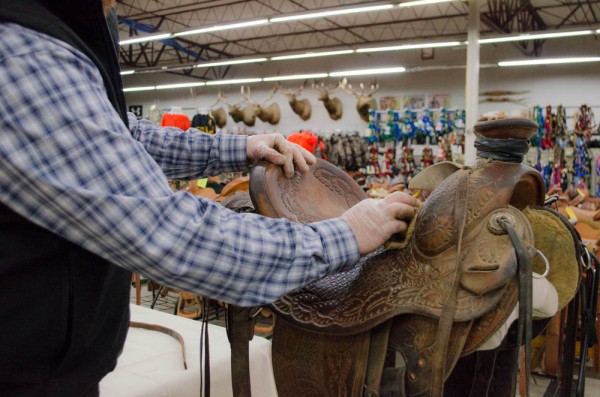 This saddle has some beautiful tooling and design, but it's been buried deep under dirt & muck. Here's what it's going to look like when we're done: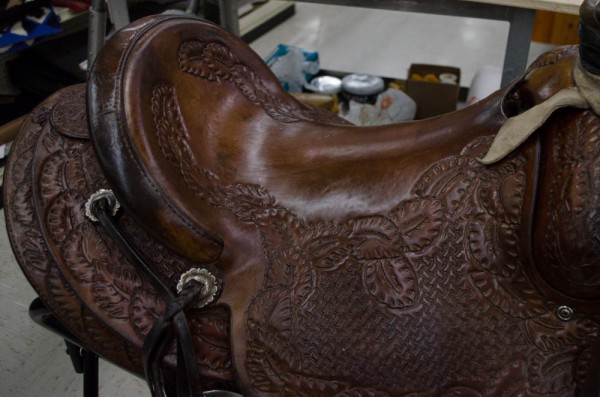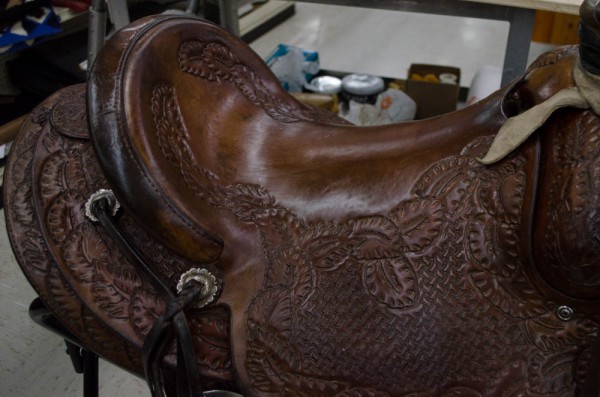 Leather Care Products you want to use
Everyone has their own preferences. Marty's not only sold tack for 20 years here at Smith & Edwards – he does leatherworking & builds saddles in his spare time. So here's what he recommends, based on his experience.
Before Marty started with products, he took a bristle brush to the saddle to get off most of the dirt before coming in with the liquid. An air compressor works good too, if you have one – especially under the skirts and jockeys!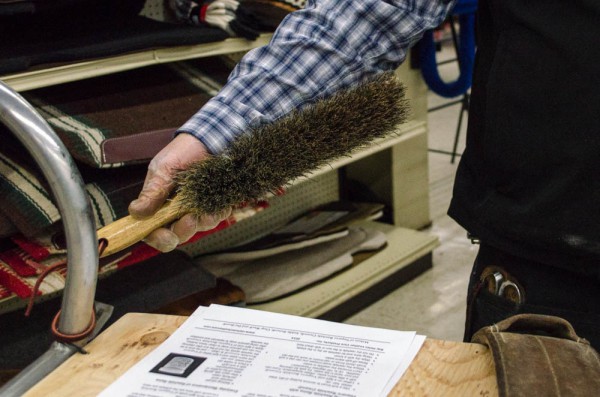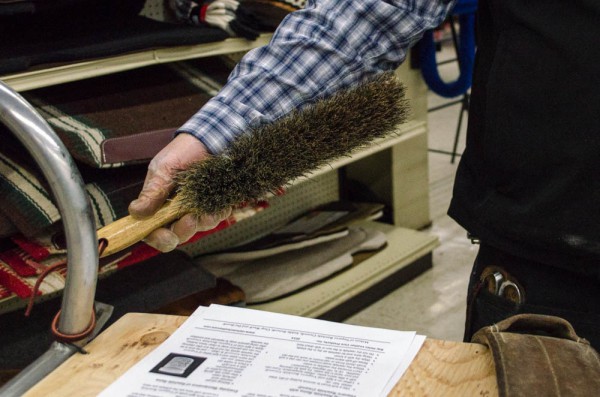 If you have a REALLY dirty piece of leather, you can use some dish soap on it. Then, you need to come back and condition it afterwards.
Marty likes using Fiebing's Liquid Saddle Soap. This spray seems to cover better than paste, and you get less residue in the cracks of the leather. You can use a paste with a wet cloth, but if the paste gets too thick it might be hard to work out of your leather's creases and details.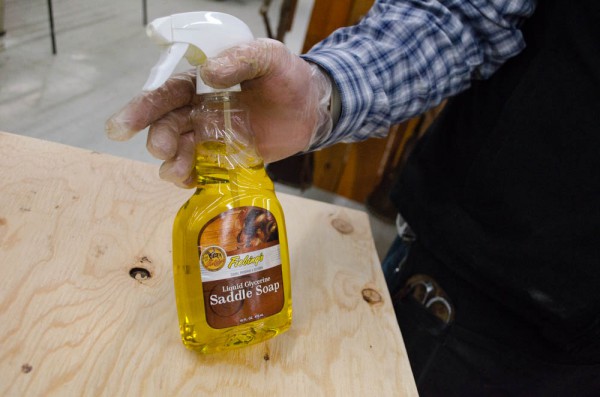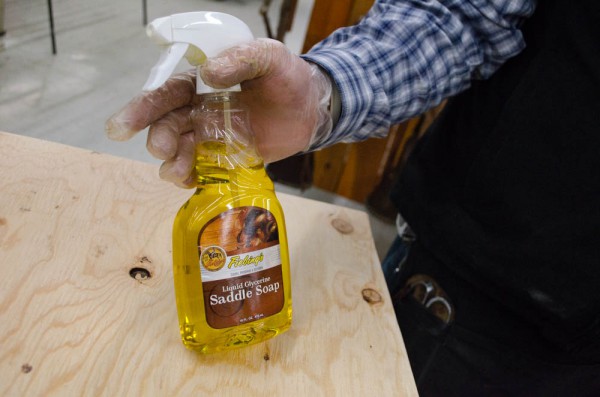 The Liquid Saddle Soap cleans it out really well, and it also lightly conditions it at the same time. Plus, it's great to be able to spray in the spots you want.
If a saddle has a lot drier feel to it after going over it with saddle soap, you could go over it with some neatsfoot oil to condition it deeper.
A soft cotton cloth is good to use for rubbing the liquid into the saddle. You can also use a soft sponge or a piece of sheepskin. You want something that is soft and won't scratch the leather, and also holds the cleaner and conditioner well.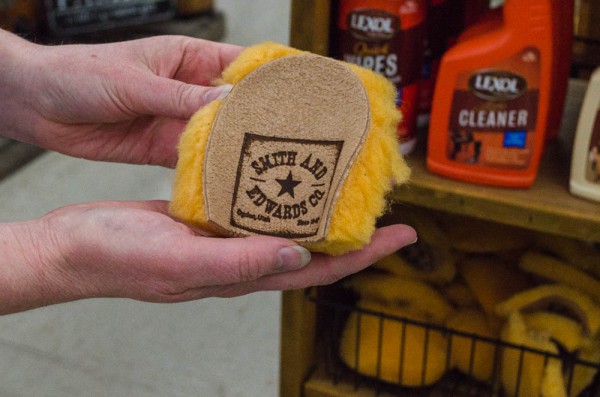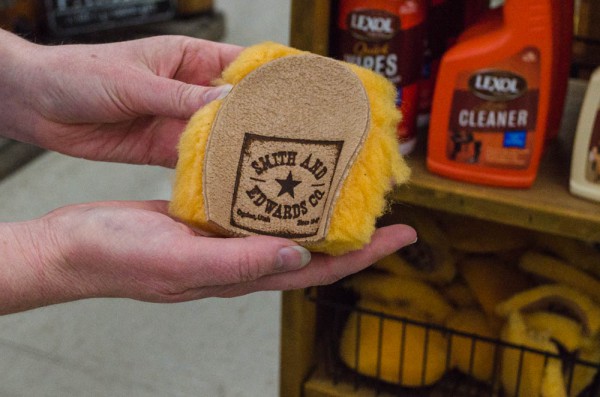 If you have an older saddle, or maybe a saddle that hasn't seen enough care, the Skidmore's Leather Cream is a great way to deeply condition your leather.
You don't have to wear gloves. Marty likes to wear gloves because that way he's not running to the sink to get oil off his hands!
Parts of the Saddle to Clean
You want to clean your leather and get all the sand, dust, and dirt out of there. That helps your leather last longer and brings the beauty back into that leather.
It's really important to do more than a surface clean when you care for you saddle.
When you've got sand and dust trapped in the fenders and parts of the saddle, it acts like sandpaper and wears out the leather.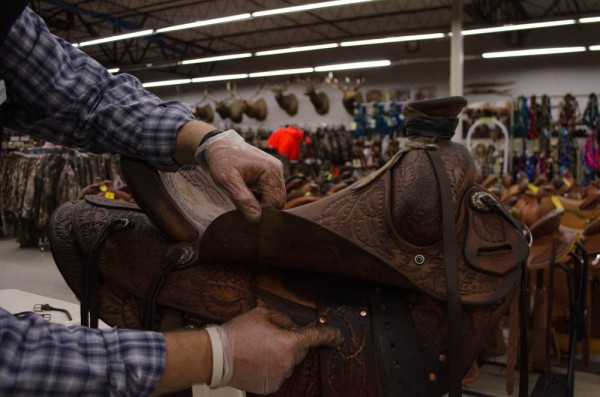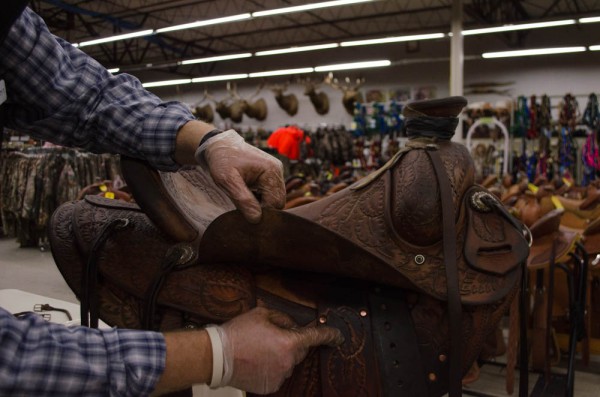 You want to get in the fenders, the saddle strings, stirrup leathers.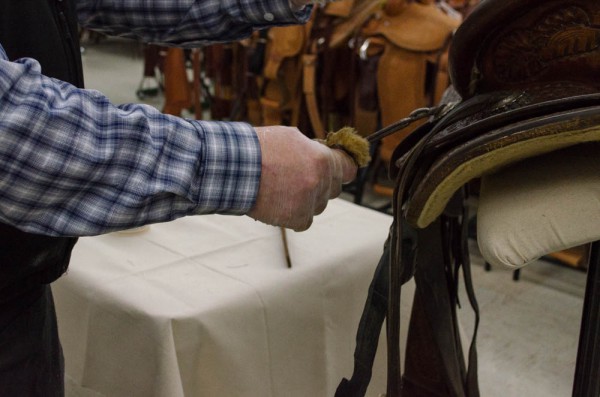 And the cinch and back billet are really going to want cleaning.
Make sure and get your rosettes and conchos shined up while you're at it!
If your silver conchos are really tarnished, go ahead and take them off your saddle, then take some silver polish to them. That's because some silver polishes can turn your leather white, so you want to be sure and take the silver off the leather before you introduce the chemicals.
A lot of dirt and hair will build up where the stirrup hangs, so scrape and break up the dirt. You can scrape off the mud with a pocketknife on your stirrup leathers, and then you'll be able to get the conditioner in the leather.
If you have a rough-out or suede seat, you'll want to use Bickmore's Bick 4 instead of an oily conditioner, so the oil doesn't come out on the seat of your pants! This type of product is also good for leather couches and car seats.
What about cleaning Rawhide?
If you have some nice rawhide-covered stirrups, a rawhide bosal, or rawhide reins like these romal reins, Marty recommends Ray Hole's Rawhide Cream (click to shop).
Same idea on cleaning rawhide: brush off any dust & dirt, then take a piece of sheepskin and work the rawhide cream into your gear.
Waterproofing Leather
Ray Holes' Saddle Butter conditions the leather well, AND has a waterproofing component in it. Ray Holes also makes Chap Wax, which is specifically designed for waterproofing. Skidmore's also makes a waterproofing from beeswax. Each of these penetrates into the leather well and helps the moisture bead up and roll off instead of soaking into your saddle!
How do you waterproof your leather? Same process: clean your leather off with a brush and then a conditioner. Then, put on a coat of waterproofing.
Make sure and let your saddle dry on its own, at room temperature – this may take a half hour.
Finishing touches
To finish your leather, put a coat of Tan-Kote on your gear.
Tan-Kote, by Fiebing's, gives your leather a bit of shine and also helps repel dust and dirt. Plus, it's a softer product with a water base, that won't cause your leather to crack.
After
Get more tips like this in your email!
Enter your email address & Marty will send you more tack tips plus let you know when he puts his Western tack & gear on sale.
Get the Basics with this Leather Care Kit
Marty put this kit together so you can get everything you need in 1 place to clean and waterproof your leather. Skidmore's leather products are made in the USA – which we love – and they'll work great on your saddle & tack.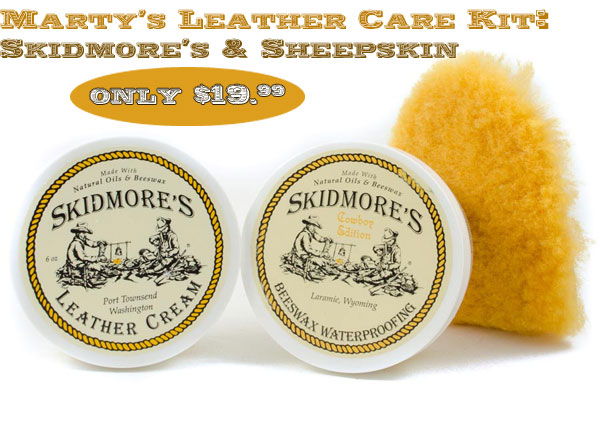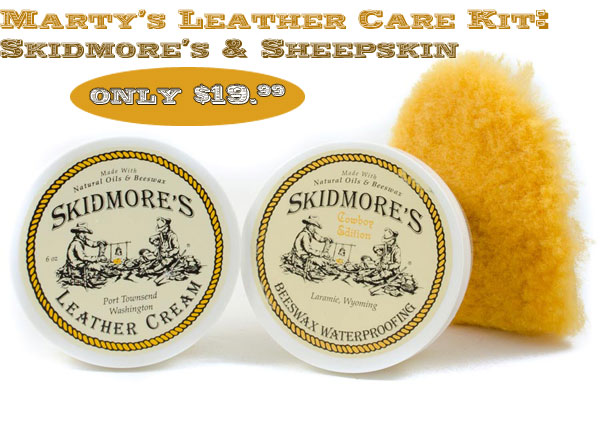 Plus, you save money by buying these products in the kit – AND you get a sheepskin piece to work it in! We don't sell these sheepskin scraps on the website, so Marty's kit is the only way for you to get your hands on one of these! Click here to check it out.
How do you care for YOUR saddle & gear? Let us know!