This spring we visited the Perry City Three Mile Creek shooting range to show off some of the new Tru-Spec® tactical clothing that Ryan, our Surplus manager, has added to his department, as well as the tactical & range bags we've just added to the Smith & Edwards online store.
Who else could we ask to model this cool gear but Tyler? Tyler works at our Gun Counter and has a first-hand grasp of what a shooter needs, both from a military and recreational viewpoint.
Tyler got to stand around looking tacticool while I snapped photos, and then we got to shoot some video (and he got to shoot some targets). Nothing better than seeing it in action!

Tactical Pants
One of the most popular items Ryan's added is this line of tactical pants. While we stock both BDUs and tactical pants, these are the ones our customers strongly prefer. These Tru-Spec® tactical pants fit better and have great pockets. Plus, they hold up really well – whether you're bending and lifting a lot, lying prone to shoot, or wearing them for chores outside.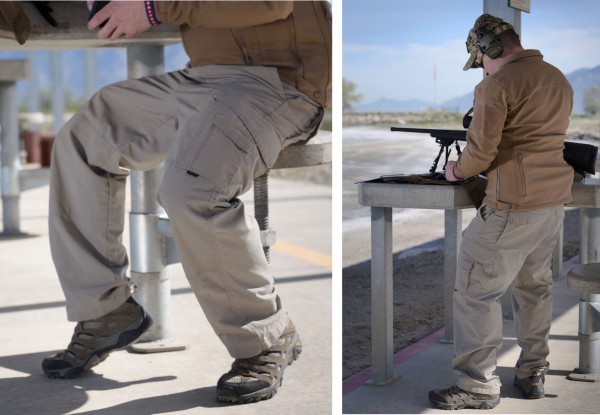 Tyler's wearing the Khaki Tan Tru-Spec® 24-7 Series Tactical Pants.
Range Bags
One of Tyler's favorites from the stack of tactical gear was this American flag Victory rifle case from Allen Tactical: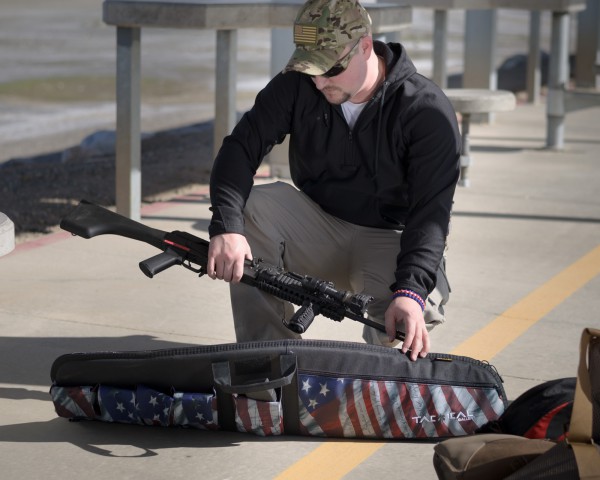 From rifle and handgun cases to duffel-style range bags and even backpacks with handgun compartments for the shooter who takes 5 handguns at a time to the range… we stock what you want!
Do you also hunt as well as shoot targets? You'll find a HUGE range of rifle slings, in tactical styles as well as basic and Muddy Girl prints, at Smith & Edwards.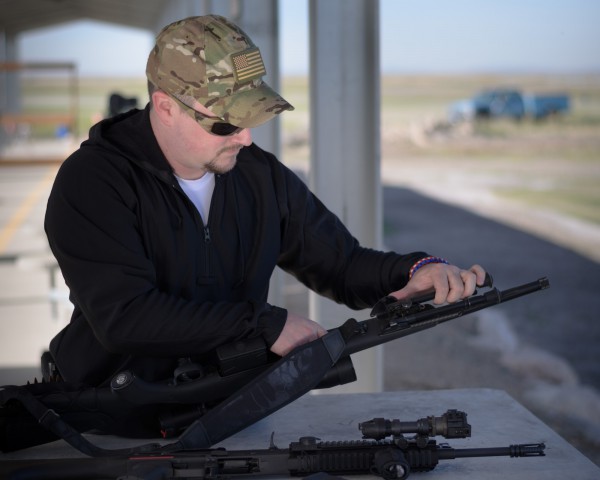 As well as scopes, rangefinders, and binoculars.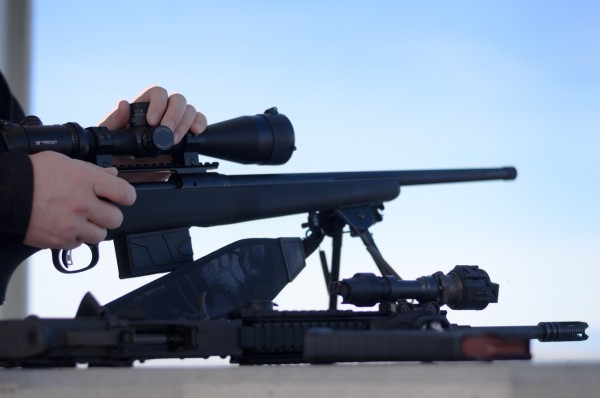 Don't forget your eyes & ears! Get your shooting hearing and eye protection here. You can also get shooting targets and snap caps on our website.
MOLLE Gear
Whether you've served our country in the armed forces or not, sometimes the best tactical bag is the bag you build yourself. You can find mil-spec MOLLE (MOdular Lightweight Looad-carrying Equipment) gear at Smith & Edwards from trusted names like Voodoo and 5.11. We also carry dump pouches, magazine pouches, medical pouches, and even grenade pouches for any configuration you can think of. Click here to explore MOLLE gear.
Concealed Carry & Tactical Shirts and Jackets
This shirt is also available in black.
Tyler wore the Tru-Spec® 24-7 Series Tactical Softshell Jacket in Coyote, the Grid Fleece hoodie in black. Click to see the jackets yourself!
Paracord
Tyler made his own paracord survival bracelet – make your own with one of the 150+ colors we carry. Click here to see all colors of 550 paracord.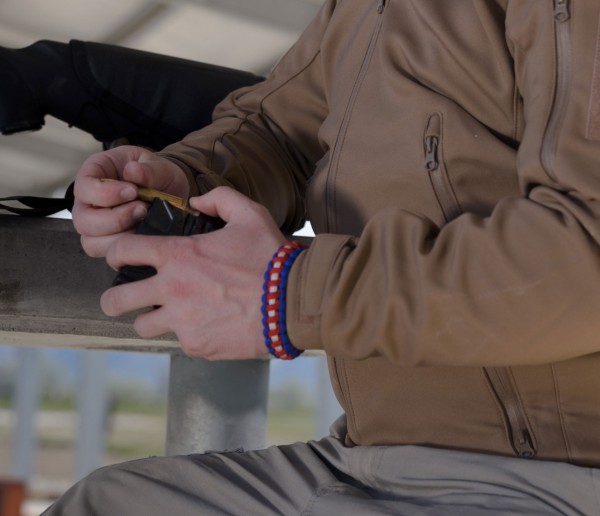 Want more tactical?
Want to see all our tactical and shooting range gear? Want your own DOWNLOADABLE Smith & Edwards target? Click the link below!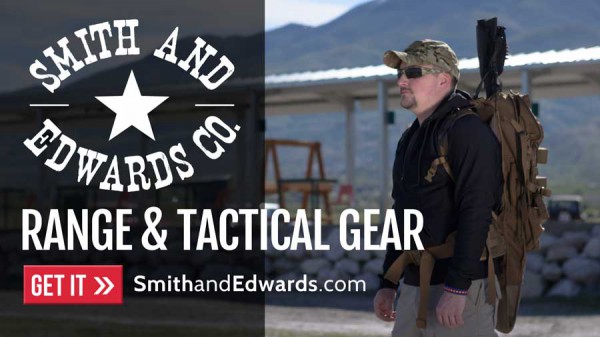 Photography by Rose Marion.