Introducing Havalon Knives, some of the sharpest, lightest blades available.
Click here to see Chris demonstrate them!
They are also one of the hottest hunting knife brands out there right now, and customers have been asking us for them for over a year. We got them in in 2016 and you can find them on our Web Store now, too!
Havalon, a smaller branch of Havel's Inc. is bringing super lightweight, surgically sharp blades to hunters, trappers, and taxidermists with their innovative designs and functions. Normally the use of "surgically" doesn't mean anything, it's just a buzzword.
However, here it's the real deal where Havel's Inc is an actual medical supplier. They have been putting scalpels in surgeons' hands for years.
We Recommend: Piranta & Baracuta
These knives vary in design to suit a variety of needs. While they make others, the Piranta and Baracuta might be their most popular lines.
The Piranta is a no-nonsense folding knife that has a replaceable blade. Using a replaceable blade just means you never have to worry about a dull knife again.
Carry around a couple of spare blades with you just to be safe, and then in the midst of field dressing, should the blade need to be perfectly sharp again, just pop a new one on.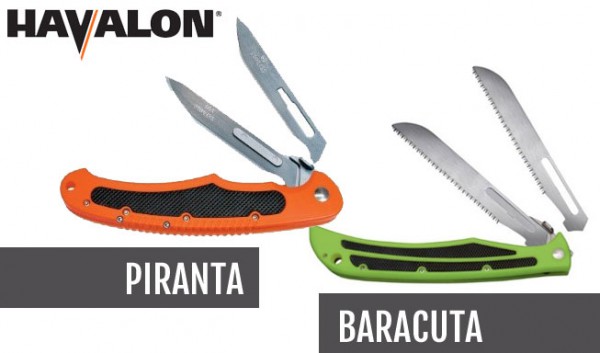 The Baracuta series is fundamentally the same knife, and Havalon has invested in a beefier handle and longer blades. Both styles give you color options and most importantly, blade options.
The beauty of these knives is you can change out the type of blade edge you're working with on the fly. Havalon gives you bone saws, fillet, scalpel, and non-puncture options.
My hunting customers LOVE this option.
Whether you need a new pocketknife or a good hunting knife that won't let you down out in the field, take a look at Havalon at Smith & Edwards. Click here to shop our huge Hunting Knives department.
Watch how to change a Havalon Blade:

Written by Spenser England with Chris Jacobson