Some say, "hideable handguns aren't fun to shoot."
There certainly has been a trend to buying small concealable pistols and revolvers. Many new shooters are inclined to buy the smallest size, but may not take into account ease of operation and recoil control.
Small guns can sometimes have the opposite of bold, high visibility sights; they can also produce more recoil than we expect. I personally like mid to larger handguns for that reason.
The American Public has, for the last few years, been buying a huge number of 380 ACP pistols. Some have loved their purchases, but I have personally seen a good number gravitate back to a larger pistol or even give up on the perfect pocket gun quest.
I vowed that I did not need another caliber to support; nor did I want a pistol that was not easy to shoot and find the target. I have struggled to find something small enough for everyday carry that would give me the accuracy standard I need.
I'll tell you what I think is a little bit of a funny story.
Glock 45 or 42?
At the 2014 S.H.O.T. Show – the big kickoff for the gun industry's new products – Glock introduced two new pistols. The model 41, a big long barrel target 45ACP with a new thinner slide, and the model 42 a very small pistol in 380 ACP were introduced.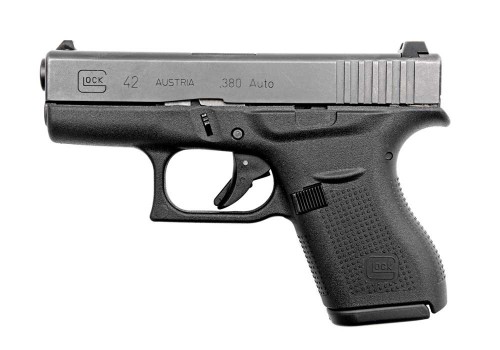 My friend Scott was very impressed by the 380 subcompact gun and vowed to buy the first one that came into Smith & Edwards. I gravitated to the bigger 45 and made the same vow. Well, not too long after that, we received one of each at the store. Scott kept his promise and bought it that day.
Range Day with the Glock 42
I decided to go to the range that day with a couple of pistols that I had been shooting for some time. Scott offered to let me "break-in" his new acquisition; how could I say no? He even bought a box of ammo and said, "Shoot 10 of these and tell me how you like it!"
It was like Christmas all over again. I hurried off and was soon ready for the test.
Right off, I shot two 5 shot groups at about 10 yards. The little Glock 42 was smooth and the groups were tighter than I thought possible from a gun this small. The sights were easy to pick up and the recoil was minimal with no abrasion or discomfort.
I went on to shooting my bigger guns. They were ok, but I thought, Man, I think the little Glock is way easier to shoot acceptable groups. I know that I was only supposed to put 10 rounds down range with the free ammo, but I couldn't stop. I shot 10 more rounds and was amazed by how the little gun handled.
This happened a couple more times and when I looked down, the box was very near empty. I was convinced that I had to have a Glock 42.
I returned the gun to my friend, and bought one for myself (I did buy him another box of ammo to remain friends).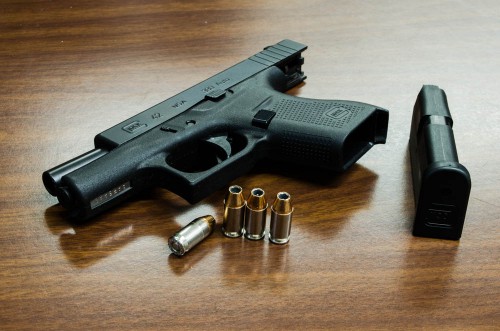 The Results
I have included some average 5 shot 10 yard groups. These were shot off hand with no support. The target dot is 1.5″ in diameter. I also have included an amazing 5 shot group that I would be proud of with any pistol.

I am sure many could out-shoot this pistol if we went to the 25 yard line. I am not saying that this is a target gun. I am saying that I have not been able to shoot a gun this small anywhere close to as well as this little Glock. The controls and trigger pull are just like their bigger guns; so if you shoot a Glock well, you will really appreciate the model 42. Come on, give the 380 a chance.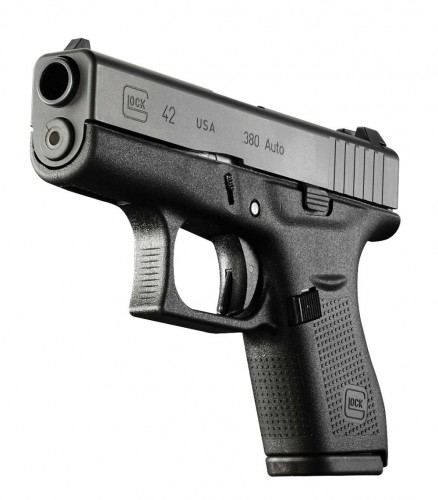 Glock 42 Specs:
Caliber: .380 auto
Capacity: 6 rounds
Barrel length: 3.25″
Overall length: 5.94″
Width: 0.94″
Height: 4.13″
Length between sights: 4.92″
Weight, unloaded: 13.76oz
Trigger pull: ~5.5lb
Trigger travel: ~0.49″
Barrel rifling: Right hand, hexagonal
Length of Twist: 9.84″
Click here to see the Glock 42 or come visit it in-store at Smith & Edwards Gun Counter.
Note from Rose: Mike was generous enough to let me shoot his Glock 42 at the Perry range. This is a really nice gun and a great option for concealed carry. I liked the trigger pull, the size and grip were perfect, and I liked the fact that it stays open after you fire the last round. The sights make this handgun a lot better to aim than your typical .380 concealed carry, and it doesn't kick like a Ruger LCP or others. Thanks, Mike!
Like the review? Should we do more of these? Leave a comment (or come into the store) & let us know!
About our people

Mike Vause is the Sporting Goods manager at Smith & Edwards. He's been here over 20 years. When he's not in the store, he's probably hiking, camping, or testing the latest handgun or rifle.
Have questions about guns, hunting gear, or reloading equipment? Call the store at 801-731-1120 and ask Sporting Goods, we'll be happy to help you get the gear you need.