WILLARD: Fish at Willard has been spotty at best lately. A few weeks ago, we had a warm spell where there were reports of some walleye becoming active but that ended when the weather turned off cold again. Walleye and Wiper are warm water fish, and generally are more active when the water gets warmer. The current water temp that the Willard Bay state parks website gives is 43 degrees but reports from anglers have it somewhere between 37-39 degrees.Catfish activity has been picking up and anglers are catching some nice ones using worms or carp meat right on the bottom.
Looking at the weather report, it should be getting a little warmer and in a week or two the Walleye and Wiper should be getting more active. As their activity increases, green or white grub jigs with the curly tails will be the ticket. If rapallas are more your speed, white or silver with black shad are going to be what you need. Trolling with a bottom bouncer and a worm harness also works well when the fish become more active.
A few other local spots that are hot right now are Hyrum and East Canyon Reservoir. Both of these reservoirs are great right now for Rainbow Trout. Marabou Jigs or Rainbow powerbait seem to be the best right now. As always with trout, gold and silver lures like a Jake are never a bad option. As the ice starts to come off of these higher reservoirs, look for the fishing to become really good!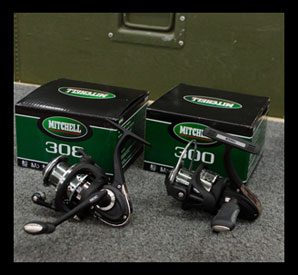 New in the store:
It's the reel everyone loved – and now it's back.
A legendary reel reintroduced with new features, the Mitchell 300 and 308 Spinning Reels are $44.99 in the Smith & Edwards Fishing Department.