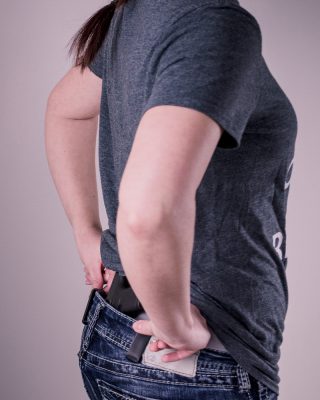 Look out, Utah! There is a new brand of gun holsters in the state and they are exclusively at Smith and Edwards. We know you are going to love them.
CarryMeGear is owned and operated by Smith and Edwards' own Mike Vause, right here in Ogden, UT. Mike is the Sporting Goods manager here and we are super excited to be carrying his handmade gun holsters!
Mike has spent most of his professional career in the shooting sports industry. For years, he has been looking for something new to bring to this growing market.
"I have owned and tried many holster styles and brands," he explained, "and decided to take some elements that I like and incorporate them into my thoughts and needs. I woke up one morning and said, 'Let's do this!'"
After a lot of work, trial and error, collaboration and help from his good friends, the first CarryMeGear Inside-the-Waistband (IWB) holster came to be.
Why Carry with Kydex?
Carry Me Gear holsters are made out of Kydex, which is a thermal plastic designed for heating and shaping for custom fit. Kydex is lightweight and durable, lasting longer than other materials.
Why is Kydex superior? It is thinner and easier to conceal, and it is sweat and weather resistant. You no longer have to wait for your holster to dry out, making these the perfect holsters for backpacking and hiking.
What sets CarryMeGear Apart?
When asked what sets CarryMeGear apart from brands we carry, Mike said, "The difference is adjustability of attachment and fit to the body. It spreads the load over a larger area than single attachment designs, and is sleeker than other 2-point, soft-back styles."
Still, the greatest things that set these holsters apart are: 1) they are handmade right in Ogden, so you'll be supporting a local business, and 2) they are about $10 less expensive than other great brands!
Additionally, each CarryMeGear holster is hand-fitted to a mold of the exact model of gun, and hand-sanded for snag-free carry.
We asked one of our buyers, Chris Jacobson, why he was so excited about the new CarryMeGear gun holsters. "These holsters are handmade locally in Ogden, UT and are fitted to your exact gun," he said. "The Inside-the-Waistband holster is surprisingly comfy. I personally own one and really enjoy using it."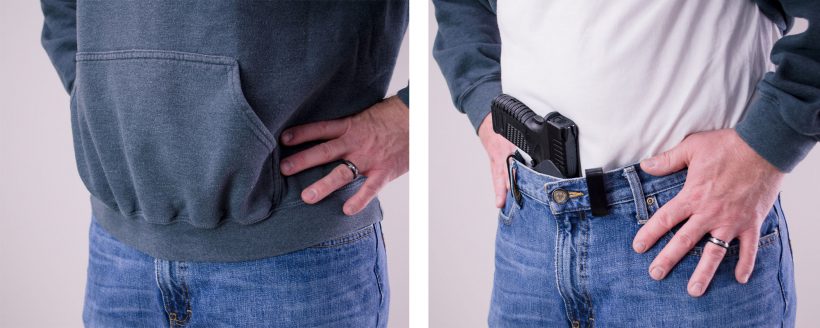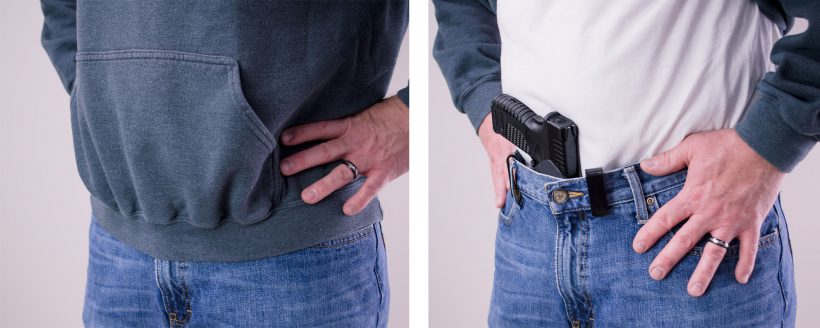 IWB holsters are especially popular because you can adjust to use your choice of strong side, kidney, or appendix carry. CarryMeGear holsters are even more comfortable because they are easily adjustable to fit every body shape and size.
The holster's forward and backward cant, or angle, can be adjusted. In addition, tension on the firearm itself can be increased or decreased. Screws and bushings also allow the holster to move closer to or away from the body.
Outside the Box: OWB & Small-of-Back Carry
CarryMeGear also makes Outside-the-Waistband (OWB) holsters for strong side carry. Smith & Edwards carries these OWB holsters for several models of semiautomatic handguns, as well as a Smith and Wesson J-frame Revolver model.
Mike is also very aware of the needs of his customers, and is open to additional feedback and insights. Mike began working on Small-Of-Back holsters due to requests from women shooters.
The small of the back design allows ladies to carry while maintaining a natural hip silhouette. "We are designing, thinking, and testing more designs and products," he told me. "A Small-Of-Back (SOB) holster has been tested and approved by some of our Smith and Edwards concealed carry permit holders."
Look for the small-of-back holsters, magazine pouches, and even more styles of holsters from CarryMeGear at Smith & Edwards soon!
Get Yours at Smith & Edwards and on our Website
We know that you will love the CarryMeGear holsters, whether you are a CCP holder or looking for a good range holster. We love the CarryMeGear holsters and recommend them to everyone. You'll wonder how you ever lived without one!
Talk to one of our experts and try them today at Smith and Edwards. You can also find our selection of handgun holsters here on SmithandEdwards.com.