June has been a great month and we have seen a lot of fish being caught out on Willard. The stellar year of fishing has continued to produce some of the best fishing in recent memory.
A couple of our employees, including our own sporting goods employee Hanna, went out about mid-June and had a very good outing. They caught lots of Wiper and a few Walleye and had a blast doing it. They even stopped to pose with a few of their catch.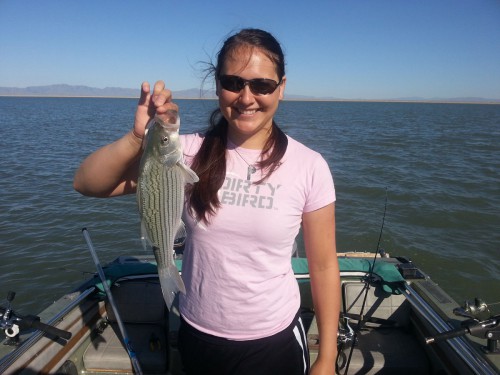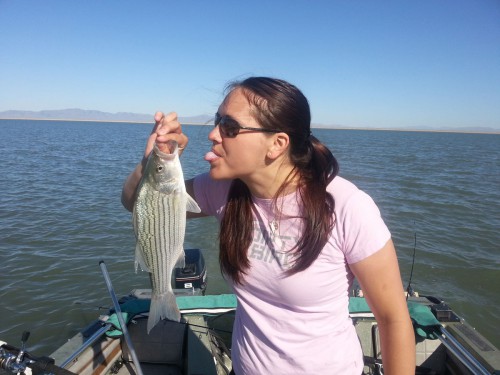 Nice job guys!! Although I don't think licking it will taste very good!
Fishing at Willard Bay
In July we should see the fishing continue to be good, but it has slowed down in the last few weeks. As the weather and the water gets warmer, you will start to see the fish be more active in the mornings and evenings. The shad that are in the reservoir are getting bigger, and a lot of anglers are saying that is why we are seeing a slowdown in fishing activity. With the bigger shad, the fish aren't as active and willing to chase the shad raps or bottom bouncers.
July is the month that we should start looking for some boils. We haven't had reports of any good, consistent boils in a few years. Hopefully, with any luck, this year will be different. We would love to hear of any boils you guys see out there!
Don't let the slowdown scare you though; the fish might not be as active, but you still can catch them using bottom bouncers with a worm harness or floating Rapala. You will want to fish in some of the deeper parts of the reservoir, although it is Willard and that means it's not very deep at all.
At any rate, there is still some good fishing to be had out on Willard this year and July will be a great time to get out on the water!
Fishing at Other Reservoirs
Pineview Reservoir has started to become a little more active these last few weeks as anglers have been able to catch a few more Crappie from shore using a small jig and a bobber. This reservoir gets to be hard to troll with it being used by a lot of wakeboarders and skiers.
Mantua is still a good spot to go for some great bass fishing. Look for those bass to be hidden in any structure along the edges. Mantua has also been a pretty decent spot to catch some Rainbows while trolling. Wedding Rings or Pop Gear with a worm behind them have had the best success.
There has been some great fishing this in Northern Utah year and we look forward to it continuing.
I have been asking for you guys to send in your photos and you haven't disappointed. Truman Holbrook sent in this pic of this big ol' Wiper that he and his family caught in their secret spot!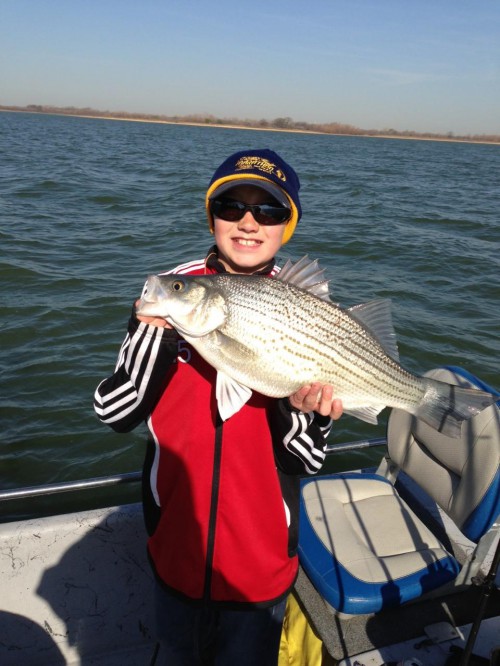 Great catch guys! Be sure to keep these pics coming and we will put them on our bragging board and on our blog! Good Luck Fishing!
Hey – what do you want?
What do you want to hear about in these fishing reports? Any specific lakes or reservoirs, or any specific fish you want advice on? Leave a comment & let us know so we can get you what you need!