What do you do with all that left-over corn you made for dinner? Throw it out? Stick it in the fridge, forget about it, and then throw it out? Not anymore!
With this easy video & guide, you don't need to let the words "canning" or "food storage" intimidate you. Melissa in our Housewares department will walk you through the steps.
Easy Frozen Corn Storage: Watch How!
Now, this is something I have done with my family since I was a little girl. We have our own garden and we love corn. So when it is corn season, we all get together to freeze our own corn for storage. It's so simple and the corn comes out with that same fresh-from-the-garden taste.
How To Freeze Corn in 6 Steps
Here are some quick and easy steps for freezing your corn:
First, shuck the corn.
Shucking means to take off the husk and the silk hairs. As Melissa shows in the video, one easy method is to hold the corn between your knees and pull the husk toward your body.

Wash the ears of corn and remove any remaining silk.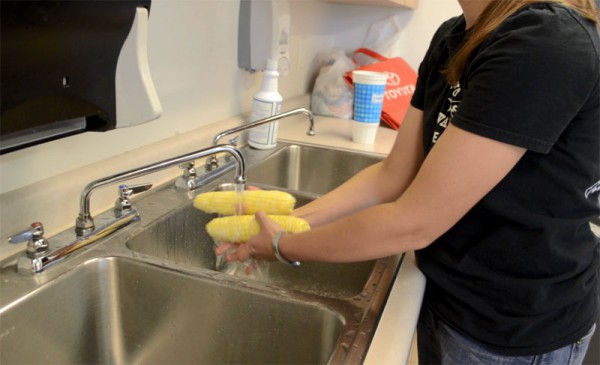 Blanch (or boil) the corn in boiling water for about 6 minutes.
The reason behind blanching the corn, is to stop the enzymes that can make the corn taste bad later. Cooking it first helps preserve the flavor when you want to eat it later on.
After blanching, take a pair of tongs and place the corn in ice water to slightly cool them off, just until they're cool enough to handle.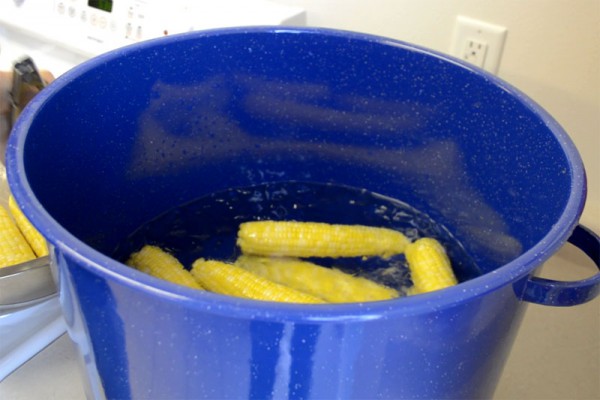 Cut the corn off the cob. Now, this part is optional. If you like, you can freeze them whole, on-the-cob. After step 4, you would wrap them in plastic wrap and then put those in freezer bags to freeze.
But if you like, you can take a knife and cut the kernels off the cob to freeze. In my family, we have always cut the corn off. It's your choice!
TIP: To cut the corn off the cob, you can put them in the center of a Bundt pan. This will hold them as you cut off the corn and it will fall right into the pan.

Also, simply a board with nails pounded through (about 5″ apart) can hold the cob while you cut.
Now, simply scoop the kernels you just cut off into freezer bags.
You can put 1 1/2 to 2 cups in a bag, depending on how big you want your portion sizes to be when you eat them. When the bags are flattened to about 1/2 – 1 inch thick, you can stack them nicely in your freezer to make the best use of freezer space.
More Tips on the Freezing Process
11 1/2 dozen large ears of corn should give you about 58 cups of corn to freeze.
Vickie, Kitchen Dept. Manager at Smith and Edwards, says to lay the bag with corn flat as you zip it up. When you have about an inch left to zip, squeeze the air out. "If it has air in it in the freezer, it is more likely to get freezer burn," she says.
Melissa has another idea on how to get the air out. She says when you have the full bag, you can slowly lower it into a lot of water, just until it reaches the zipper line. The water on the outside of the bag helps push the water out and you can seal it while still partly in the water.
Don't put too many bags in the freezer at once! If you put a lot of warm things in the freezer, it may begin to thaw out your other frozen foods. But if you put in just a few at a time until they're frozen, they will freeze faster and won't thaw any of your other food.
Now you have corn to eat for the next few months! It's a great and easy way to start up your own food storage without the complicated recipes or big pressure cookers.
Get a FREE Printable: How to Freeze Peaches
Get a free step-by-step on freezing peaches – plus a printable version of the freeze-corn instructions! Just enter your email address and you'll get the printable instantly.
We would love to hear back from you! If this worked for you, or if you have any other tips or secrets to help others in starting their canning & food preserving, please leave a comment below.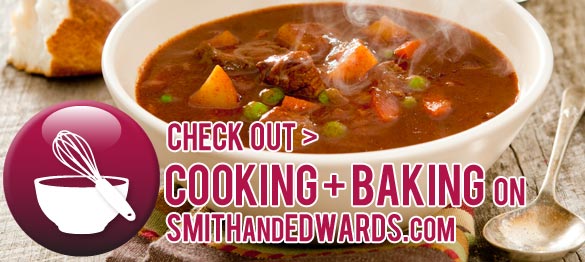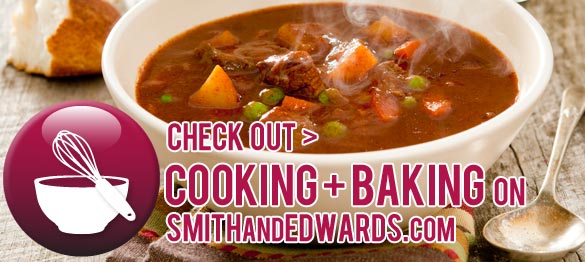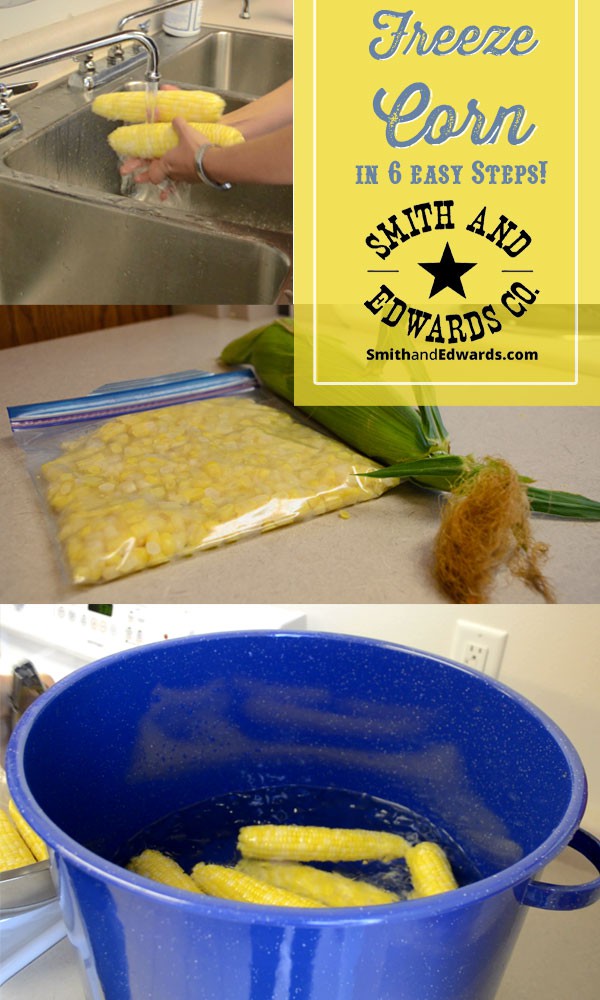 If you liked this, you will LOVE our other frozen food storage tips! Make sure you check out How to Freeze Beets and How to Freeze Cherries.