First day of duck season and we've got what you need here at Smith & Edwards!
Come on in and you'll find camouflage shirts, pants, hats, gloves, warm boots, and much more. All types of hunter orange gear that you can use the rest of the season, too. We stock a huge variety of camouflage patterns and accessories – the ducks will never see you coming in your duck hunting camo. And we've got Under Armour and hoodies as well as good socks to keep you warm on those cold mornings.
We know hunting gear because we hunt, too. Craig, our camo buyer, and Scott, one of our Hunting buyers, gave us all the details on what gear you'll need for a great waterfowl trip.
It can be tough to keep track of all the gear you need for a simple morning of duck hunting, so take a look at what we've got for all your waterfowling needs.
Smith & Edwards' Duck Hunting Picks
If you haven't been to Smith & Edwards for hunting gear before, come on in the front doors and head to the north wall, on your left. You'll be able to find the waterfowl hunting gear you need fast.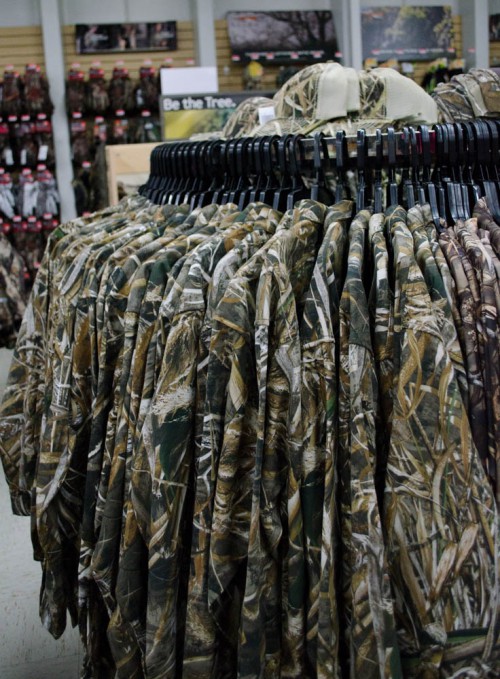 Waders
We've got the waders you need for a dry socks after a long, successful morning of duck hunting. You'll keep your feed warm and dry with insulated boots. Even if you're in the marsh rather than in a blind, a good pair of camouflage waders can be a solid investment – and the difference between a good hunt and a real success.
You'll find several types of camo waders, including blades camo, at Smith & Edwards. We also carry regular fishing waders in solid colors for fishing.
Waterfowl Camo
You'll find great waterfowl camo at Smith & Edwards – camouflage that has natural grassy shapes and a lot of earth tones and shading, compared to blocky, solid camo. This will help you blend right in with the blind and the swamp. We've got lots of camo patterns so you can see what works for you.
Blades, Max 5, and Sitka are our best-selling waterfowl camo patterns.
Sitka's got a very different take on waterfowl camo and camo in general than other brands. Sitka's scientists are interested in what the ducks' eyes see, rather than how humans see camo.
So that's why Sitka's camo has a honeycomb or mesh look to it: Sitka's betting that the birds will see Sitka camo as a more realistic view of the environment, because the camo is designed to blend in when viewed from overhead – so the ducks don't see you as they fly.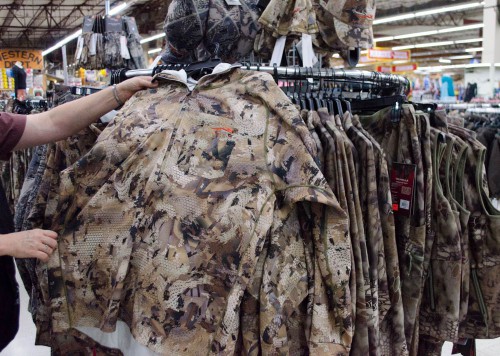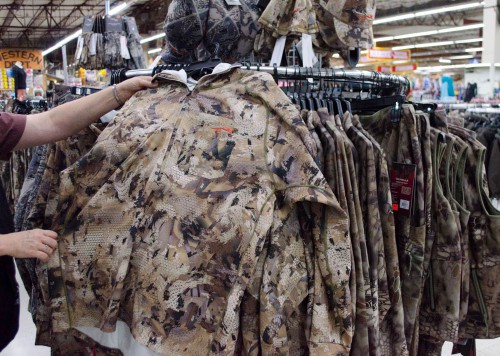 Remember, you might have camo on, and you might be in a blind, but the most important thing is to keep still! Try to only move your eyes and keep your head as still as possible for the best shot at your birds.
Duck Hunting Gloves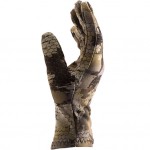 When you're duck calling, you don't want your hands to stand out. Keep warm and put a bit of camouflage on your hands with these hunting gloves.
Waterfowl gloves are waterproof, so you can go in and get your decoys or get your ducks out of the water without getting your hands wet! Again, Sitka makes its own special camouflage gloves so you're even more hidden, since they're designed for how ducks see you rather than how animals on the ground see us.
Sitka's gloves are great as stand-alone gloves, or, you can wear them as a base layer because they're form-fitting and not at all bulky, so almost like a second skin. You can slide on another pair of gloves on top of them when it's really cold.
Hat
For the best chance of success, use our lucky Smith & Edwards hat. And we've got tons of styles of hats so you can pick your favorite. Black, Hunter orange, and several patterns of camo hats that'll keep your head warm on those cold mornings.
Hand Warmers
Keep warm with handwarmers in your gloves. We've got both reusable hand warmers and single-use handwarmes. Both will give you several hours of nice, glowing heat. Put 'em in your gloves, with or without a liner, to keep your fingers flexible and ready for action.
Now that you've got your camo and you know you'll be warm next time, let's make sure you've got all the gear from sporting goods you need. Head over to our east wall to our Sporting Goods department for decoys, duck calls, and shot.
Dog
We don't stock dogs, sorry. But we do have nice dog treats and bones for your hard-working retriever.
We've also got training dummies, whistles, leashes, training collars, and scents – both duck and pheasant scents.
Working on training your own retriever? Check out this video lesson:
Decoys
Sure we've got decoys! Get your ducks in a row with duck decoys and a mesh decoy bag to pack them out.
We've got duck decoys and geese decoys. The ducks above were a favorite in 2013. In 2014, we now carry Deek Decoys made here in Utah! Call 801-731-1120 for any questions, we'll be happy to help.
Duck Calls
You knew all about duck calls way before Duck Dynasty was cool.
We've got Duck Commander duck calls that will work great on your next waterfowl hunt. If you prefer Primos duck calls, we've got those, too.
Shotgun and Ammo
We've got the shot and ammunition for all kinds of hunting this season at Smith & Edwards, and we'll be happy to recommend the ammo as well as guns for your hunt – whether you're duck hunting, turkey hunting, or looking at four-legged game.
Come on back to the Sporting Goods counter – we know the guns and ammo you'll need because we hunt ducks ourselves – as well as elk, deer, and more game. We'll get you what you need.
For shells, you need to use steel shot for waterfowl. 3″ is a good place to start – you want to use 2s, 3s, or 4s for ducks. We've got a huge selection, and we're happy to help you choose the best shot.
For shotguns, Scott's pick is the Benelli Nova, hands-down.
If you're looking at semiautomatic, take a look at Benelli, Winchester, Beretta, and Browning. You'll want a gun with a synthetic stock, and we've got those in black and camouflage. You'll get a gun you can rely on to function well in cold weather.
Remember to give your shotgun a good cleaning after a day in the swamp. Mud, grit, and all sorts of crud can build up on your gun. Doesn't hurt to carry some cleaning equipment and a cleaning rod with you into the blind, too, so you don't have to go back to the truck or worse, home, if your equipment gets too dirty to function.
Cooler and Thermos
Nothing like hot cocoa or warm soup after a long morning of duck hunting. We've got both thermoses and coolers, so you can keep your hot drinks hot and keep your ducks on ice til you get home.
Duck Stamp
You can get your federal duck stamp right here at our Sporting Goods counter. They're $15 and they'll get you in to all the waterfowl areas here in Northern Utah, like Farmington Bay and Ogden Bay. When the federal government gets its act together, check out Bear River up by Brigham City – it's a federal wetland, so it's not open at the moment, but it's a great location for duck hunting.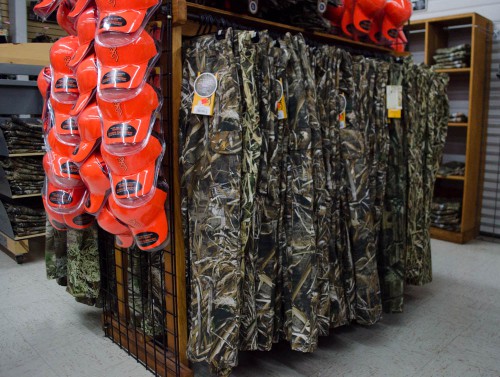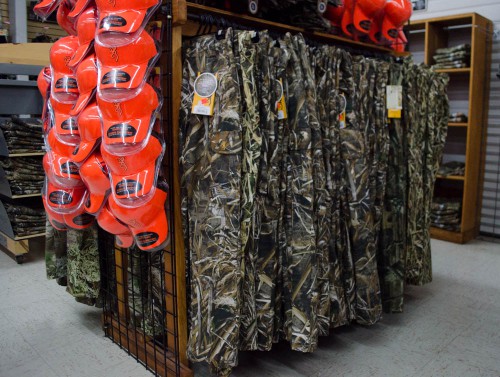 Get duck hunting gear in our web store
Do you have a good bag for all your gear? We've got a great selection of gear bags in the store, and you can find our favorites online, like our 5.11 tactical bags and Voodoo tactical bags.
You might also want to bring a headlamp and a compass so you don't wander around the swamp longer than you have to. And we've got a huge selection of paracord in-store and in our online store, so you can keep your gear where you need them.
Come in for great deals on hunting gear!
Don't forget to stop by our Sporting Goods department for all your shot, too. They've got some great sales and rebates for the beginning of hunting season, so come on in today.
What are your duck hunting tips?
Leave us a comment below with your duck hunting tips & tricks. What gear do you use year after year? What are your favorite spots? We want to hear what works for you!