Are you looking to try something new this spring? Have you thought about looking into trolling for fish? Or maybe you're already troll-savvy and are just wanting to gain knowledge or tips on how-to's. I talked to Chris, our fishing guy here at Smith and Edwards, to get his TOP tips n' tricks for trolling!
What Should I Know About Trolling?
The benefits of trolling in a boat vs. fishing from shore are apparent; your fishing range expands, making it easier to find hot spots and catch bigger fish in deeper waters. This can be a great way to get those deep-water Trout and Kokanee.
So what's the perfect way to troll fish? Well, that may vary depending on your preferences, but here's what Chris recommends:
1. Speed is Everything: It is very important you monitor how fast you are trolling. Try 1.5-3.5 mph at first and track your results. Different species may be attracted to different trolling speeds.

2. Monitor Speed and Fish with a Fish Finder: This can be a very useful accessory for trolling. It will show you how fast you're going as well as alert you to fish in the area. A fish finder is a great to scope out schools of fish to drop your trolling line into… they simply won't be able to resist! One of Chris's favorites is the Elite Series by Lowrance. Chris's favorite Elite Series fish finder is sold exclusively in stores, but check out what fish finders we offer online by clicking here.
3. Spice Up Your Trolling Line!: Although trolling lures are made to specifically flash and flutter to attract fish, it can be extremely helpful to use another form of bait or attractant.
Mike's Lunker Lotion or Berkley Gulp Spray can be a tempting add-on to your set-up. Not only will it give off a "fish friendly" smell, it will also cover up your scent you may have left behind on your lures. If the fish don't sense a human, there's nothing stopping them from taking that lure!
A couple family tricks of mine include using old rings or jewelry with your lures and coating them with your favorite fish attracting scent!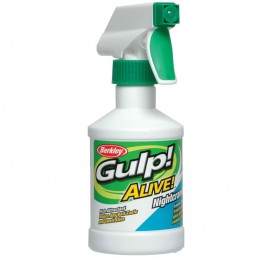 4. Try New Spots: Fishing success can be very lake specific. Some of Chris's favorite trolling spots are Willard Bay and Flaming Gorge. Trying new places can further help you understand which fish take which bait and what time of day they are most likely to bite. (Although most people recommend mornings and late nights).
Chris also recommends:
Squids or Flatfish for Trout
Squids or Kokanee King for Kokanee
Rapala, wedding rings or jewelry, or Warm Harness for Walleye and Wipers
Click here to see the lures you can get delivered to your house here. And you can find even more lures in-store in Chris's Fishing department at Smith & Edwards!
What Other Fish Trolling Tips Can Help Me?
Downriggers, mounts, rod-holders, and different lures or spoons can enhance your trolling experience with versatility and convenience.
Electric vs gas motors are more boat size and water depth specific. Electric downriggers may be more beneficial for deep water fishing areas, where as manual downriggers may be better suited for shallow depths. Chris finds Scotty or Cannon brand downriggers and Okuma Coldwater Reels to be his favorite!
Have Fun With It!
Try new trolling areas, new lures, and new equipment to find your favorite fish-catchin' troll setup. The best way to learn is to experiment for yourself!
Remember, if it's trolling you're interested in, Smith and Edwards has the knowledgeable crew and the best equipment for the job. Click here to explore the Fishing & Trolling selection online or come in the store today!