Well we've had a whole lot of warm weather this winter, let me tell you some ice fishing stories in lieu of new Braggin' Board pictures. And I DO have a new Braggin' Board pic for you to check out, so scroll down to see what's swimming in local ponds.
Self-Rescue while Ice Fishing
Some of you guys are braver than I am.
When it comes to thin ice, I am a chicken. I struggle even on 5 inches of ice!
I don't know if it is because I am a bigger guy, if it's cause I swim like a rock, or just what… but I AM pretty chicken.
In any event, you should check out this video that I found through our good friend Wynn aka Bear's Butt. He's totally immersed in fletching and bows but go tell him hi from me. This video he shared, teaches you what you should do in the event that you fall through the ice.

Thanks Butt! That's some good knowledge to have.
I don't fish very often (if ever) on ice that could potentially be less than 5 inches. That means that I haven't had much fun this ice season. It's been a big bust actually here for northern Utah – one of the mildest winters on record.
When Cold Water is Hot, You've Probably Got Hypothermia
I remember when I was younger and growing up in a very small town in northern Utah. My hometown is small enough that if you blink when driving through it to go to Bear Lake, you would miss it.
I was young enough that I did not have a driver's license yet, and it was Christmas Break. A friend of mine and I decided we wanted to go fishing.
Being in the small town where everyone knows everyone, you can get most places on a four wheeler. My buddy just happened to have one, and we got permission to go.
Woodruff Reservoir was about 10-15 miles away, and we thought that would be no problem to get to. We forgot about where we lived and that we wouldn't be inside a cab getting up there. A four wheeler in the winter up there is SO cold!
We only made it partway and decided that we would just fish a pond that was only part of the way up the highway.
When we finally got on the ice, we found another obstacle. We realized that the hand auger that we had was dull.
I mean, so dull that it wouldn't have cut warm butter let alone 10″ or more of ice. This thing was almost useless!
We finally got two holes drilled and fished for about 10-15 minutes. We caught two fish and decided that was enough… and froze all the way home.
Our hands were SO numb that when we got home, we put them under COLD water because warm water felt like it was burning us! I still have all 10 fingers though so we made it ok.
We never went on a trip like that again… although there were plenty of other adventures we went on!
Want to hear more of my fishing stories? Or share one adventure you had? Leave a comment below and tell me about it.
And before I go, let me show you this perfect rainbow trout caught at Brigham City's Pioneer Park in January.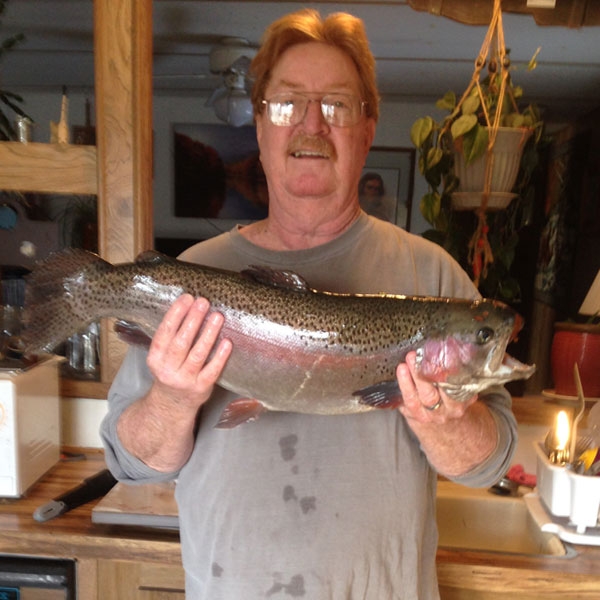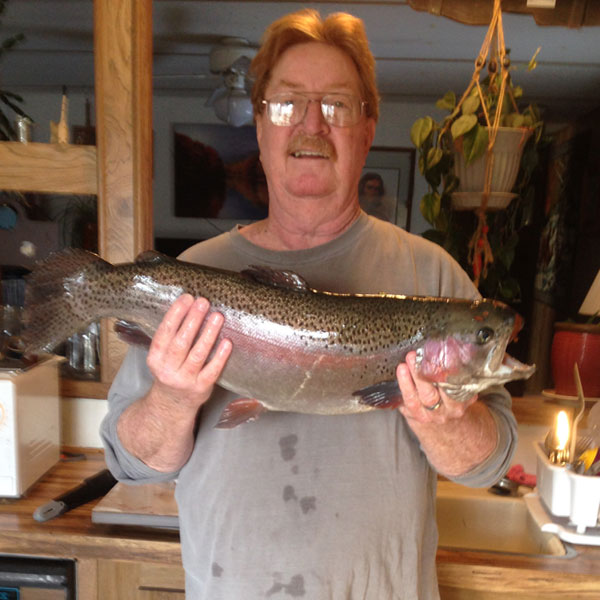 Allen Larsen pulled this beauty: 8 pounds and 26″. Thanks for sharing Allen, and great catch!