I wanted to take a minute and tell you about a new holster line that we have added to our inventory here at Smith and Edwards. Kydex holsters by K Rounds LLC.
As the Hunting Department buyer, I see a lot of products in the industry and have developed a lot of opinions about holsters from my many years of carrying a firearm every day in my work.
Historically, I would have to admit that I am very much a "fine leather" kind of guy. Good leather holsters that are hand boned and fitted to a particular handgun has always been my first choice.
What I've seen before with Kydex
As Kydex started to come on the market, early versions that came my way did not impress me. In fact, some I have seen are very crude and not very well finished at all. Some were very poorly designed and assembled even worse and all had rough edges that would scratch you at best and always snagged on your clothing. Not good at all. But they simply would not disappear from the market.
A few months ago, Scott Thorsted, one of our product reps, brought in a few samples of Kydex holsters from a manufacturer that I had not heard of. These holsters were from K Rounds of Tukwila, Washington.
An advantage that Kydex has over leather is that it is more resistant to wear and won't need cleaning or maintenance. Kydex is a hard plastic material that comes in flat sheets. So instead of making holsters that are injection molded, what they do is take the Kydex, heat it up in an oven until it is pliable, then they push it onto a mold as it cools, and cut it to shape.
How K Rounds Holsters are Different
It was apparent from the start that these K Rounds were fine holsters. The detail, engineering, fit and finish are excellent. The design of the OWI (Outside the Waistband) and the IWB (Inside the Waistband) is superbly done. Each has a tension screw that the user can adjust to increase or decrease the amount of tension you want from the holster on the handgun.
The fasteners are deeply blued and correctly chosen for the piece. One of my biggest pet peeves…scratchy rough edges…is non-existent. They also make mag-pouches and lite-pouches.
They have a wide range of holsters made for specific handguns, including the Glock 42 and the Springfield XD(S).
A little research on K Rounds reveals that all their holsters are hand made in Washington state by American craftsmen…imagine that! All their products offer a Limited Lifetime Warranty.
For pricing, we sell their products ranging from $29.99 to $59.99.
Stop by the store and let us show you this great new product.
Just announced: now you can win a Kydex holster FREE courtesy of K Rounds! Click here to enter.
About our people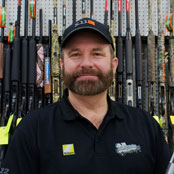 Eric Halter grew up in a family of gunsmiths and just kept the family tradition going. Recently he's gotten into doing the Cerakote™ firearm coatings.
Eric is the Hunting buyer for Smith and Edwards, and he also wrote a great post about Cleaning Your Rifle.