The old story is the guys sneak off to Smith & Edwards behind the wives' backs and spend all their money on guns & ammo.
That may be true! But listen up guys: Mother's Day is May 11 and that is coming up FAST! And believe it or not, we've got amazing gifts for the #1 lady in your life.
Home Gift Ideas for Mom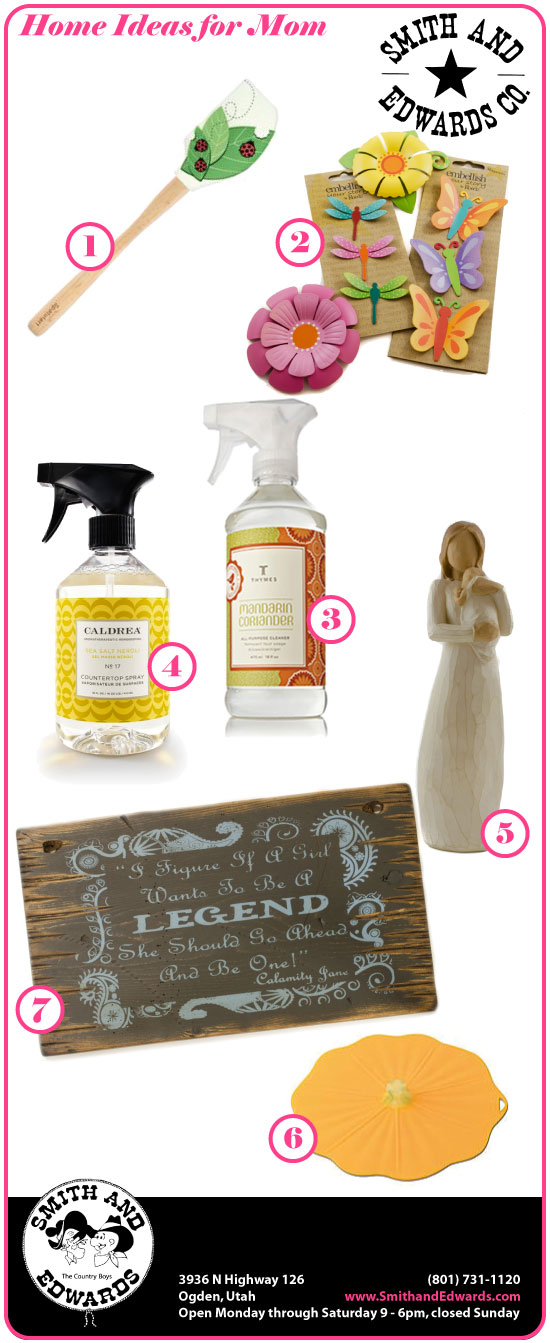 1: Ladybug Tovolo spatula - many designs available: $6.99. 2: Embellish Your Story magnets: $5.99 - 6.99, 25% off select styles for Mother's Day. 3: Thymes Mandarin Coriander All-Purpose Cleaner: $8.99. 4: Caldera Sea Salt Neroli Countertop Spray: $8.99. 5: Willow Tree Angel of Mine figurine (several styles): $32.99. 6: Charles Viancin Silicone Lid for bowls & pots (many designs in 8", 9", and 11"): $7.99, 8.99, 11.99. 7: Calamity Jane 11x19" sign (many sayings available): $37.99
"I figure if a girl wants to be a LEGEND, she should go ahead and be one!" - Calamity Jane
Dressy Gift Ideas for Mom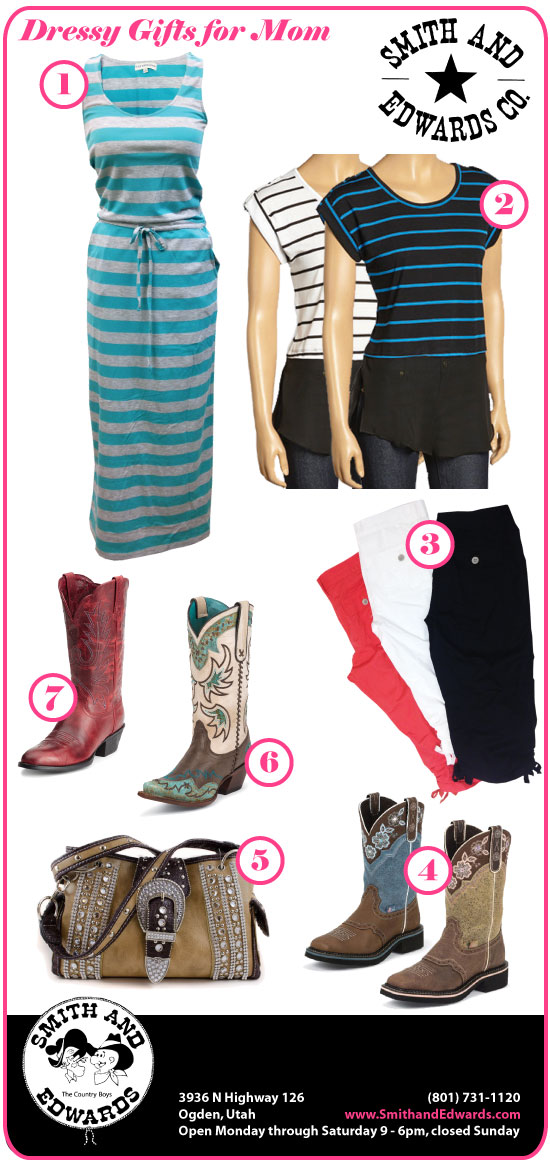 1: Poof Jersey Stripe Maxi Tank Dress, $19.99. 2: Allison Brittney Striped Knit Top with roll tab sleeves and chiffon bottom, $12.99. 3: George & Martha Twill Cinch Bottom Capris, $14.99. 4: Justin Gypsy Boots, $99.95 (was $119.95). 5: Handbag with Buckle & Rhinestones, $59.99 in Western Dept. 6: Tony Lama Cassidy Boots, $259.95 (was $309.95) available online! 7: Ariat Heritage Western Boot, $149.95 (was $169.95).
Outdoors Gift Ideas for Mom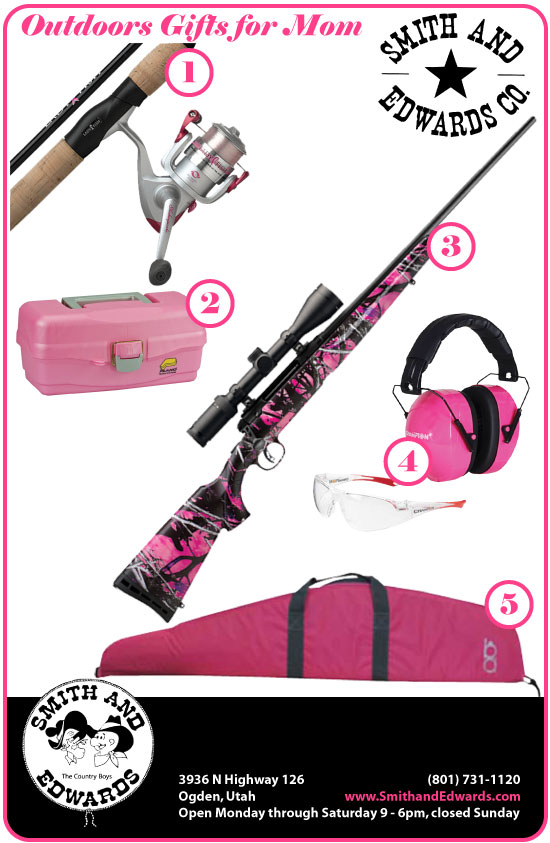 1: Shakespeare Ladyfish Spinning Combo Rod & Reel, $24.99 (was $29.99). 2: Plano Pink 2-Tray Tackle Box, $9.99. 3: Savage Axis II 243 Win Muddy Girl Camo Rifle with Scope, $399.99. 4. Champion Hearing Protectors & Shooting Glasses Combo, $16.99. 5: Boyt Pink Rifle or Shotgun Case, $22.99.
Sweet Gift Ideas for Mom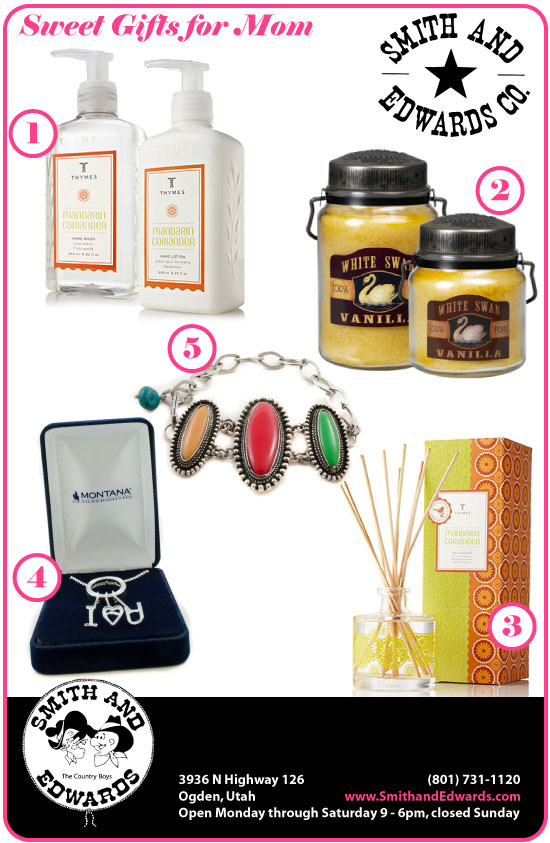 1: Thymes Mandarin Coriander Hand Lotion: $12.99, Hand Wash: $11.99. 2: McCall's Vanilla Candle 16oz: $12.74, 26oz $14.99 (25% off). 3: Thymes Mandarin Coriander Reed Diffuser: $49.99. 4: Montana Silversmiths Silver Branding Irons "I <3 U" Necklace: $34.99. 5: Annie Bracelet, Multi-Stone (New vendor in Western Dept!): $34.99.
We've got you covered for the perfect Mother's Day this year, with Mother's Day gifts for every mom. Stop on by Smith & Edwards in Ogden, Utah for gifts that will make her smile!

Phone: 801-731-1120
Address: 3936 N 2000 W, Farr West, UT 84404
See more great spring goodies on sale in our Spring Sale ad!

Listed prices good May 5th through May 10th, 2014. Remember, May 11th is Mother's Day!