Lots of hardware and home improvement stores have paint departments with all those wonderful rainbows of paint chips.
If you're building your own home, starting to personalize your new house, or finally getting around to touching up after the kids have flown the nest – you know how important those color swatches are, and how much time you can spend with them!
Picking Paint Palettes
One of my favorite things to do when I'm trying to pick paint colors – it's a long-term decision! – is go to Pinterest and search for paint color palettes and inspiration. I love the colors people have already put together – much better than trying to hope the colors I choose will play nicely together!
And you know what? The paint counter at Smith & Edwards has several color palettes already created in gorgeous combinations with paint chips right in the palette! You've got to come in and see them! Take home a sample and tack it to the wall so you can visualize how your living room would look in a brand new coat of paint.
This one's my favorite – I'm picking colors for our living room and dining room, and this is what I'm settled on: a vanilla-cream on the walls, and white trim. Look at the great options I can use for accents!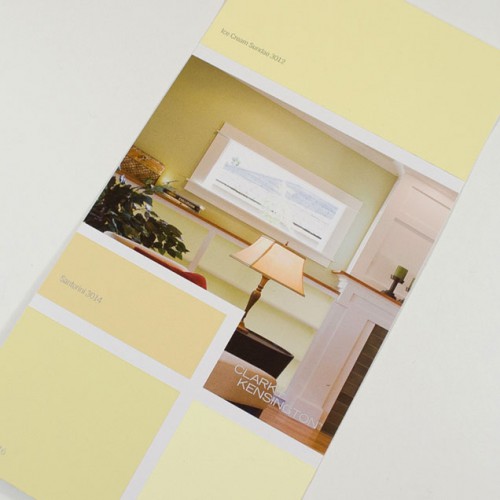 Plus I can take this palette when I'm shopping for bookshelves, choosing photos to hang on the walls, and picking out our new couch to make sure everything complements the room.
Smith & Edwards Paint Department gets a Makeover!
These new color palettes are just a tiny part of the big changes in our paint department! That's right, after years of helping thousands of Utah homeowners improve their home's appearance – we've gotten a makeover, too!
Check out the amazing new lighting – much easier to see true colors and match paints:
(old and new paint counter)
Before…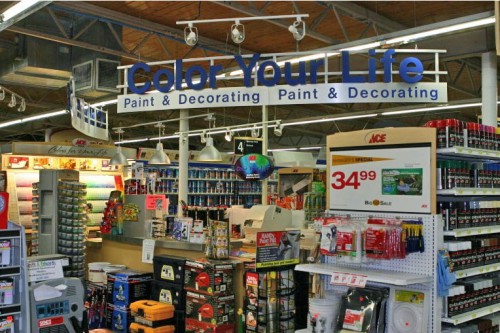 After…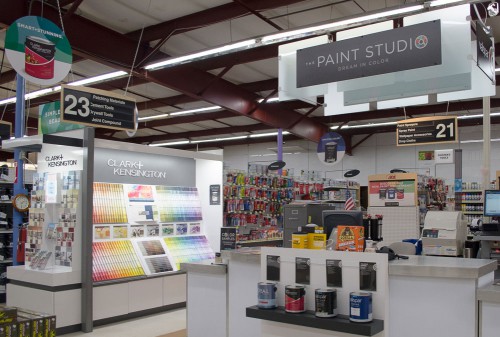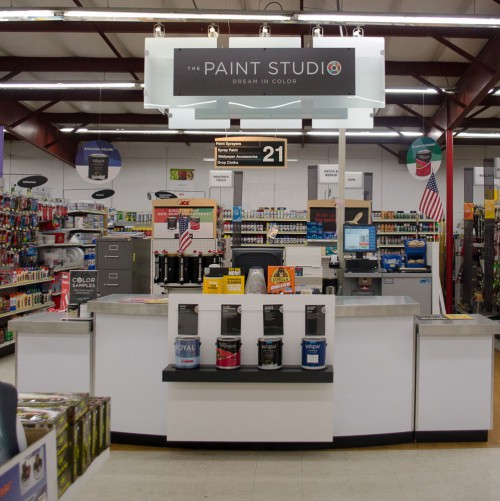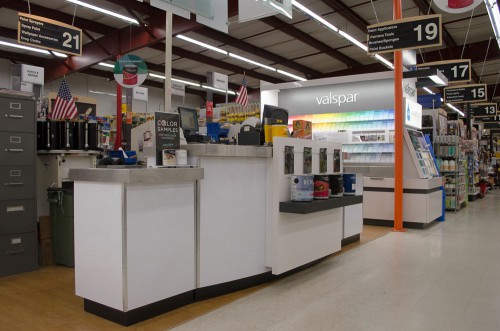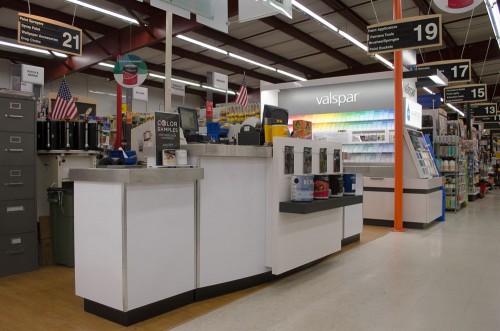 It's so bright and clean… we love it! How about you?
The reason for our remodel? We've brought in a new line of paint, Valspar, which is a premium paint. It's got amazing pigments that give you brighter, more vibrant color!
Valspar comes in 2 grades. Aspire is a mid grade paint that's similar to Clark+Kensington and is pretty durable. Optimus is the high-end Valspar paint and primer, and it's incredibly durable. You can clean lipstick off flat Optimus without leaving a trace! – and it has great coverage.
And because they're part of the same family, we can exactly color-match Valspar to Clark+Kensington and Ace Royal paints you've already got at home.
Clark + Kensington was recently rated #1 among leading paint brands by Consumer Reports. So you know you're going to get the best paint for your project here at Smith & Edwards!
Sample Paint Pints
Here's something more you can do than just tack that color palette up on your wall. Just tell us what colors you'd like to test drive, and we'll mix them up for you and set you up with sample pints of Valspar or Clark+Kensington paint for just $4.99.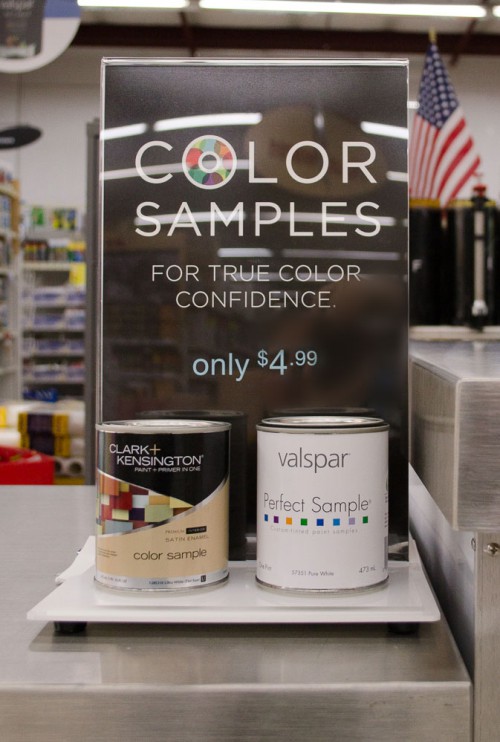 That way you can really get a feel for how the colors will affect the mood of the room, how they'll enhance your furniture and cozy or freshen the feel of the space. You could get a sheet of chipboard and mock up what the room would look like – that way you get a much better idea than just 3″ paint chip swatches.
And while we're probably the only ones who are excited about this, we've also got new displays and signage to match our new modern look! It's like getting new sconces for us – aren't they amazing?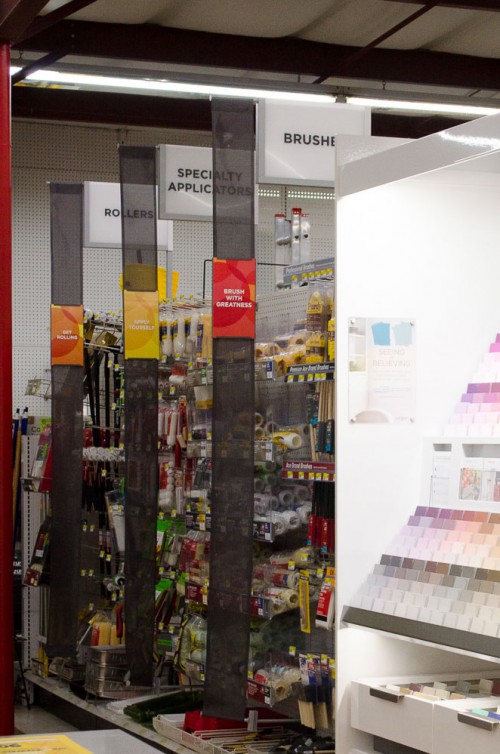 (we think so!)
And since a lot of gluing seems to happen whenever there's remodeling, we collected all our glues and plopped them right next to the paint so they're easy to find. From E6000 to wood glues and of course Gorilla Glue, you'll find the glue your projects need.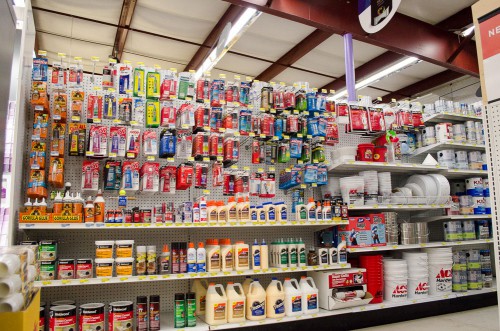 Come on in & visit!
And just wait… there is something exciting that Randy and the paint department can do with Valspar paints that they've never been able to do before! Come in and ask them about it, or wait to see the in-store demo we've got coming up in 2014. (Hint: it's something to do with chalk!)
So come on in to Smith & Edwards and check out our huge range of paints and colors for home inspiration. The Paint department is just past the main entrance around aisles 19-23. Randy and Brenda can't wait to help you find and match the perfect hues for your living room, dining room, bathroom, bedroom, or kitchen!