This July, our President of Smith and Edwards, Craig Smith, and our boot department manager, Evan Gibson, were invited on a trip to El Paso, Texas to visit the Tony Lama factory.
The above video is of a man nailing and pegging the shank of a boot. Notice where he's pulling the nails out of; HIS MOUTH! Who would of thought someone could make handling a mouth-full of nails look so easy.
Craig and Evan learned quite a bit about the process it takes to make these boots while visiting the factory. Did you know that it takes about 136 steps and 100 people just to finish one pair of Tony Lama's? That's way more than I could have ever imagined!
Tony Lama has a section for their "exotic leather's" they use which have snake, lizard, alligator and even ostrich skins. You can see the snake skins hanging here along their fixtures.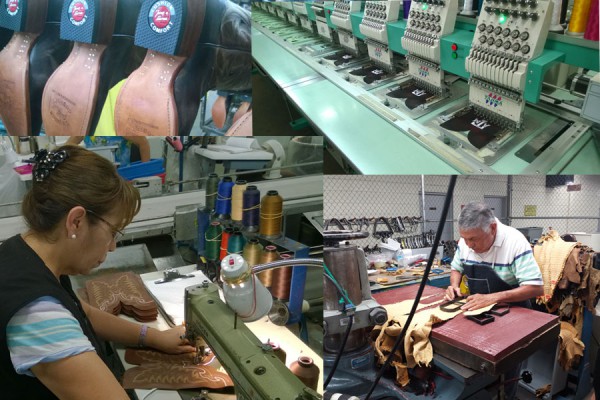 Each person at the factory has their own job and task that must be done quickly AND efficiently in order for the boots to be finished on time and uphold quality standards. Evan and Craig both noticed how the Tony Lama workers all act in sync as a team to get the job done right. It was clear that all these workers took pride in their work AND enjoyed what they were doing.
Get Your Tony Lama's This Weekend And Get A Little Something Extra For Free!
August 20th-23rd only! This weekend, if you buy any Tony Lama or Justin boots on SmithandEdwards.com, you will get a Smith and Edwards Snuffy & Guffy boot jack for free! ($9.50 value!)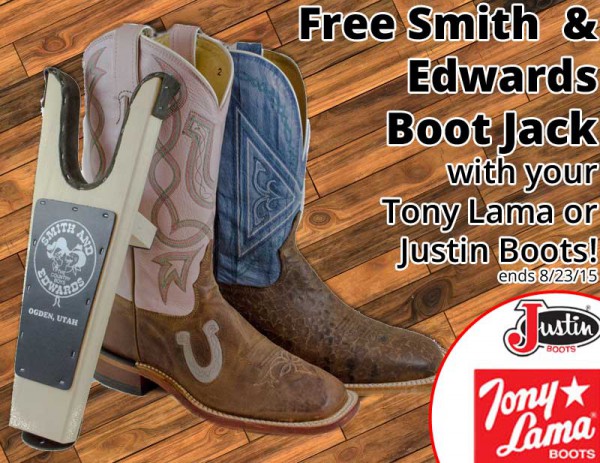 What's a Boot Jack?