With summer at its peak, there's still time to get your hiking trip in. The Uinta Mountains are the best Utah has to offer with all its water sources, beautiful skies, breathtaking views, and amazing stars at night.
When you're out on the tree line taking in the beauty of the mountains, streams, and landscape, you want to be in your best shape – not wincing as you step, rubbing your back, or counting the steps back to camp. You want to enjoy your hiking or backpacking trip – every step of the way!
Not everyone is as avid of a hiker as Mike Vause, Smith and Edwards camping manager. But if you are looking into picking it up, here are some great places and helpful tips that can help you get started.
Uinta Hiking Tips & Must-See Trails
Only a couple hours from Ogden, the Uinta Mountains are great because they have trails for the beginner as well as the experienced hikers.
Some good ones to get started are any of the lower trails near the highways. But if you are looking for longer hikes, maybe a bit tougher, Mike says his favorite is the Henry's Fork trailhead. He says, that's the best approach to reach the highest peak in Utah: King's Peak.
But in either case, be prepared for a change in weather. "Always expect rain, even if you don't expect it," Mike says.
How about a family adventure? Any of the trailheads from Mirror Lake Highway could be great for the family. The Bald Mountain trail is good, too. Although it can be a bit tough for the little ones, Mike said his 10-year-old son made it.
Stay Pain-Free on your Hike
Now, as a new hiker, or any hiker in general, getting ambitious and overdoing it happens. Here are some good things to take on your trip, whichever hiker you are.
Bring the medicine that works for you
When getting too ambitious, you may pay for it with aching legs and back. In relation to an experience he had, Mike says that there is nothing like Advil during the day and Tylenol PM at night.
Elete Electrolytes save your legs
One of the other products recently put to the test is Elete. On his last hike, Mike took it along to try it. Before his hike, he mixed it with his drink as an electrolyte replacement. As well as after exerting himself at higher altitudes, he said it helped him to sleep better that night instead of losing sleep over aching legs.
A big reason legs hurt on a hiking trip is you may be drinking water, but the hydration doesn't reach every muscle needing it. Elete rehydrates better than water alone – even better than Gatorade! Mike mentioned how it saved his legs on that trip.
Amish Origins – USA-made joint & muscle relief
The last tip we have is about a handy pain relief cream called Amish Origins. This cream helps tremendously when sore.
Whether you're an athlete or a hiker, it gives that much needed jump start when suffering from sore legs or back. Mike tried it after a vacation and it worked wonders and took away the soreness so he could get back to work!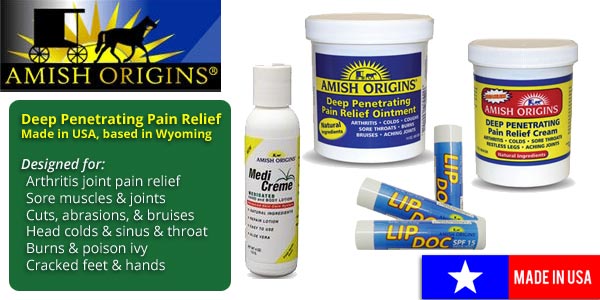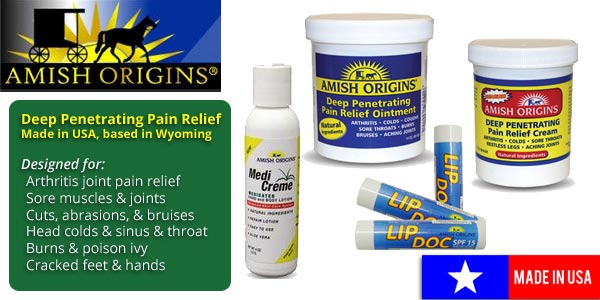 Plan Your Uinta Trip
Ready to get out there? Check out the Forest Service's guides for ideas and trails. AllTrails also has great information and reviews & tips from hikers!
And, make sure to check out Mike's must-have gear for the Uintas, which includes some breathtaking shots of the Uintas! (We'd love to see your pictures, too!)
More about Amish Origins!
The Amish Origins recipe combines 4 essential oils (Pine, Wintergreen, Camphor, and Eucalyptus) was discovered by a member of the Amish community in Ohio.
This product stays true to the original recipe and has expanded to many products to help sore muscles, joints, and even rashes & dry skin – and it's still made in USA.