Now it's October and the days are warm, but the morning and evenings are chilly. With the days getting shorter and the temperatures getting cooler, it's easy to let your mind drift to cozy fall-inspired outfits.
Luckily fall trends are full of functional items that are sure to keep you nice and cozy while looking great, too. Take a look at our country October outfit inspiration & leave a comment telling us what you LOVE!
Warm Fall Days: Flannel, Aztec, & Turquoise Bling
Flannel shirts are a big fall and winter must-have. You can't go wrong with a mix of color, pattern, and texture – especially with a flannel shirt that can oftentimes be a standalone piece.
If the early fall days are still too warm for an extra layer, take a page out of the 90's playbook and tie your shirt around your waist for an intentionally laid-back, yet comfortable ensemble!
DownEast Basics Cami – we've just added the full line of DownEast basic camis, essential tees, 3/4 sleeve essential tees, and long sleeve tees for fall to the clothing department here at Smith & Edwards. The brand speaks for itself. $9.99
Derek Heart Flannel Shirt – this is what the flannel trend is all about… double pocket, button up, roll tab sleeve, Aztec screen back, fun colors that pop. $14.99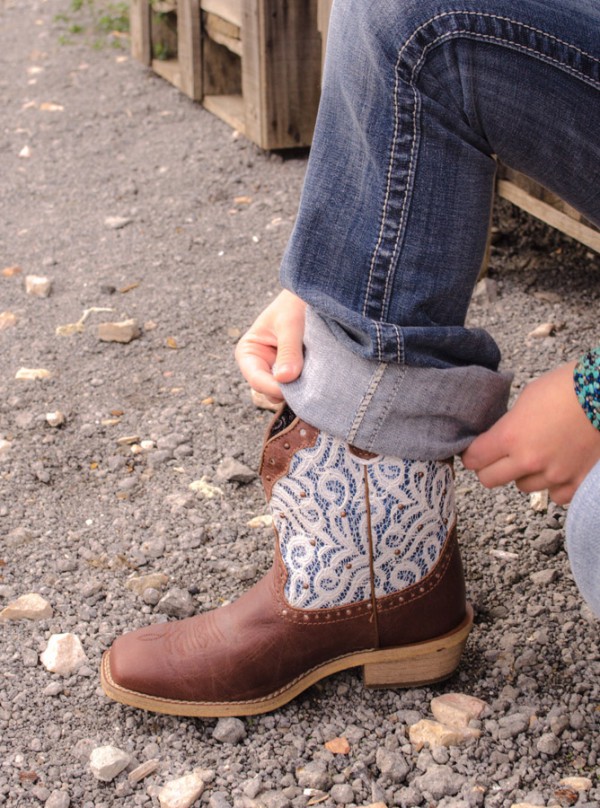 Justin® Lace Booties – Who wouldn't love these amazing lace booties? There is so many fun ways to wear them; with leggings, pants tucked in, cuffed pants, with a dress, layered with socks or with just your bare legs. So cute and on trend for fall!
Miss Me® Jeans – one of our top denim brands at amazing prices! $79.99
Cold Autumn Nights: Stormy Kromer Hat & Jacket
Cold weather's no reason to stay home: stay warm in the football stands with a smart hat & fitted coat.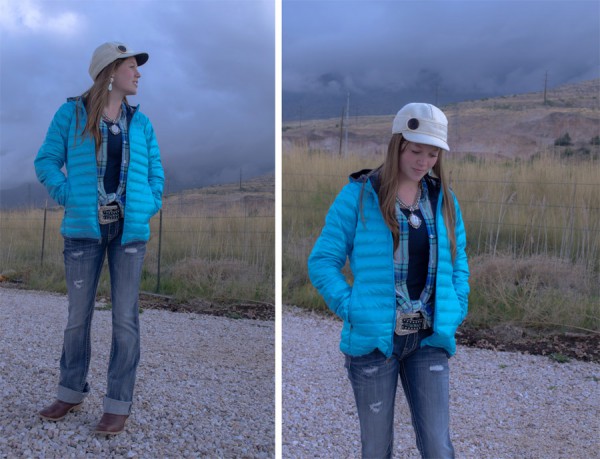 Columbia® Jacket – We carry an extensive line of men's, women's, and kids Columbia outerwear. This jacket is perfect for fall transitioning into winter…light weight and down filled, it provides plenty of warmth without the bulk. This jacket is water resistant and equipped with a built-in hood. Fun fashionable styling and amazing colors… it will be your go-to jacket. $119.95
Top it off with all these fun accessories – jewelry by Silver Strike, stylish cream-colored, woolen, cotton-lined hat by Stormy Kromer – and you will be stylish and comfortable.
Get the fire started and warm up a nice cup of hot chocolate. We are here to outfit you for fall. These accessories, jeans, boots & tops are available here in-store at Smith & Edwards, off I-15 exit 351 in Ogden, Utah. Come explore our huge clothing department!
Special thanks to Jerica from our Web department for modeling these outfits!