Spring is all about getting out and enjoying the beauty of the outdoors. Smith and Edwards has fresh flowers, planters, and garden accessories that will help you create that perfect outdoor haven.
You can find the perfect way to organize your beautiful garden with Burnett Metal Art garden markers – made right here in Utah!
Burnett Metal Art is a Utah based company out of Garland. The Burnetts have found that being a Utah-based company has brought in a lot of business because the people are great to work with, and Utah is a great state for small businesses. The Burnett family has owned and operated this welding and fabrication business for over 100 years!
After purchasing their CNC plasma table in 2011, Brody and Weston Burnett, two of the sons, and their wives, Kara and Trista, started Burnett Metal Art. Daughter Tristin (Burnett) Lindsay is head designer for product development. I had the pleasure of talking to Tristin and ask her a few questions about the company.
Q. What inspired your family to create this business?
A. One of our big inspirations came from our mother, Susan. She has collected all varieties of nativity scenes throughout her life. She wanted us to design and cut her one from metal. She has helped us design a few of our nativities as well. We now have about 13-15 nativities designed and we have plans to have 50 designed and available in the next 2 years.
Q. What drives you in your business?
A. Our motivation comes from when our customers get excited about new products we design and produce. We get satisfaction out of seeing our products displayed in yards when we drive down roads and even go out of our small town and see our products in yards or on houses in other areas!
Our motivation also comes from being able to design things that we would like in our own homes and yards and being able to use them ourselves. We are also motivated and determined to make Burnett Metal Art as successful as our welding business has been.
Q. How big is your company? Have you or are you thinking about growing across America?
A. We currently have 8 employees. The company started with just a few products and now has nearly 100 products and is sold in over 12 locations in Utah, as well as online.
We have the desire and a plan in place to start Burnett Metal Art spreading across America. We are working with different retail outlets to expand our reach outside of Utah.
Q. What are your most popular items? Any customer favorites?
A. Our most popular items are our yard art and garden markers. We also sell a lot of our nativity scenes as well. Our customer favorites are our garden markers and yard art as well. We are hoping that our Holiday line will be just as big with our customer base.
Q. Why do customers love your garden markers?
A. Our products are built to last. We make each one durable and long lasting. They are a unique product to enhance your home or garden. We can also customize any product to make it unique and specific to your taste.
Q. What makes Burnett Metal Art unique?
A. Our company is unique because it is a family owned business. It started with our father working at the welding shop, then going to owner, and now 4 siblings are working here as well.
Q. Is there any history or background that makes your company what it is?
A. The business was originally a blacksmith shop that started over 100 years ago and has progressed to a Welding and Fabrication Shop. Now we have added the Metal Art business as well!
Q. What is your favorite product to sell – or is there a product in the future that you are going to add to your already creative collection?
A. We love selling our garden stuff the most. We have plans of adding decorative metal furniture to our collection.
---
It was amazing to be able to talk and find out more about these garden and yard markers that are made right here in the U.S.A. – thanks, Tristin! Smith & Edwards loves featuring small businesses like Burnett Metal Art – especially family-owned businesses based in Utah, just like us. These fun metal garden markers make great additions to your garden and outdoor decorations!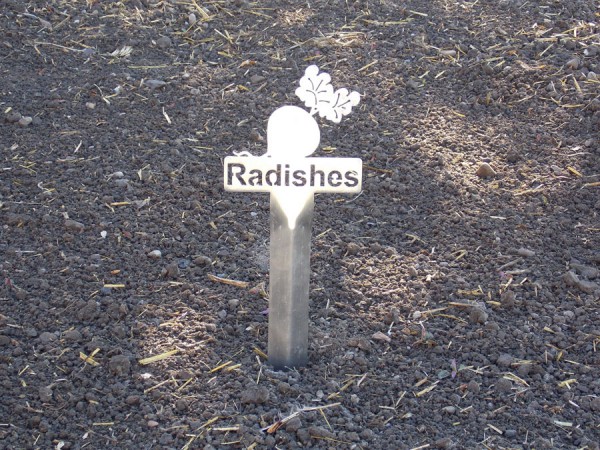 You can find these cute garden markers by clicking here.