Has July been a hot one or what?! Summer heat is not great on anglers, but it hasn't been all bad. There have been a lot of guys coming in and telling us about their stories of success all around the state. Earlier this summer, the DWR posted a blog report saying that they predicted this year to be one of the best years in recent memory for fishing. I didn't believe it at the time, but it sure has turned into one of the best I can remember. In fact, we heard that the fishing was good over on Willard Bay so we decided to send two of our sporting goods employees out to check it out.
Tyler and Hanna teamed up with Randy from our surplus department and took a trip out on the bay after work. They found that the fishing has slowed considerably in the last month, but they still caught fish. The Walleye were not biting at all, but the Wiper were still doing okay. They even got treated to a great sunset as they came in from fishing.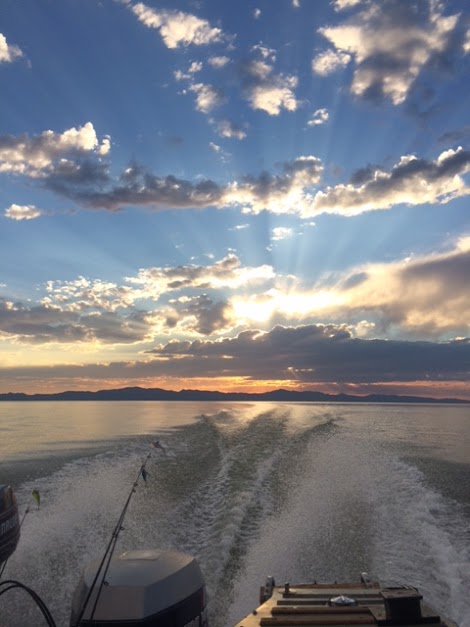 So what do I think is going to happen this next month? Well, here you go.
Fishing Willard Bay
Like I mentioned before, the bay has been slowing down with this hot weather. The bay isn't nearly as deep as the walleye and wiper would like it to be. The water temperature has been in the mid to upper 80s and that makes the fish want to go to deeper water, but there isn't any. This means that most of the Walleye and Wiper are most active at night; wipers are still being caught though. The best times are dawn and dusk. Be on the watch for boils too, we have heard that a few anglers have seen boils. The Rapalas are still the best lure out there; although bottom bouncers are also doing well.
Fishing Flaming Gorge and Strawberry Reservoir
Generally I like to highlight the close reservoirs around for other places to fish, but this month I have heard some great things coming out of Flaming Gorge and Strawberry Reservoir. These two reservoirs have been heating up with fishing activity lately. We even heard reports of a 6lb Kokanee being caught at Strawberry. That's awesome! Flaming Gorge has been producing some big fish too, with some angler's averages being in the 3lb range.
I got a visit the other day from Christenson Lakeshore Tackle and Rocky Mountain Tackle and they have some great dodgers and squids and they let me in on what they have seen as the best colors.
Both of them told me that a shattered glass dodger with a blue squid has been working really well. You can also try pink and green squids, as these are colors that work often as well.
Fishing should continue to be great in Utah this next month. Fishing is a great way to get out of the hot valley and get up in the mountains where it is a little cooler. Remember to send in pictures of your catch for our Braggin' Board!
[yop_poll id="2″]
A few of the pictures that got our attention this month were some great fish caught by Jake Gertsch who was fishing up in Fort Peck Lake in Montana. He caught a Pike and a Walleye on a fly rod! Great job Jake! Send in your pictures to info@smithandedwards.com and good luck out there!