The people in our Housewares department are ALWAYS full of ideas! That's why when I saw they are doing a weekly Mason jar idea I HAD to share it with you!
They used green Mason jars to create these fun decorations, and you can use clear ones, too!
You can use Mod Podge or glue to attach tissue paper to the glass jars – OR, you can even use a Sharpie marker to draw on the glass. They glow better when you use tissue paper, we found!
Everyone in Housewares contributed to this Halloween mason jars idea, and Ashley and Melissa put them together.
Nice going, Melissa and Ashley!
Want more Mason Jar ideas?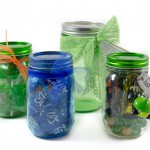 There are a million and a half fun things to do with Mason jars BESIDES canning… if you're looking for inspiration, check out Amy's 7 Super Simple Mason Jar Crafts that Make Great Gifts. Doesn't she have great ideas? I think it's something to do with the fact that Amy was in HOUSEWARES before she came to the Web department! Hm…. I think Vickie's on to something in her Housewares department, if only she could bottle it…. :)