If you came in the store today, between 11:00-3:00, you could've gotten a great deal on Dyson Vacuums! We had special pricing on Dyson vacuums and you could even try out a Dyson yourself at our Dyson vacuum demo.
Want to hear about all our in-store demos and giveaway?
LIKE us on Facebook
, and sign up for In-Store Offers for our best deals at our store in Ogden, Utah!
Today we had Mike and Eugene from Dyson drop by Smith & Edwards to demonstrate the DC41 Animal Complete vacuum. This is a beast!
Plus, not only could you try the vacuum out, vacuuming up confetti, metal shavings, dust, and fluff, but we also had great deals on Dysons during the demo – saving you $200 or more on certain models!
Dyson DC41 Animal Complete Vacuum available at Smith & Edwards
Dyson vacuums are amazing because they never lose suction! Just watch.
Uh oh….
By the way, check out the angle Mike's getting thanks to the Dyson ball –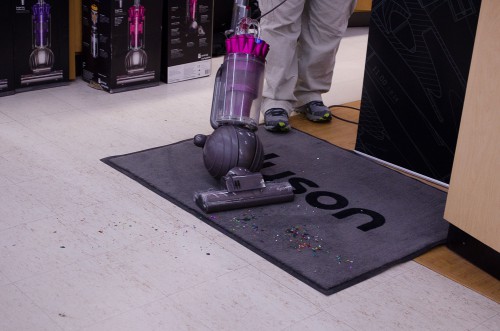 The Dyson active base plate on this vacuum self-adjusts to carpet and hard surfaces, so you won't lose suction as you vacuum across your home.
Excellent for Allergies and Pets
The Dyson Animal Complete is simple – there are no bags or filters to replace, and you can empty the canister in just a push of a button.
And if someone in your family has allergies – or you just have a lot of pets to clean up after – you'll love how many allergen particles, pollen, and dust Dyson vacuums can capture. Plus, your Dyson vacuum will retain the dust it sucks up too, instead of venting it back into your rooms!
The Attachments Really Make this Vacuum Stand Out
The Animal Complete DC41, the model Mike demonstrated, comes with a bunch of cool attachments in a case.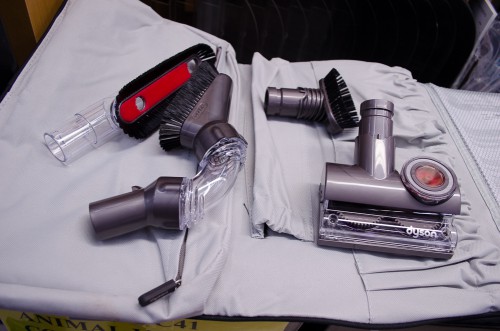 If you or your family have long hair (like me) or lots of pets, you know the chore of cutting hair & fur out of the vacuum base. But check out this extension – it won't get clogged:
The wand extends to 16 feet, so you can clean your ceiling fans with your feet on the ground – no chairs or stools to climb on to dust your fans.
Like us, Dyson will give you great customer support
And one more thing about Dyson vacuums: They put a 1-800 number on the vacuum handle, and you can call about anything – whether your vacuum's working great or needs some help. They'll recommend the attachments you should use and how to best clean your home's carpet and floors.
Plus, when you register your new vacuum, you can give them your email address and they'll send you reminders on when to rinse your filter (the recommendation is to wash your filter every 3 months).
Thanks Mike and Eugene for coming by and showing us the Dyson Animal Complete DC41! We've got a great selection of Dyson vacuums here for you to check out at Smith & Edwards. Come on out and see us just off I-15 at exit 351 and take home a new vacuum today.