Today, I had the privilege of talking with our very own Smith and Edwards brand team. Some may not know this, but Smith and Edwards is a brand name for horse tack, bridles, pack saddles and pack saddle equipment, saddle bags, and leather-working goods.
It doesn't matter if you're an outfitter, hunter, trail rider, rancher, or rodeo cowboy; this brand is for all Western style riders. That's right, we don't just sell top quality Western tack and Western trail riding equipment, we make it too!
The Smith and Edwards company tried out the idea of making their own brand and products back in 1979. What started out as a simple yet solid idea, has soared to a well-respected brand name used by many cowboys in the Western region of the U.S. and is sold to many country/feed stores.
Why? Well it could be that it's a brand made in USA, for USA. Or maybe it's because the company is always looking for ways to improve their products and make them fit customer's needs.
Trying new patterns and different sewing strategies, as well as changing lengths and cutting techniques help the team get a feel for what works and what doesn't based on what our customer is looking for. Because, after all, your support and feedback is what keeps us going!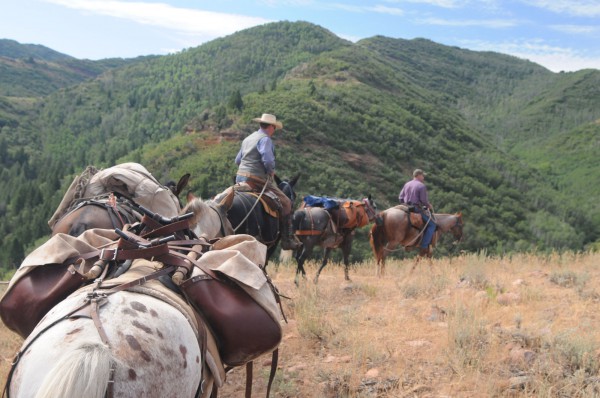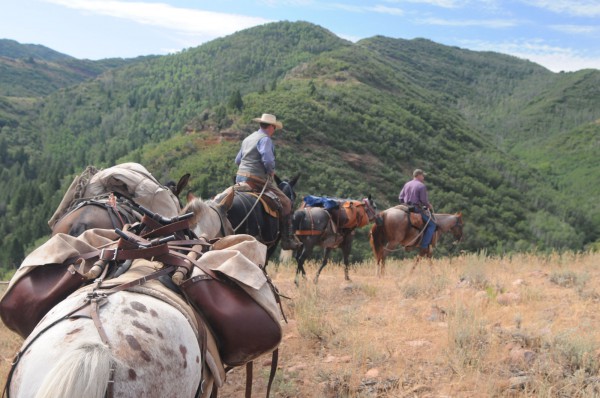 "Come on. What have you guys really changed to make your products better?"
Well, the Lasal Box Style Pannier is a perfect example. Before, the weight of what you were carrying would weigh down the middle of your bag. The Lasal Pannier now comes with a diamond pocket that the staps go through. This helps it to secure your load and compresses it together to help relieve pressure on the seams.
"I buy our pack equipment, headstalls, back cinchas, reins, lasal box style panniers, Utah pack panniers, and mantees. I choose the Smith and Edwards brand because of quality and price. And also because I know if there's a problem I can bring it back and the Smith and Edwards team with get it taken care of for me" -Kris Betts, Western sales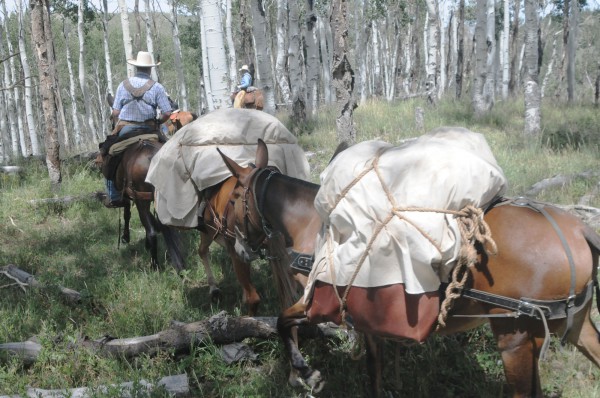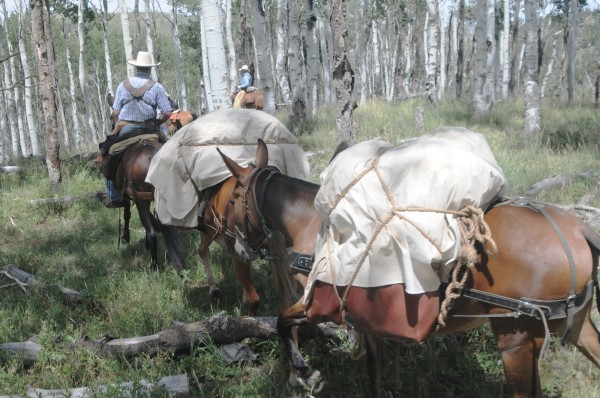 Behind the Scenes of the Smith and Edwards Brand Workshop
"I enjoy working with the people in the Western department. We are almost like a family. Well, I guess we are a family seeming how we spend most of our time together." -Steve Lewis, leatherworker
Believe it or not, but it is a rather small team that works together to bring you all these one-of-a-kind products. And they aren't made in some huge factory; instead they are beautifully hand-crafted right here at Smith and Edwards in the back corner of the Western department. The space is also relatively open, meaning our team can be seen, in the store, making these awesome products for you.
Smith and Edwards uses the best materials needed for each product they make. This includes:
Hermann Oak Leather: Mainly used on reins and headstalls.
Skirting: For cinches and breast collars.
Bear cloth: Tough, heavy nylon that doesn't mildew. This is used on all of our pack bags.
Latigo: Used in almost everything we make.
Canvas: Mantee's, slings, and pack bags are all made with canvas.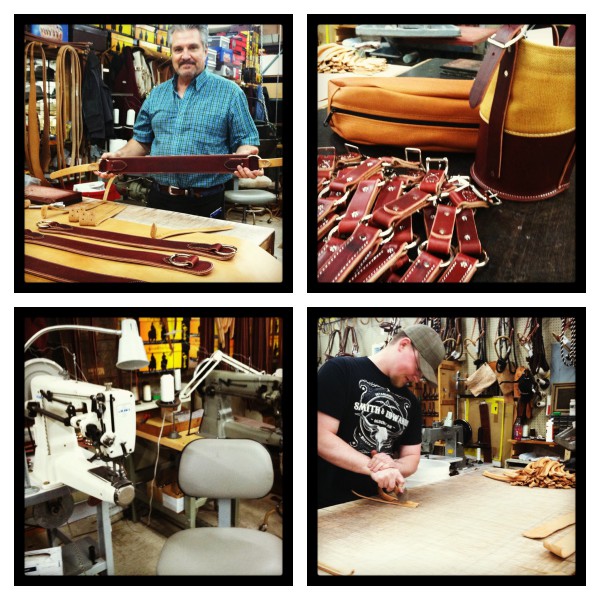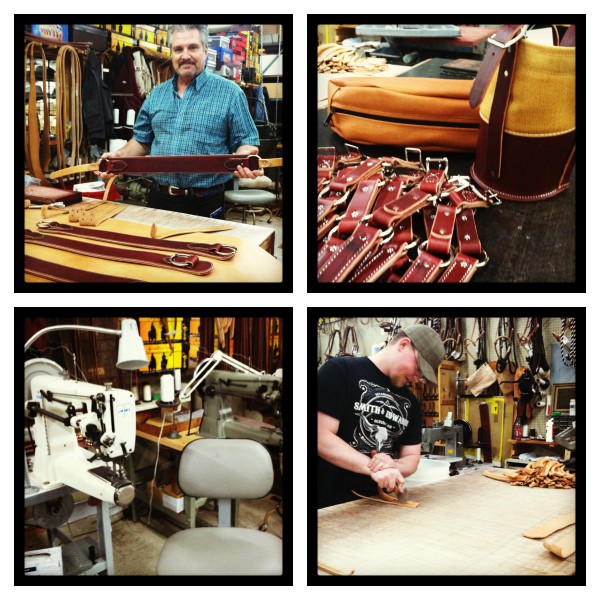 The team uses a few machines, of course, to help them make these products just right. There's an:
Edger: This helps to soften and round the edges of the leather.
Creaser: To put in the "creases" or lines that give the product a clean and defined finished look.
Puncher: For when the team needs to punch multiple holes into the leather at once.
Splitter: Used for thinning the leather out.
Riveter: Made to squeeze rivets to join two materials together.
Sewing machine: The sewing machines Smith and Edwards use are mainly for pack saddle bags, breast collars, and slobber straps.
The Smith and Edwards team designs and makes everything entirely from scratch, from carefully cutting the leather and punching holes to the final sewing touches and branding of our Smith and Edwards name. Each item takes a different amount of time to make and uses a different type of process. This means that our team has to be very knowledgeable and precise about how they work, especially when quality is such a big factor.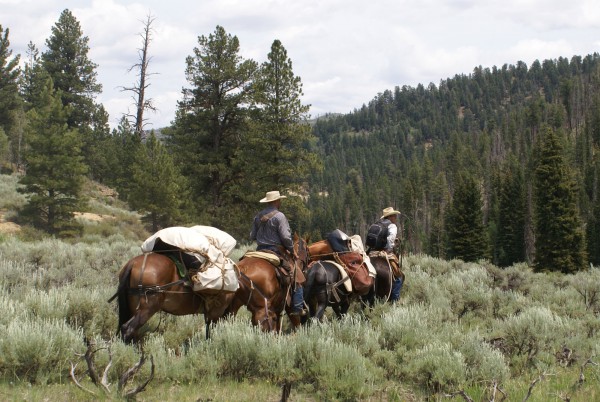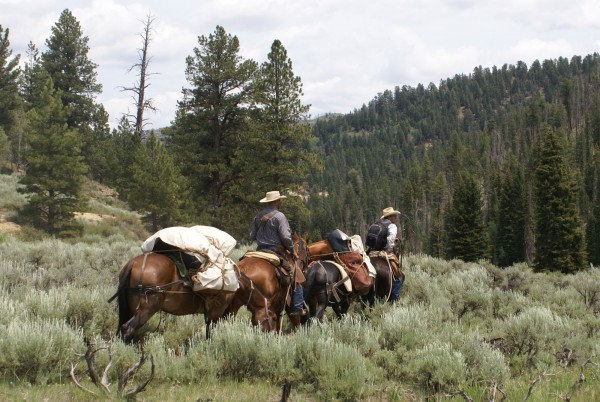 "Saddle panniers are probably one of the most time consuming products to make. It can be a challenge cutting the pieces for it out of the leather. I've spent almost a whole day on one lasal bag before." -Tom Donovan, leatherworker
Thanks to Troy Higgs for the amazing photos of his packing trip!
Do you have a photo of your Smith & Edwards gear in action? Send us your photo to info@smithandedwards.com, we'd love to see it!
Why You Should Give Us A Try
The products Smith and Edwards sell are made specifically to work AND to last. The brand isn't a super flashy one, it is better suited for the "working cowboy". Products are made the old-fashioned way, and not mass manufactured. I guess you could say it's more personal that way!
"My favorite part about working back here is being able to take something, cut it up and then piece it back together to make a product one of our customer's will use and love. It's rewarding." -Marty Thompson, Western manager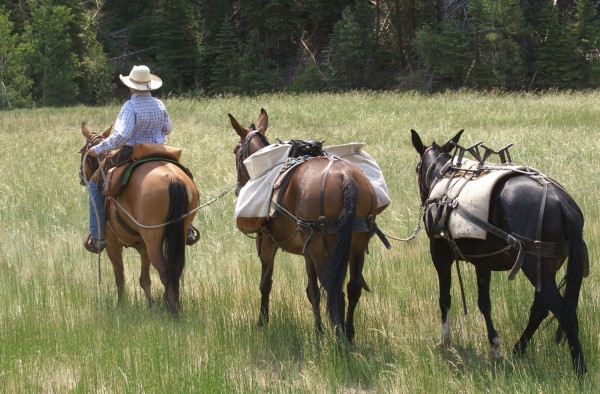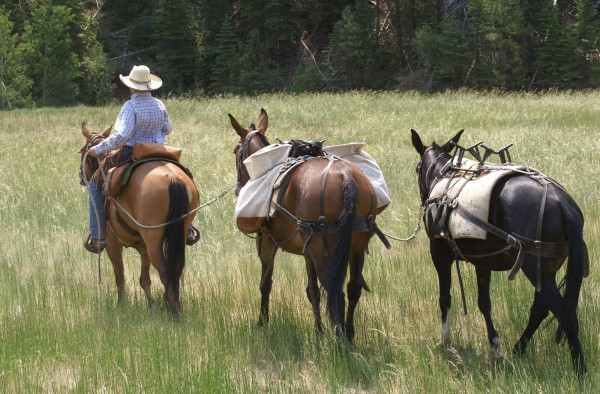 Smith and Edwards has been a store you've trusted to bring you quality products and exceptional customer service for some 50+ years now. So, of course it is expected that our brand name products uphold the same standards, if not higher.
If you love Smith and Edwards, you'll love what we make! Next time you're looking to buy headstalls, bridles, halters, straps, or breast collars for western style riding, think Smith and Edwards. You won't be disappointed!
To get a full listing of our catalog and everything we sell, please click here. (PDF file).