Not everyone in Utah grows up hunting & fishing just like they do camping & swimming – I know, it's crazy. Seems like a whole lot of people learn because their family hunts, and they bring good friends along with them. But not everyone reaches adulthood with their falls spent in duck blinds or waiting for deer – and if you didn't grow up with it, there's a lot to learn. Fortunately for you, we got together and talked about the basics of camo and hunting gear. Here's all the camouflage basics you always wondered but were too afraid to ask. And further down, there are examples of what camo patterns you can use for what Utah environments. But first…
New Hunters: Utah Trial Hunting Program
The Utah Division of Wildlife Resources just announced a new Trial Hunting program, that started in early August. If you'd like to bring someone along hunting, or if YOU would like to go hunting before you complete your Hunter Education course, here's how. A licensed hunter, 21 years of age or older, takes a person 12 years of age or older along with them hunting. What a great mentorship program. All that has to be done is completing a quick online Trial Hunting Program orientation course. Here's more information: How to sign up for the Utah Trial Hunting program
Smith & Edwards talks the Basics of Hunting Camo
So what would you take with you hunting the first time? What would you tell your buddies to get when you take them along the first time? There's a lot of hunting-minded people here at Smith & Edwards, so they had a lot of good suggestions and considerations for hunting camo. Got some tips yourself? Let us know in the comments below!


Q. Why wear camo?
Sam, Western: Because you're a solid color. Even though deer are colorblind, they can still see patterns.
Dave, Western: Duck hunting & waterfowl – can't do it without it. Big game? Wear it if you have it, for bow hunting it's important. It's good to blend in so you don't stick out.
Kevin, Hardware: So you can blend in with your surroundings.
Joyce, Clothing: So you're not seen. I elk hunt and so I need to fit in with the mountainside for a sneak attack.
Tyler, Sporting Goods: It's not just the look, but camo also helps you get in the mindset that you're going hunting. That you're not just out on a hike in jeans.
Q. What's the most important hunt to wear Camo for, and what do you wear?
Sam: For deer I wear King's Camo desert, because deer are in an open field. For elk, I wear Under Armour camo because they like to hide and stay in the trees, so I have camo with pines and green on it to match that. Everything on me is camo or brown to blend in.
Dave: Big game it's not as important for rifle. For turkey, I get completely camo'd up: gloves, face mask.
Kevin: I do archery. You gotta get close to do archery. I hunt deer, elk, duck & waterfowl, pheasant, turkey. Turkeys can pick out the slightest detail and the slightest movement.
Bear's Butt aka Wynn Zundel, BearsButt.com My favorite camo for turkey and muzz deer hunting is Kings Camo in Desert sage pattern. (Bears' jacket in the photo at right is Desert King's Camo) For duck hunting pretty much all the cat tail and bulrush patterns work.
Joyce: For late cow elk hunt, in December and January, there's snow on the ground. I wear snow camo to stay concealed.
Q. What's the closest you've gotten wearing camo?
Sam: I got within 5 yards of my doe wearing camo!
Kevin: About 5-10 feet.
Dave: I could reach out and touch a deer. Not by going out there and walking up to it, but sitting and waiting, being quiet, being camouflaged, I could reach out and touch it.
Tyler: I've had coyotes run up on me less than 10 yards. Also I've been within 10 yards with a bow hunting elk.
Love camo? Check out this Camo ammo box that Brenda in the paint department painted with Plasti Dip! You can spray wood, metal, glass & more with Plasti Dip – and it's real rubberized plastic so this ammo box is now more waterproof in case you need it out at deer camp. Come see Plasti Dip in action next Saturday at Smith & Edwards – details here.
Q. Have you ever used snow camo for hunting in winter?
Sam: Yeah, my brother and I go hunt coyotes. I like the King's winter patterns for that. You can get coyotes or bunnies.
Kevin: I have a double-sided jacket, one side camo one side snow camo. I need a full set but haven't gotten it yet. I'd use it for late season archery if there's snow on the ground. Also ducks in the blind or on the boat if the fields are snowy. Also coyote. I know people who sit in snow fields and hunt geese with snow camo.
Joyce: Yes, for elk in the snow I wear snow camo. It's face-stinging cold, so I wear a face mask and good waterproof gloves and boots as well. That way I can hike the mountain after elk without getting cold and wet.
Tyler: Still think about where your terrain. White camo is great when it's snowy. Just make sure that it doesn't have branches on it if you're hunting in an open field, and the other way around – don't go pure white if you're going to be in bushes.
Q. What's more important than camo when hunting?
Sam: Scent. If they scent ya, they can just start running the other way. You can get rid of your scent with No Scent detergents, body wash, shampoo, deodorant – there are a lot of ways you can get rid of your scent.
Kevin: Stealth. Being quiet, watching every step, every move and movement. Camo just helps you get in closer, you have to stay still. Also, location. Know where you're going to be hunting, what the terrain is like.
Dave: Shutting up and not talking. Being down wind. Not standing out or being flashy.
Joyce: Waterproofing. For snow, keeping warm and dry is even more important than your visibility, because elk hunting, you need to already know where the elk are going to be. You need to be sitting still in your spot in the dark before dawn, then sit and wait for them. So your camo needs to be waterproof and breathable.
Tyler: Camo is a close second to being prepared and having the right equipment to make the kill. I see people that have a nice rifle but a cheap scope. You need to make sure you can make the kill. Boots is also a big part of being prepared: break them in before the season. Also have moleskin for if you get blisters, and a rangefinder if you're in open terrain so you can get the right distance. Better optics mean you'll be able to use your scope longer because the optics let in more light as the sun sets.
Q. What's the best thing about your favorite camo?
Sam: I like the way camo looks, I wear it constantly at home too because I like it. It's hard to find girls' camo though, growing up I just wore guys' camo. Luckily King's makes camo for women.
Note from Joyce: Recently they've started making more camo for women who hunt. Now we carry Ranger, Browning, and King's Camo in real camouflage patterns for women, in addition to the fashion pink camo.
Kevin: Comfort and durability. I mix and match my camo, the jacket doesn't always match the pants pattern. If you keep still it'll work for you. I've heard of "leafy camo," camo that has cuts in it to give a leafy outline. I love it except it tangles in the underbrush pretty bad. Same with ghillie suits.
Dave: Get the pattern you want. That's the most important thing. From there, the nice things to have are waterproof, breathable, and scent locked, depending on price.
Joyce: My favorite Columbia camo jacket has Omnitech inside and it's waterproof. So it wicks off sweat, while keeping me dry and warm.
Tyler: Layerability and universal coloring. I really like the Kyptek and Sitka because these materials are light for layering. In bow hunting in August, you want to keep cool. Even later seasons, you want to avoid sweat because if a cold front comes in, you'll freeze. Since the Salt Lake makes its own weather patterns, I go for the lightest layers possible. I like universal coloring because this Kryptek highlander jacket will work for me in the mountains and the sagebrush here in Utah. It'll work well enough for me that I can take it anywhere it's not snowing.
Military surplus multicam is designed to blend in with 98% of terrain, so if you're just starting out multicam and ATACS are good patterns and they're what military guys trust their lives to.
Camouflage Patterns for Different Game
There's a lot of patterns at Smith & Edwards and if it's your first time camo shopping it can be overwhelming! But if you know what you're going for, you'll know what patterns to pick out. Here's a quick guide to the basic patterns & why they're used. Realtree and Mossyoak are your big 2 camo pattern "brands." Here are what you need for 3 types of hunting in Utah: waterfowl, desert/sagebrush, and forest/mountain.
Duck Hunting Camouflage patterns
For hunting waterfowl, you want to look like the reeds and grass of the wetlands.
Desert and Fields Camouflage patterns
For hunting deer in Utah, in a lot of units you need to be out in the grass and sagebrush. Here's camo designed to look like the open spaces in Utah.
Mountain and Forest Camouflage patterns
In the hills, where there are lots of trees and shade, you want similar camo to desert but darker and more treelike. In some you will find lots of green, like Realtree Xtra Green and Mossy Oak Break-Up Infinity. These could be for deer, elk, or turkey as well, depending on your area. Here are a few picks:
See that T-shirt and more online here: Men's Camo Shirts on SmithandEdwards.com (and we got LOTS in the store, too!)
Thanks to Realtree for allowing us to use the cool shots of camo in action! Let us know YOUR camo thoughts in the comments below! We want to know what works for you! Before you go – here's a handy hunting checklist, don't leave home without it: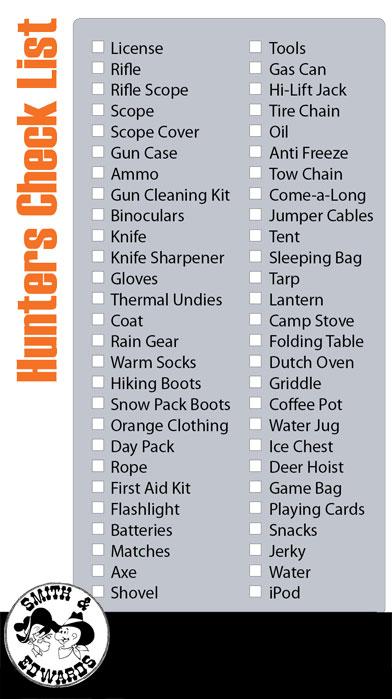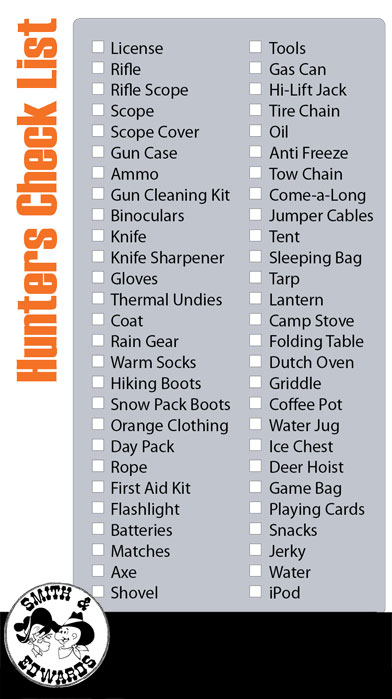 You'll find loads of Camo and Hunter Orange in-store at Smith & Edwards in Farr West…. or order online: