I love our water softener, but there's one thing I can't deal with: 40-pound salt bags. That's what the honey-do list is for right?
Some folks don't like soft water though. Getting out of the shower, maybe you get a slimey feeling still like the soap isn't washed off still. Or maybe you don't like the way it tastes.
NuvoH2O is a company based out of Kaysville, Utah that has a solution to make both of us happy! A salt-free water softener that doesn't have the taste or feel of soft water – just all the benefits.
How NuvoH2O works
The NuvoH2O takes the place of water softening machines 3-4 times its size! Water runs through the unit, coursing through the citrus cartridge. The cartridge allows limescale and other chemicals to run through your pipes and appliances without any buildup or residue – it'll even clean out the stalactites growing in your hot water heater if you've got an older home without a softener.
The citrus cartridges good for 6 months, and they're even FDA-approved.
How to Install the Saltless Water Softener
The NuvoH2O system is only a couple feet tall on the biggest model! So it can attach right to your wall instead of taking up more room by the water heater. A bracket and installation hardware come with the system so you can put it up without having to get more stuff.
If you already have a water softener, you don't have to call the plumber to switch it out unless you really want to. We have all the parts you need to hook it up.
Here's how to switch it:
Turn off your main water line.
Cut pipes that are connected to your old water softener.
Remove old system.
Connect new system in-line using shark-bite fittings.
If you need more help, Blaine Taylor our Plumbing & Hardware manager would be happy to help you out! Come in or give him a call at 801-731-1120.
To replace the cartridge, just unscrew the top, take out the old one, and pop the new one in. The cartridge is 37 pounds lighter than a bag of salt to dump in your typical water softener!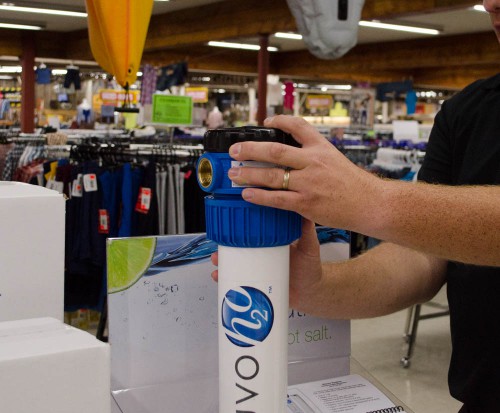 Where can you find one?
Smith & Edwards is one of only a handful of stores in Utah carrying the NuvoH2O system because it's so new to the market!
Well, actually that's half true. The fact is Nuvo's technology has been around for 25 years in the commercial sector, softening water in businesses like restaurants. So it's just now coming into homes and apartments.
Smith & Edwards is a GREAT place to get your NuvoH2O, too, because not only do we have all the cartridges and plumbing fixtures you need (remember, you don't need a plumber to hook it up!) …. we also have a $100 INSTANT REBATE through September 30 so you can get a new water softener system at a great savings. All right!
Check out the NuvoH2O & buy replacement cartridges online: