Isn't she cute? It's so simple: a t-shirt and two bandanas, and you've got a brand-new outfit for your little girl! This is a fun sewing tutorial and you'll be hooked on making these for your toddler. There's a lot of room for her to grow in a dress like this!
You'll need:
1 storebought tee
2 bandannas (same or different!)
Sewing machine, scissors, ruler, and chalk pencil or sewing marker
How to make a Bandana Dress
Measure the width of the bottom of the tee.

Now, use this formula: Multiply the width by 2 and add 1.5".
For my tee, I took 12.75 x 2 = 25.5. Add 1.5 = 27".
Now, fold your bandana in half to make a triangle, and fold in half again.

Take your number from step 1 and divide by 6.28 (this is pi times 2, for those playing along at home.)
For me this means 27 / 6.28 = 4.29" (I used 4.25")
Place one end of your ruler on the corner of the bandana, and mark along the bandanas at the mark you found in step 3 – for me, that's 4.25". Make sure and make several marks, then join a line with a chalk pencil.
Cut along the line you made. Unfold, and you'll have a perfect circle cut in the middle of your bandana.

Repeat step 4 & 5 on your second bandanas.
Now, lay one bandana on top of the other, and offset so you can see all eight points. Pin together.

On your sewing machine, use a large stitch to baste your bandanas together (about 1/4") .

Slip your tee in the opening you've made.

This part may seem a little tricky! You don't want to join the edge of the bandanas with the very bottom of the tee: bring it up an inch, so you don't see the hemmed seam of the tee.

Make sure right sides are together, and pin tee to bandanas.

I do this by folding the bandana in half, as well as the tee, and pin. Fold that half in half and pin together. Keep doing this until you've got about 8-12 pins in.
Now, sew it together. Tip: Your tee is smaller than your bandana cutout, so just make sure you stretch your tee as you sew.

Unfold your dress, and you're done!
With the leftover fabric from the bandana holes, you can embellish your dress: Cut out a heart and use iron on fusing like Stick 'N Hold or Wonder-Under – or, make a handmade flower! It's all up to you!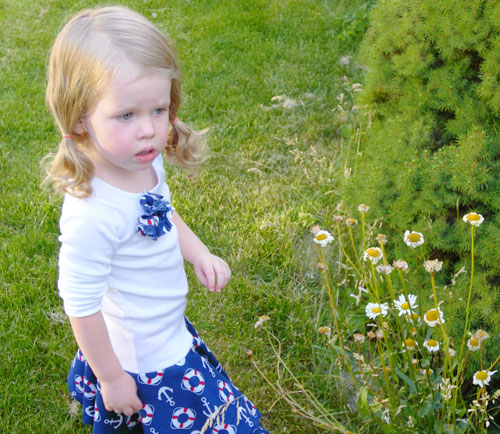 Get your bandanas online at Smith & Edwards online: Get a Realtre AP Camo Bandana or traditional bandanas to make your own bandana dress!
Love this Sewing Project? Pin it!