OK, so last month we talked about 5 Things to do while waiting for the ice to freeze.
Well, it's January and Mantua is FROZEN! Utah's ice fishing season has arrived. Strawberry Reservoir and Birch Creek are frozen too, and Causey and Pineview. All right!
So I've made a checklist of everything you need to go ice fishing in comfort. And if you're getting ready to go ice fishing for the very first time, scroll down to the bottom of this post for a printable ice fishing gear checklist just for you!
Checklist for Ice Fishing in Comfort
If you're ready to invest in a Clam tent to really enjoy fishing, here are the items you want to make sure to have on your trip this weekend.
Staying Warm in Comfort
It's all fun and games til you get wet and freeze! Have fun by staying warm & dry:
Good-quality coat, snow pants, boots: There's a good bit of advice for a lot of winter activities: dress in layers. If you've got a tent, which I'll talk about in a bit, all you need is a good-quality coat and pair of boots to get you out on the ice and get the tent set up – then you can hang out in a hoodie. If you don't have a tent, a good pair of snow pants can really keep out the cold.
If you already have a good Carhartt coat or Carhartt bibs, put a little waterproofing on them and they'll work nicely. Our Western guy Marty recommends Duck's Back waterproofing for dusters and canvas clothing. Or, look for nice waterproof snow bibs & a jacket.
ICE Trekkers: One of the best brands of treads out there, choose from Chains or Diamond Grip. These treads slide right on to your boots and will let you walk on ice just like pavement.
Ice Shelter & Sled: Yeah, you can go Ice Fishing without a tent – definitely! But if you want to enjoy ice fishing (or your kids & wife!) – get a Clam ice tent. They start right around $200.00 and you can even upgrade to one that would hold all your buddies from work or your whole family.
And to haul all your gear, get a nice Ice Sled. I like Otter sleds, and you can even hook up your ATV or snowmobile. Some ranches use these to haul newborn calves. Upgrade from just your bucket: fit all your gear and a folding chair, and make life easy for yourself!
Gloves, Hand warmers, Beanie or Hat: Heat rises – keep that heat in with a good hat, beanie, or face mask. A ball cap works for some guys, and others need all the fleece and lining they can get.
Plus, a good pair of gloves goes a long way. If you get waterproof gloves you won't have to rotate pairs. One trick I learned from a skiing buddy is to wear a pair of knit glove liners, put in a handwarmer pad, and then wear good gloves on top of that.
Snacks: Make sure and pack in jerky, Twizzlers, candy, and drinks!
Ice Fishing Tackle for the Experienced Angler
OK, now that you're set up on the ice, let's start catching some fish!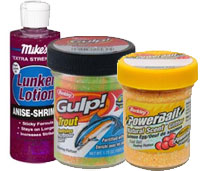 Fish finder: Just like summer fishing, see those puppies under the ice. Ice fishing fish finders are more temperature-resistant.
Budget or First-Time Ice Fishing Gear Checklist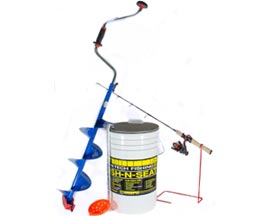 Enter your email address and I will send you a free PDF checklist you can print out so you remember all the gear to take with you to the reservoir! Nothing worse than pulling up to the shore and remembering your jigs and lures are back on the kitchen table…. been there, done that!
Get your Ice Fishing Gear Checklist!


[yop_poll id="6″]
Did I miss anything? Do you have questions on ice fishing? Leave a comment and let me know, and have fun fishing!