Your husband, your sister, your uncle – they're the type that as soon as the snow melts, they're planning the getaway.
Whether it's just a ways out of town or out to Bryce Canyon in the RV, they've got nature in their blood.
And the reason you love going with them on their getaway trips isn't just for the experience of getting out there or the stories & adventures had – but the delicious food with that smoky taste that can only be found by cooking outside.
We know – among the thousands of items we have at Smith & Edwards, the outdoor cooking gear has been flying off the shelves – and also getting sent across the country for gifts through SmithandEdwards.com!
There's just something about a campfire and a cast iron Dutch oven that makes food taste so good. For that special person, here are gifts they'll LOVE you for giving them this Christmas.
Outdoor Cooking Gifts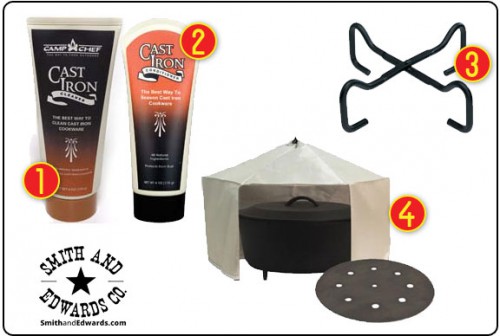 1: Camp Chef Cast Iron Cleaner, $7.99 Get Cast Iron Cleaner online Since you don't want to put your cast iron in the dishwasher (ever!) just wash your skillet or Dutch oven out after each meal. But food can build up with even careful cleaning. This bottle breaks down food and residue to give your cast iron a good cleaning.
2: Camp Chef Cast Iron Conditioner, $7.99 Get Cast Iron Conditioner online Made from 100% natural oils, this conditioner will season your cast iron, giving it good nonstick and protects it from rust.
3: Dutch Oven Lid Stand, $9.99 Get your Lid Stand – perfect for resting your lid on and even works as a grill if you want to cook scrambled eggs on your lid.
4: Camp Chef Dutch Oven Dome, $29.99 Get your Dutch oven dome online! This dome traps and circulates heat around your Dutch oven. Safe to use on your stove or gas grill, it comes with a heat diffuser, too!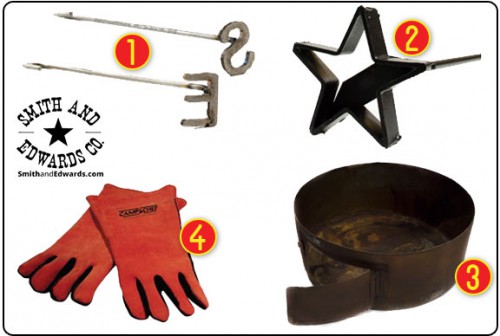 1: Mini Steak Branding Irons Get your Mini steak brands online 5.99 each. Great gifts for your family: get everyone's initials! Make cute 1/2″ tall brands on your steaks, shish kabobs or even wood decorations. Special characters available too! – including star, bar, rocker, and rafter.
2: Steak Brands, 8.99 each Get your BIG steak brands online! Bigger than the mini counterparts, these 1-1/4″ tall brands are the serious way to label your steaks.
3: Fire Pit or Dutch Oven Cooker (Military surplus from WWII!) Get your Fire Pit online – bargain at $12.99
4: Leather Heat Gloves, $14.99 Get your barbecuing gloves online Ideal for Dutch oven cooking, or firepit or chuck wagon cooking in general, this pair of heat resistant gloves will help you keep cooking, even when it gets hot!
So whether they love barbecuing, camping, working the chuck wagon, or tailgating, they'll have a blast with the outdoor cooking goodies you got them!
And for your brother or sister you know would LOVE to get into backyard or camp cooking…
Gifts for Getting Started with Outdoor Cooking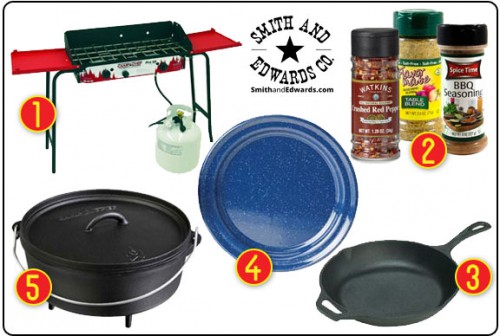 1: Camp Chef Backyard Stove (shown: Pro 60 Deluxe 2 Burner, DB-60D, $179.99) get backyard stoves online! The beauty of backyard stoves is that you can take them practically anywhere – campsites, Scout trips, take it to your cabin, or even – and this is a GEM – do your canning outside on a Camp Chef stove in the summer, so you don't tax your AC even more! These stoves work great for your Dutch oven cooking outdoors.
2: Spices are a MUST! Starting at $1.49. Get your spices online You'll find salt-free spices from Flavor Mate as well as J R Watkins premium spices and a huge range of spices and herbs at bargain prices from Spice Time.
3: Cast Iron Skillets Get a skillet online! Starting at $13.99 for an 8″ skillet. Cast iron will give you an amazing sear on your steaks, work like a charm on just about any surface – electric, gas, campfire, or induction – and they'll last a lifetime.
4: Enamel plates Choose Red, Green, or Blue online Nothing says outdoor cooking like enamelware plates, mugs, bowls, kettles, and silverware! Fun for your camping trip, your cabin, or even your kitchen.
5: Cast Iron Dutch Ovens. Get your Dutch oven online! starting at $26.99. Click here for a fabulous guide to Dutch oven cooking & a great recipe! There are thousands of Dutch oven recipes out there and you'll be hooked once you start. 12″ is a great size for a small family, 14″ for a large family (or a group of Scouts or hunting buddies!)
Tip: The difference between Dutch ovens with legs & without legs, is, the legs are designed so you can put your Dutch oven in the campfire, directly on the coals. If you have a backyard stove, you'll want the flat-bottom Dutch oven. You can use both kinds in your kitchen oven at home, just rest the Dutch oven on a cookie sheet.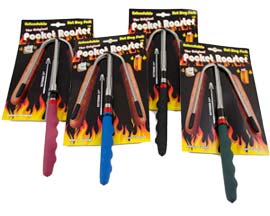 They are sure gonna love the thoughtful outdoor cooking gifts you got them at Smith & Edwards! Hmm, maybe they'll even make you some yummy Dutch oven apple pie or seared elk steaks as a thank-you!
Remember to grab some hot dog roasters for the kids!
Merry Christmas and good cooking!
***Prices listed good through December 27, 2014.