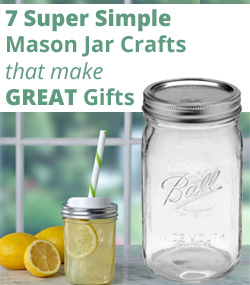 It's 10:00 pm and your child tells you she needs a teacher gift for school in the morning. What do you do? You start your daily chores and realize it's your friend's birthday, but you don't have time or money to go to the store. What now?
With 5 kids and a busy schedule, these and many more scenarios like them seem to be what makes my world go round.
Here are 7 easy tried and true mason jar crafts that are not only simple to make, but are kid friendly, inexpensive, can be done in a jiffy, and are sure to bring smiles to the ones receiving them.
1. Candy Jars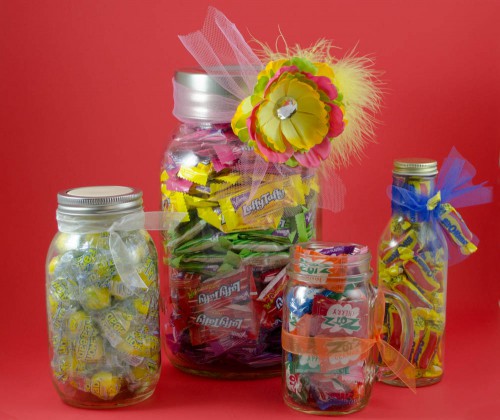 This one is as versatile as the friends you give them to. Keep them simple with a favorite treat you know they like or go elaborate by layering them by color.
We used Lemon Heads, Laffy Taffy, Zotz, and Bit O' Honey. They work beautifully with unwrapped candy like M&Ms or Skittles!
You can finish it off simple and let the candy do the talking, or for the more artistic type, deck it out with ribbons, tulle, flowers, a homemade gift tag – whatever works for you. The sky's the limit on these mason jar gifts!
2. Painted Vases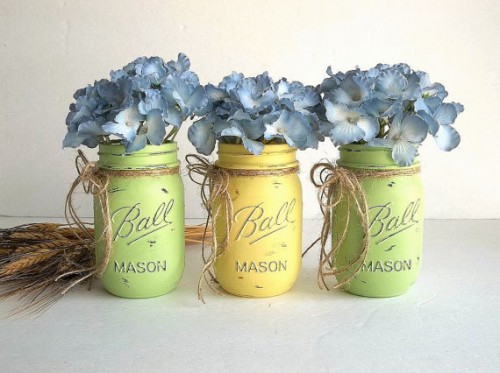 Image courtesy of Jana from Hydrangea Hill Vintage on Etsy
Painted mason jar vases are all the rage right now. There is something so warming about a nostalgic piece of America, and I love the way these were done with a vintage touch. They are great for flowers, kitchen utensils, pen organizers, or a rainy day money fund.
Since you are making them yourself you can pick out the perfect color for your special friend (after you've made one for yourself, of course!)
3. Conversation Jar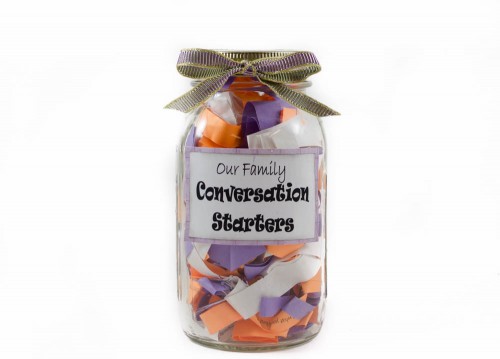 Want to encourage a more meaningful family time? These mason jar crafts aren't only fun to make but can make such a difference for the one you are giving it to. You simply cut a bunch of questions in strips, fold them up, and put them in the jar. They are meant to encourage conversation and get to know each other a little better.
Questions may include, "If you were given $100 to spend today, what would you buy with it?" or "Name the best birthday gift you were ever given." Don't start to panic, I've made it easy on you. Here's a link to a great site that has done all the work for you so you can just print and copy. I'm sure you've got some great ideas too, so feel free to add some of your own.
Some other fun themes to customize this jar idea would be: Couples questions (great wedding gift!), family history questions to ask grandma & grandpa, a teacher's jar to use in her classroom, dinner party questions, or holiday related questions/activities.
Use your imagination or stick to the script; either way, they are going to love it!
4. The Mega Mason Jar Statement Piece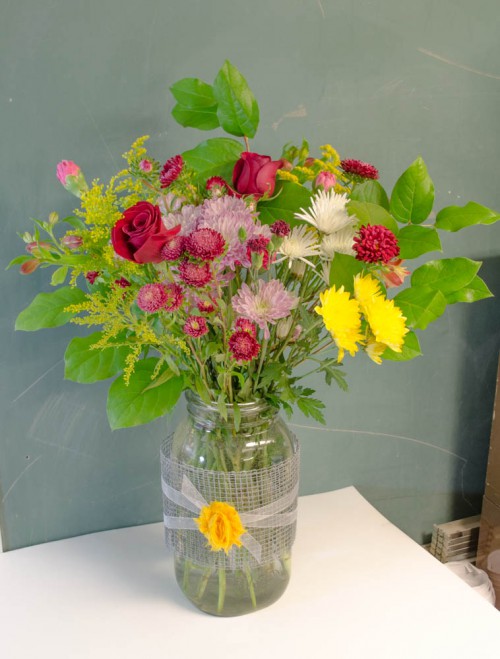 This is absolutely adorable with decoration or without. If you have a friend who loves canning, she's going to go crazy over this extra large, 1 gallon mason jar (no, you can't actually preserve in this jar, it's just awesome!)
Okay, okay, so you will have to go to the store to pick this one up, but once you have it you'll be glad you do!
For the image shown we wrapped 5.25″ mesh wire fabric we got out of the giant junk playground that is the Smith & Edwards surplus yard to give it a more vintage, rustic look. We added a bit of ribbon and a fabric flower and……voila! A statement piece worthy of attention.
Use it for flowers, fruit, favorite knick-knacks, or just let it stand alone. It really speaks for itself.
5. Toys for Boys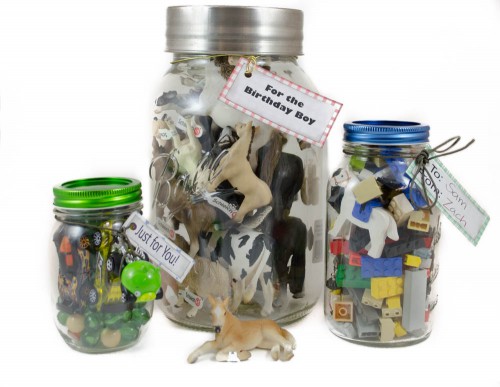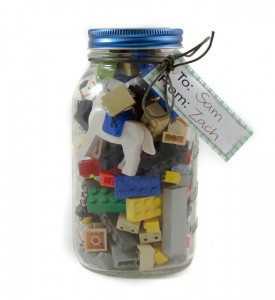 If you're like me, it's easy to whip up something for a girl – ribbons, flowers, glitter and sparkles and you're good to go! Boy gifts I've always struggled with, especially when you want to make something with a little added personal touch.
Here are some ideas I actually got from my sister. She made some darling jars with Hot Wheels in them for a boutique.
People were crazy for them, and they were the first ones gone. She was asked if she would make some more, so I guess it's not just me looking for boy ideas!
With 2 boys of my own, you can't go wrong with Legos, marbles, and cars.
For the mega mason jar, it's fun to create a theme they love and here we used farm animals from Schleich®. I can picture a cool jar full of batman or dinosaur items too, can you?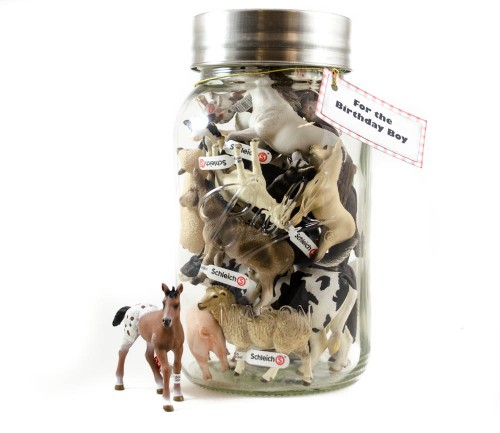 6. The Gift that Keeps on Giving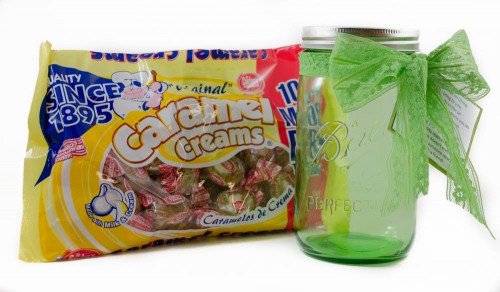 Someone help me, I'm a dreamer. I can't help myself, I always have been! I believe we can make a difference in the lives of those around us one small act at a time.
That being said, I love the idea of this jar. It's to encourage looking beyond yourself and seeing what you can do for someone else. It's a great way to teach kids to be aware of those around them and reminds us to reach out where we can.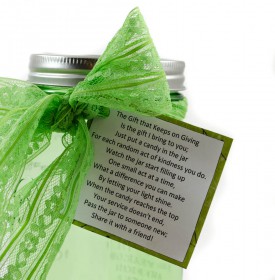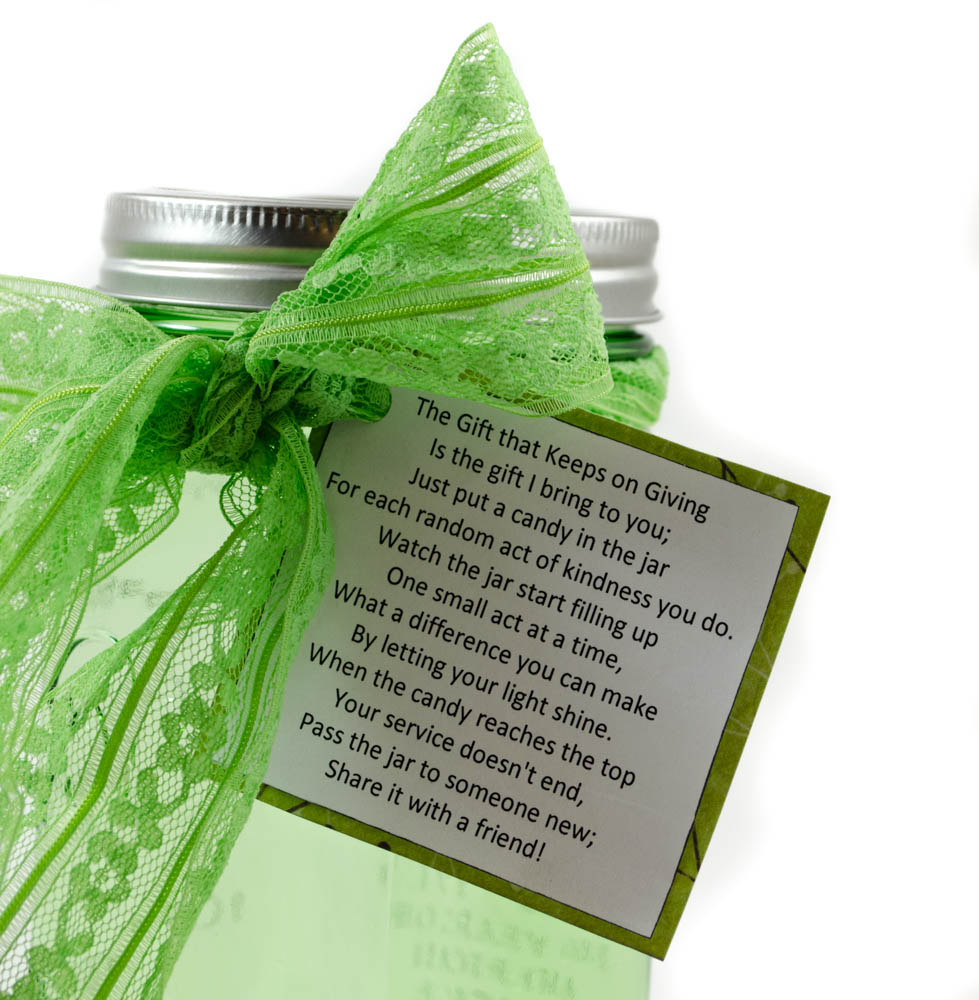 Here is what the poem says:
The Gift that Keeps on Giving
Is the gift I bring to you;
Just put a candy in the jar
For each random act of kindness you do.
Watch the jar start filling up
One small act at a time,
What a difference you can make
By letting your light shine.
When the candy reaches the top
Your service doesn't end,
Pass the jar to someone new;
Share it with a friend!
Each time the recipient of the jar does a random act of kindness he/she puts a piece of candy in the jar. Watch your treats stack up as you are helping others. But it doesn't stop there, after they fill their jar they can share it with another!
It's the little things – a simple smile, dropping by to check on a neighbor, helping the lady with 5 little kids pick up the bag she just dropped, or giving some change to the guy in front of you who is short $1.78 for his groceries. Simple things that soften hearts, brighten days, and even give hope. This is a gift that benefits everyone!
7. Mason Jar Drinking Cup with Straw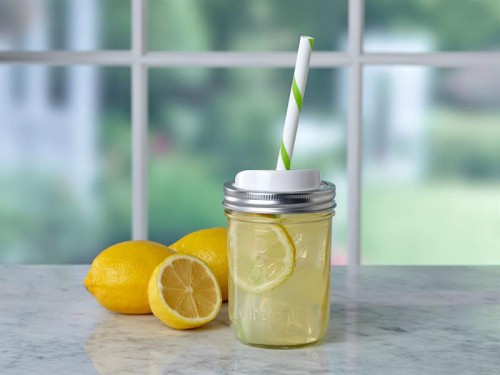 Since we've been talking about simple mason jar crafts, I just couldn't resist showing you this cute idea. Ball® recently came out with lids and straws that fit perfectly on the canning jars that make drinking more like a fun activity than a basic need (you can find them here with our canning lids). This is such a fun gift idea!
Just open package, wash before you use, pop on clean mason jar, and you've got an easy gift that is ready to go. If you are giving it immediately, fill it with cold lemonade, add some ice and lemons, and really get bonus points!
[yop_poll id="5″]
Take a Peek: Limited-Edition Green and Blue Mason Jars
Curious about the gorgeous blue and green jars and lids throughout this post? Talk about taking your mason jars to the next level!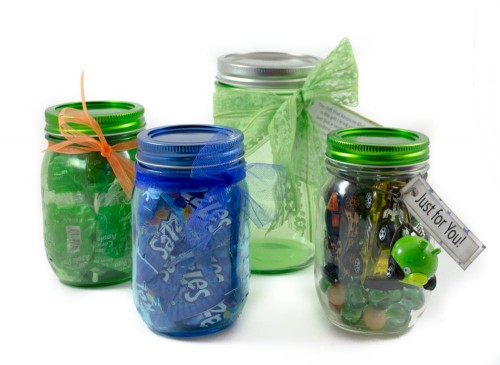 Ball® is making limited edition, period-inspired colored jars and lids in classic blue and green, just like they made 100 years ago! The quality and structure is the same as their awesome canning jars we use now, but with a fabulous vintage flair. (Find them with our canning jars here)
Blue came out in 2013, green in 2014, and a final new color will be unveiled in 2015. Since they are limited editions, grab them while you can find them because they're not going to be available forever!
Can't you just imagine how fun your next canning projects could be in these heritage-style mason jars? Perfect for a little added touch to your gift giving – especially at Christmas!
Show us what you make!
I hope these ideas inspire some creative thoughts and give you some hope next time you're in a jam (no pun intended!) You'll find the supplies – jars, candy, toys, ribbon & tulle – all at Smith and Edwards. If you have any questions about any of the products shown let us know and we'll be happy to help any way we can.
We'd also love to see the mason jar gifts you've made, so feel free to share (and you may even be spotlighted on a future blog!)
Pin these Mason Jar Gift Ideas for Later!
Whether you have a passion for canning or just a beginner, feel free to explore our great selection of canning jars, tools, and equipment that will make your food preservation easier than ever.
Be sure to check out our helpful canning tips, too. I learned a lot from reading that blog post!